Northeast's Blog
Coins On Hold - What does it mean? New!
05/15/2017
You have probably noticed an On Hold indicator next to some of the coins in our inventory. We are sometimes asked by our customers what that means, so we figured it'd be worthwhile to post an explanation.
There are a few reasons why a coin might be marked On Hold. If someone has recently placed an order for the coin through our website and we have not yet had a chance to change the indicator to sold, then the coin status will show as On Hold. Another possible reason would be that a customer has specifically asked us to put a coin on hold for a short time while they make a decision about the piece. And lastly, we sometimes send coins out to other dealers on memo (consignment). When that happens, the coin will show On Hold.
It's important to note that just because a coin is on hold for someone, it does not necessarily mean that you don't have a chance to acquire it. If you see a coin on hold that you would like to consider purchasing, simply click the On Hold link. You will be prompted to enter your email address and any comments you might have. We will receive the notification that you are interested and will see if there's a way to make that coin available to you. Even if it ends up selling to another customer, we can make a note in our system that you are interested in the piece in case it is returned.
If you have any additional questions about this, or anything else at all pertaining to our website, please don't hesitate to ask. Email us at info@northeastcoin.com or call us at 800.449.2646.
Chris' Central States Show Report New!
05/05/2017
The following was written by Chris.
To be blunt, the Central States show is probably my least favorite show of the year. I find it overly long for the amount of business that is usually done there. It's typically one of the weaker shows of the year, and the location is far from ideal. While it's convenient and very secure to have the hotel attached to the convention center, there is literally nothing else in the area within walking distance. If you want to eat anywhere other than the hotel restaurant, you have to Uber there. Schaumburg is inconveniently far away from Chicago, so trips into the city during this show rarely happen. (If there is a positive to the location, because there's nowhere to go, more dealers than usual congregate in the hotel bar in the evenings. You can find yourself having conversations with dealers that otherwise you may normally not have the opportunity to socialize with.)
Having just complained for a paragraph about the show, I am happy to report that this particular Central States was great for us! I checked our Central States show sales going back to 2012, and this show actually doubled each one of them! I'm sure if I continued going back through the years, I'd find the same results. We sold multiple big-ticket items ($20k+ coins), which was great and also encouraging. It was still the usual struggle for Margie to get some of the dealers to look at our inventory, but most eventually relented and then proceeded to buy several coins from us. And just as importantly, buying was good. We came home with at least four double row boxes of new coins.
While I would grade the 2017 Central States show an A-, I heard mixed reviews from other dealers about the show. A few well known national dealers who used to take tables stopped doing so and just walked the floor, or just didn't show up at all. Maybe it's my imagination, but the width of the aisles on the bourse floor seem to be increasing. One might speculate that this is because fewer and fewer people are taking tables. I dunno.
As for the coin market, my personal experience with buying didn't really indicate any changes occurring. Prices remain unchanged for the typical material I come home with. However, there are two positive things worth mentioning. First, we did find the big-ticket sales encouraging. Second, I spoke to a dealer friend of mine who had spoken to one of the bigger dealers in the industry and that particular dealer was very optimistic about the market. Yeah, I realize this pretty much qualifies as hearsay. But considering the source, I know the information was sound. Granted, I don't know the details, like the "why" part of the optimism. I will be interested to see if their optimism holds at the next show and hopefully spreads!
History of the Planchet Strip New!
04/20/2017
Here's a neat letter and item we came across that was buried in our office.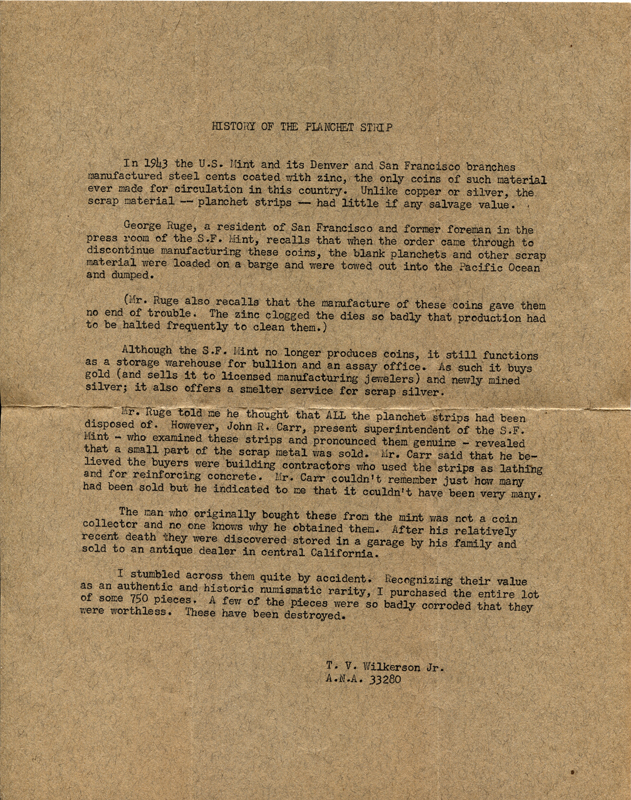 What's for Breakfast? New!
04/07/2017
There is 1 comment on this post.

Many of you are probably already familiar with the famous Sacagawea Cheerios Dollar. For those who are not, definitely read on!
5,500 Sac Dollars were struck in 1999 and delivered to General Mills to distribute in cereal boxes in an effort to generate interest in the new dollar coin. It turned out that the Sac Dollars later struck for circulation exhibited a slightly different design, namely in the eagle's tailfeathers. The tailfeathers on the Cheerios Dollars have intricate detail, whereas the regular issue pieces have tailfeathers with no detail.
We found an article from 2007 which mentioned an actual sealed box of Cheerios that had the Sac Dollar promotion logo on it sold on eBay for a little over $200! What would YOU do if you had a sealed box from back then? Open it or sell it?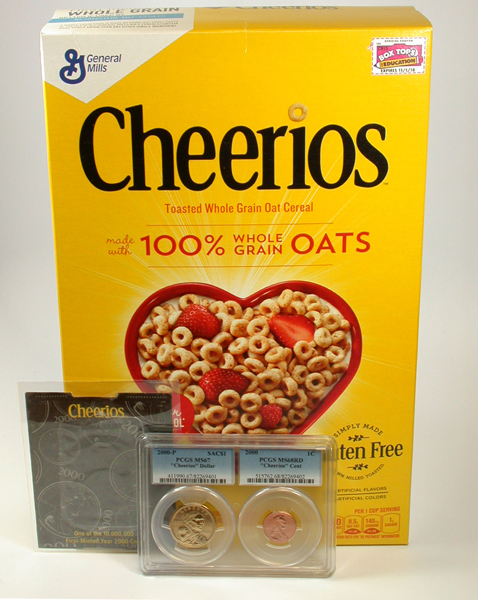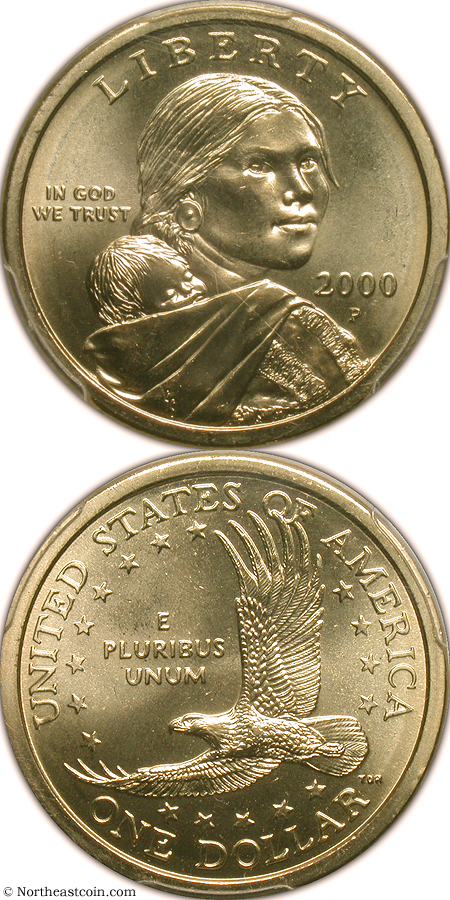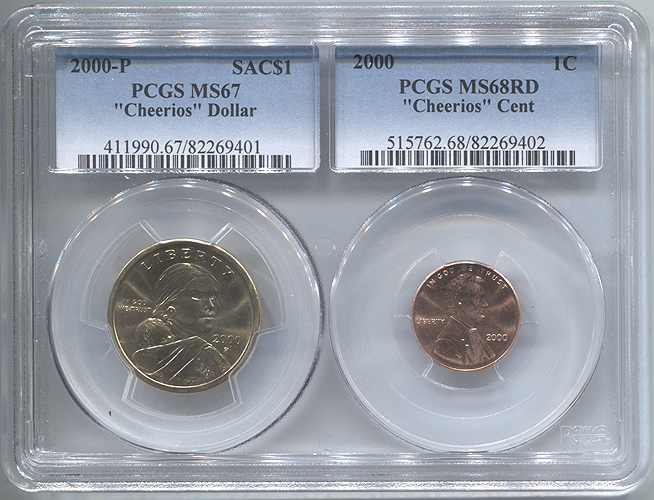 Created by: mm on 04/07/2017
Open It.
Mystery Coin Contest New!
03/23/2017
There are 2 comments on this post.

The image below is a close-up of a small area of an ecapsulated numismatic item. The first person to guess what item this image was taken from wins it! To take a guess, click the COMMENT ON THIS POST link in the lower right corner. Only guesses received via comments to this blog post will count. Good luck!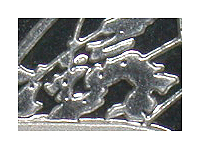 Created by: Pfflyer776 on 03/23/2017
Liberty silver dollar
From Northeast: Sorry, no. Please be more specific with your guesses.
Created by: caswellj on 03/23/2017
The 30th Anniversary PCGS Medal
From Northeast: Correct! That sure didn't take long. Congratulations! Please email your contact information to info@northeastcoin.com and we'll ship it out to you.
For those interested, here is what the entire medal looks like.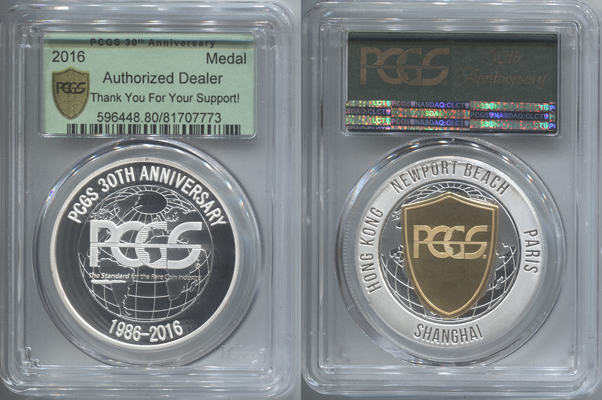 _________________________________________________________________
Copyright (c) Northeast Numismatics Inc.
800.449.2646
Home
|
Inventory
|
Contact Us