Northeast's Blog
What's HAPAning? New!
05/07/2021
The following was written by Brian.
It's time to give some love to an often-underappreciated segment of the U.S. rare coin market: Hawaiian Coinage.
The first official Hawaiian coinage began in 1847 with the 'Keneta', a large copper coin commissioned by King Kamehaheha III.The King understood the need for local coinage and the desire to migrate away from foreign currency. With the demand for small denomination coins and a need to tie into the U.S. monetary system, the Keneta would be worth one cent of a U.S. dollar and be roughly the size of a U.S. large cent. The obverse bore a portrait of the King (which by accounts at the time looked absolutely nothing like him) and the words 'Hapa Haneri' meaning "part of a hundred" (or loosely, one cent) on the reverse.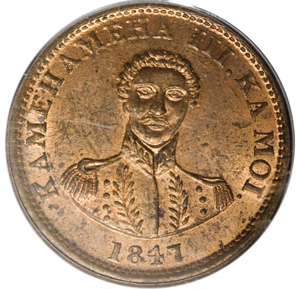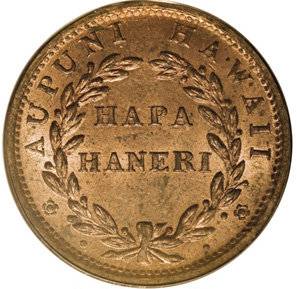 Although it is not known where the pieces were minted, there is speculation that they were struck at the private mint of H. M. & E. I. Richards of Attleboro, Massachusetts.
No matter where they were minted, The Keneta was not met with much enthusiasm. The coins arrived on the island worn and discolored due to ship/hold storage over many months. Islanders were also not fond of smaller transactions and saw no need for the coins. Apparently there was even some controversy surrounding the spelling of 'Hapa Haneri'.
With the big island saying Aloha to the Keneta, there would be a 36-year hiatus before the next round of coins were stuck. Aside from an 1881 5 Cent pattern issue (which is rare), Hawaiian coinage was not produced again until 1883 when Kalākaua I coins were issued – again to the American coinage standard. These silver coins were minted in 1883 and 1884 but all bear the 1883 date. Designed by American Chief Engraver Charles Barber and minted in San Francisco, the denominations were as follows;
UMI KENETA (ten cents), HAPAWALU (eighth dollar), HAPAHA (quarter dollar), HAPAHA (quarter dollar), HAPALUA (half dollar), AKAHI DALA (one dollar).
I can just hear modern islanders saying "back in my day an Umi Keneta, a Hapaha and a Hapawalu would buy you 3 pounds of taro, 25 coconuts, a jar of ground kukui nut and you would *still* have enough left over for an hibiscus arrangement".
Here is a nice mint set (minus the Hapawalu)

And here is the eighth dollar or Hapawalu.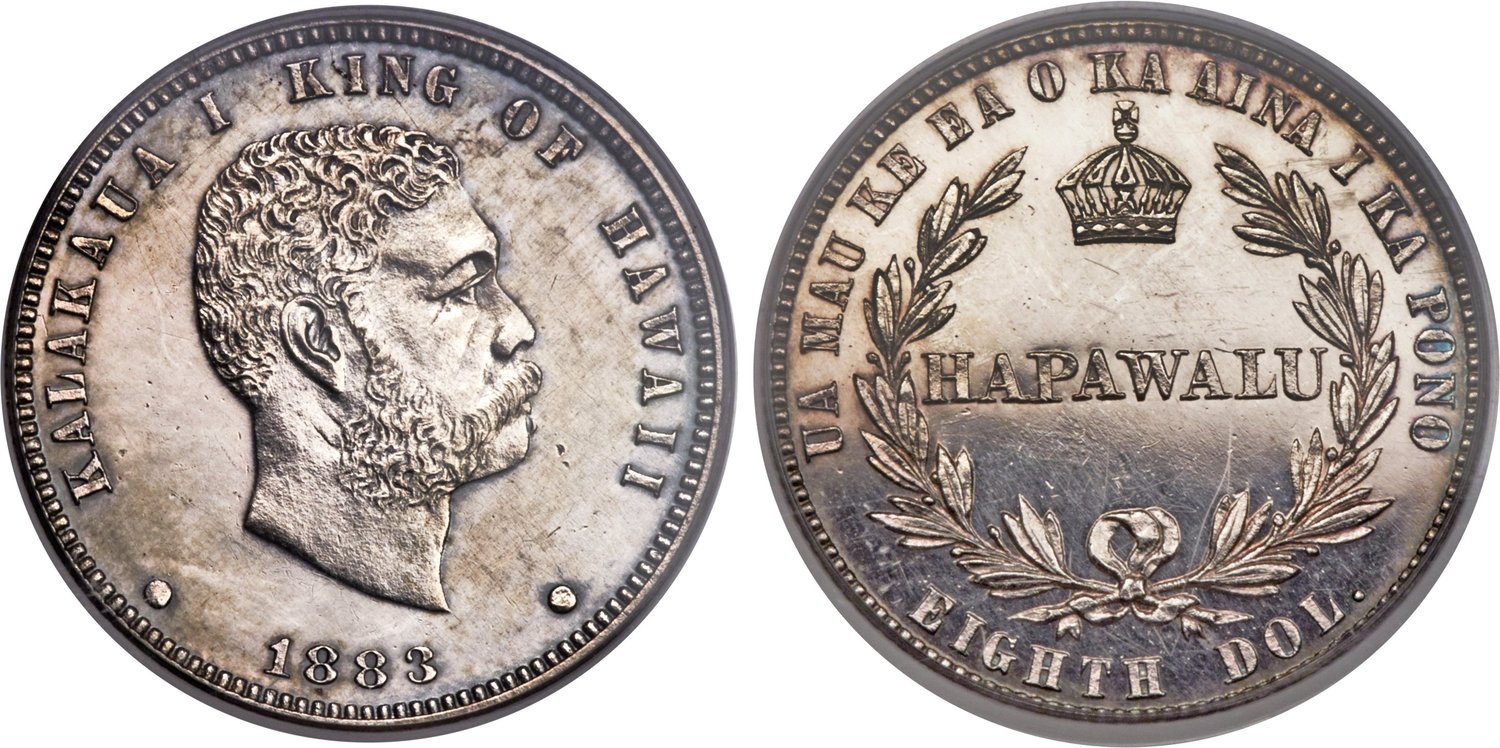 That's just fun to say. Hapawalu. Hapawaluuuuuu.
After Hawaii had been annexed by the U.S., an act of congress in 1903 ordered $814,000 of the original 1 million in face value coinage to be returned to the United States and melted. It would be replaced by the U.S. coins which Hawaii still uses today. For this reason, Hawaiian coinage (especially in higher grades) is still in high demand and enjoys a collector favorite status by many.
70 Cents and Saturdays New!
04/27/2021
The following was written by Tom.
We seldom take appointment on weekends, though sometimes it is necessary to meet folks at our office on a Saturday or Sunday to accommodate their work schedule. One Friday I got a call confirming an appointment the next day. I was caught a little off guard, as I had not planned on coming in. I checked our calendar and sure enough there was an appointment that had slipped my mind. It would not have been Northeast's finest hour had I totally missed this appointment, especially since the customer was traveling quite a way to our office.
The calendar notes associated with the appointment stated "buffalo nickels to sell." Now frankly, when some random caller says they have buffalo nickels, more than nine times out ten we get average circulated accumulations of dateless or barely legible dates with very little value. So at this point I was not particularly excited about the appointment.
Come Saturday and we meet, and the client has 14 Buffalo nickels. It turns out that he is a specialist in the series with several sets, and he had decided to offer us a small group of predominately proof specimens. The group consisted of every proof date from 1913 to 1916, as well as 1936 (both satin and brilliant) and 1937. There was also a 1937-D 3 Legger in MS64. We then discussed the coins and figured out a mutually agreeable price in the mid five-figures. We were a happy buyer, and the client was a happy seller, which is what it is all about. These pieces are now ready to find a new home and can be found on our website (while they last!).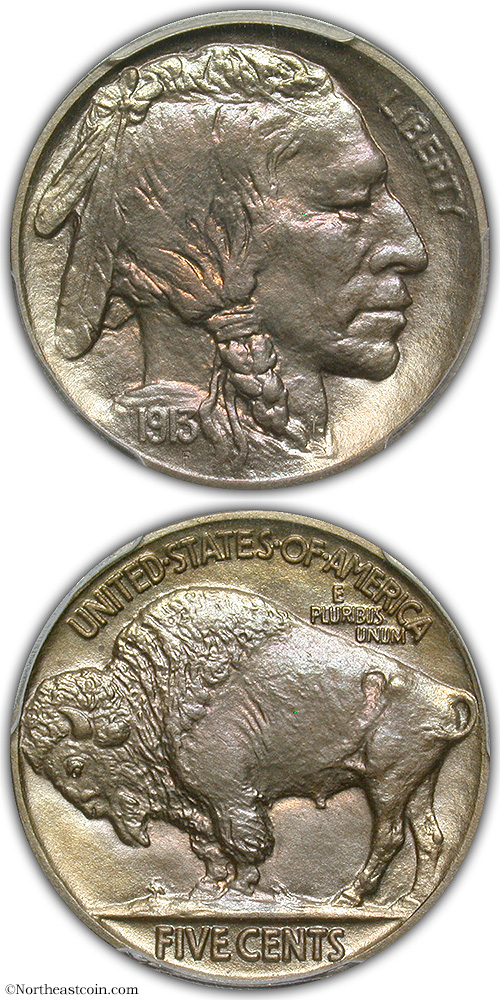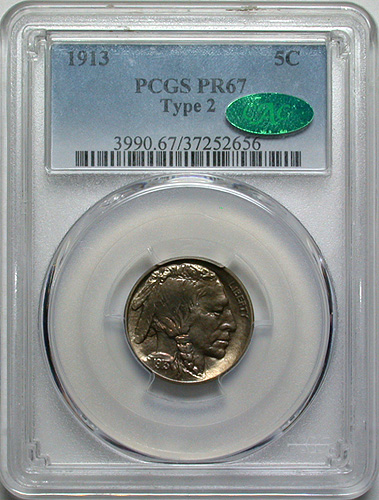 The skinny on GSA Dollars. New!
04/15/2021
There is 1 comment on this post.

The following was written by Brian.
One Dollar in Silver Payable to the Bearer on Demand. Most in the hobby can recite this in their sleep as it is written upon all Silver Certificate U.S. notes. This all came to an end in the 1960's as the government halted this practice, ultimately resulting in approximately 3,000,000 silver dollars being held in the vaults of the US Treasury Department. 95% of these coins were from the storied Carson City Mint. Just think…literally millions of Carson City silver dollars in brilliant uncirculated condition!
In 1972 a government agency known as the GSA was tasked with the important job of selling off and dispersing this monstrous amount of silver. But just who is the GSA? According to Wikipedia, the General Services Administration, headquartered in Washington DC, is an independent agency formed in 1949 to "help manage and support the basic functioning of federal agencies. GSA supplies products and communications for U.S. government offices, provides transportation and office space to federal employees, and develops government-wide cost-minimizing policies and other management tasks." If you can think of a more generic, more blasé name for a group than General Services Administration, you go ahead and you let me know.
Through a series of auctions in the early 70's and 80's these coins were made available to the public, and dealers and collectors alike were very much ready to purchase. The availability of all these CC dollars literally changed the course of Morgan Dollar collections forever. Imagine trying to find CC Dollars in the 1960's, looking at the mintages and scratching your head at the elusiveness of these coins. Some of these previously "rare" dates were now suddenly available and the public lined up to get their hands on these "scarce" issues. This caused quite a commotion in the coin industry for certain.
Here is a list of the Carson City Morgans from the GSA Hoard:
| | |
| --- | --- |
| DATE | NUMBER in HOARD |
| 1878-CC | 61,000 |
| 1879-CC | 4,100 |
| 1880-CC | 131,500 |
| 1881-CC | 147,500 |
| 1882-CC | 605,000 |
| 1883-CC | 755,000 |
| 1884-CC | 962,000 |
| 1885-CC | 148,300 |
| 1890-CC | 3,950 |
| 1891-CC | 5,700 |

Another thing that caused a bit of a stir was the custom holders they went in. Here's an ungraded "raw" Carson City GSA dollar.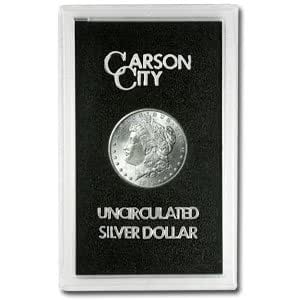 As you can imagine, these big, clunky holders were not popular (at first) and you can see why. Most collectors at the time still stored their coins in albums, flips or some other method. And it wasn't until 1986/87 that third party grading services (TPG's) started encapsulating coins. However, once grading and encapsulating came along, so did the mass destruction of the original holders. They were "cracked out" as we say in the industry and sent off to grading (or perhaps into an album or just sorted into a collection). Both NGC and PCGS certified a good number of these crackouts.
Of course, with all things "original" being the goal of collectors and numismatists alike, the pendulum started to swing in the other direction: buyers now demanded original holders certified by the third party grading companies. The TPG's of course were willing to oblige, and we still have today what looks like this:
And that, friends, is the story of the Carson City GSA Hoard. Here's one of the finest known.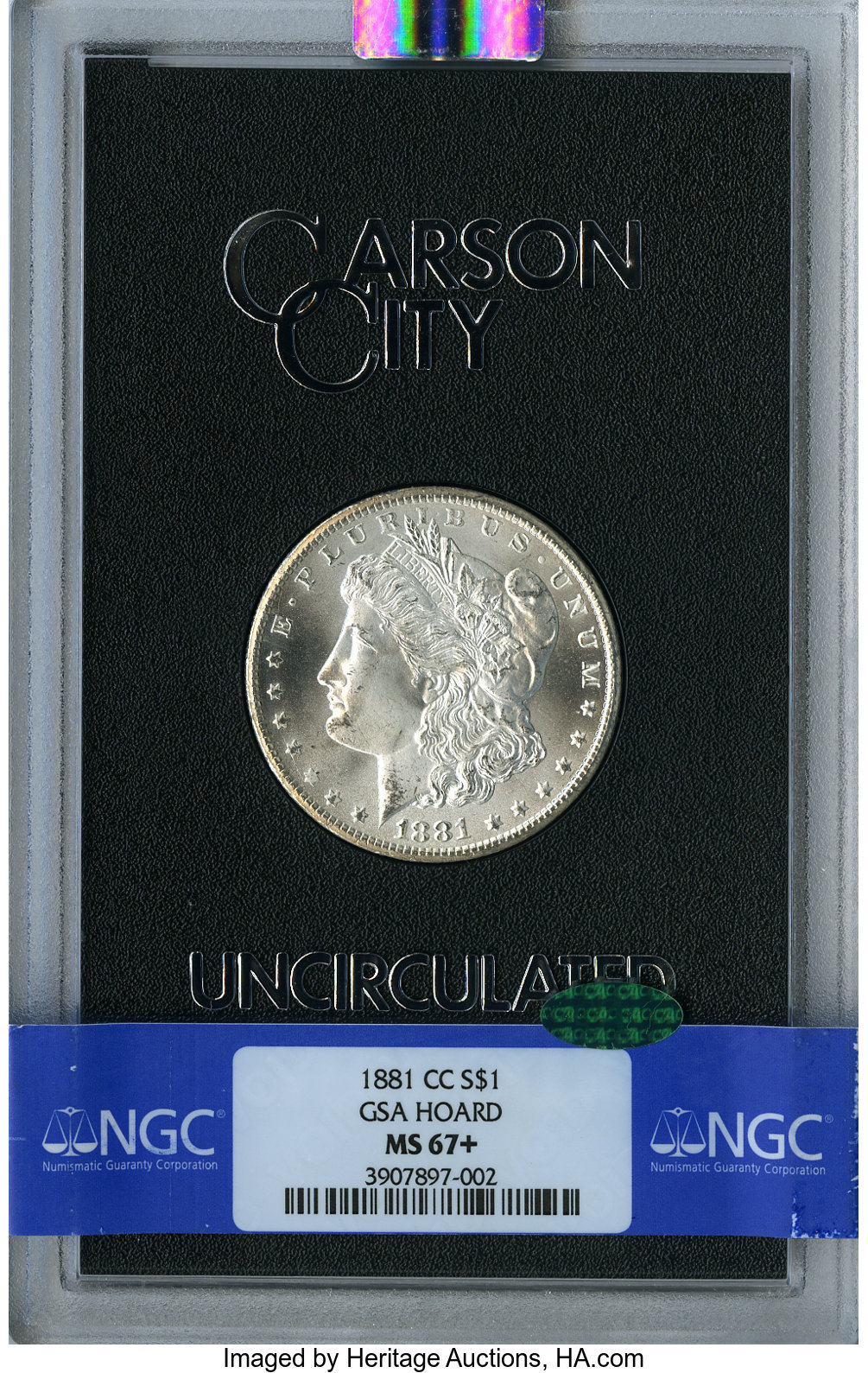 Created by: Panda on 04/15/2021
Let me remember in 2012, the Royal Canadian Mint (RCM) sold 30,000 1912-1914 dated $5 and $10 gold coins: "...they were stored in cloth bags and remained locked away in vaults at the Bank of Canada..."

This made high grade 1914 $5 no longer a rare coin, sad :(
The 1933 $20 Saint Gaudens is back! New!
04/08/2021
There is 1 comment on this post.

One of the rarest, and in our opinion the most valuable, U.S. coin is coming up for sale after having been off the market for close to ten years. PCGS has just issued a press release, which we've provided below. It will certainly be one of the most anticipated sales in auction history!
From PCGS:
(Santa Ana, California) – Professional Coin Grading Service (www.PCGS.com) was selected by Sotheby's in New York to officially certify and grade the 1933 Saint-Gaudens Double Eagle, a gold coin once owned by King Farouk of Egypt that will soon be offered for sale. PCGS has graded the gold coin MS65 and its current owner, shoe designer Stuart Weitzman, is offering it along with a handful of other exceptional rarities at a Sotheby's auction to be held in New York on June 8, 2021.
"We are excited and proud to be given the opportunity to formally certify the 1933 Saint-Gaudens Double Eagle," says PCGS President Brett Charville. "This coin is a true gem! Breaking the world record in 2002 for being the most valuable coin ever sold, this specimen has a story unlike any other United States rarity."
The first delivery of 1933 Double Eagles to the Philadelphia Mint cashier was made about 10 days after President Franklin Delano Roosevelt was inaugurated. In one of his first acts, Roosevelt declared an effective end to the nation's adherence to the gold standard, banned the payout of gold coins, and began the recall of all U.S. gold coins, which were eventually melted.
According to the Mint's records the entire mintage of 445,500 double eagles struck in 1933 was accounted for, and all were to be melted except for two sent to the Smithsonian. In 1937, a number appeared for sale privately; in 1944 a Secret Service investigation determined that they had been stolen from the Mint and were seized from their owners.
One was purchased by King Farouk. It became part of his fabulous collection and was beyond their reach. Sociopolitical turmoil led to King Farouk's fall; he was exiled, and the new government dispersed his collection of coins through Sotheby's. The 1933 Double Eagle was withdrawn from the auction and its whereabouts were unknown for decades until British coin dealer Stephon Fenton surrendered the coin to United States authorities in 1996.
The coin hung in legal limbo for several years, leaving the rarity to be stored in a Secret Service vault at the World Trade Center in New York City. Just before the terrorist attacks destroyed the World Trade Center in 2001, the legal status of the 1933 Saint-Gaudens Double Eagle specimen hailing from King Farouk was resolved and the coin was subsequently removed from the ill-fated New York City landmark. The coin was offered for sale by Sotheby's/Stack's in 2002, taking a world-record $7.59 million.
Nearly two decades later, the specimen remains the only legally obtainable example of the 1933 Saint-Gaudens Double Eagle, with two specimens held at the Smithsonian Institution and all known others currently in custody of the United States government, which confiscated a handful of other specimens that came to light in recent years. The unique specimen being offered by Sotheby's is expected to take between $10 million and $15 million.
Due to the unique circumstances and rarity of the 1933 Saint-Gaudens Double Eagle, PCGS is taking the unusual step of, at the auctioneer's request, grading and certifying, but not holdering this rarity in PCGS' tamper-evident holder. The winning bidder of the coin may submit it to PCGS for holdering to provide state-of-the-art security at no additional charge.
Previously, PCGS has only reserved non-holder certification to just one other rarity, which is the Walton specimen of the 1913 Liberty Nickel graded PCGS PR63. Those interested in examining a high-resolution image of the unique PCGS MS65 1933 Saint-Gaudens Double Eagle can view it via PCGS Cert Verification. More information about the sale of the 1933 Saint-Gaudens Double Eagle and other items up for bid at the Sotheby's Three Treasures – Collected by Stuart Weitzman live auction, can be found at the Sotheby's website.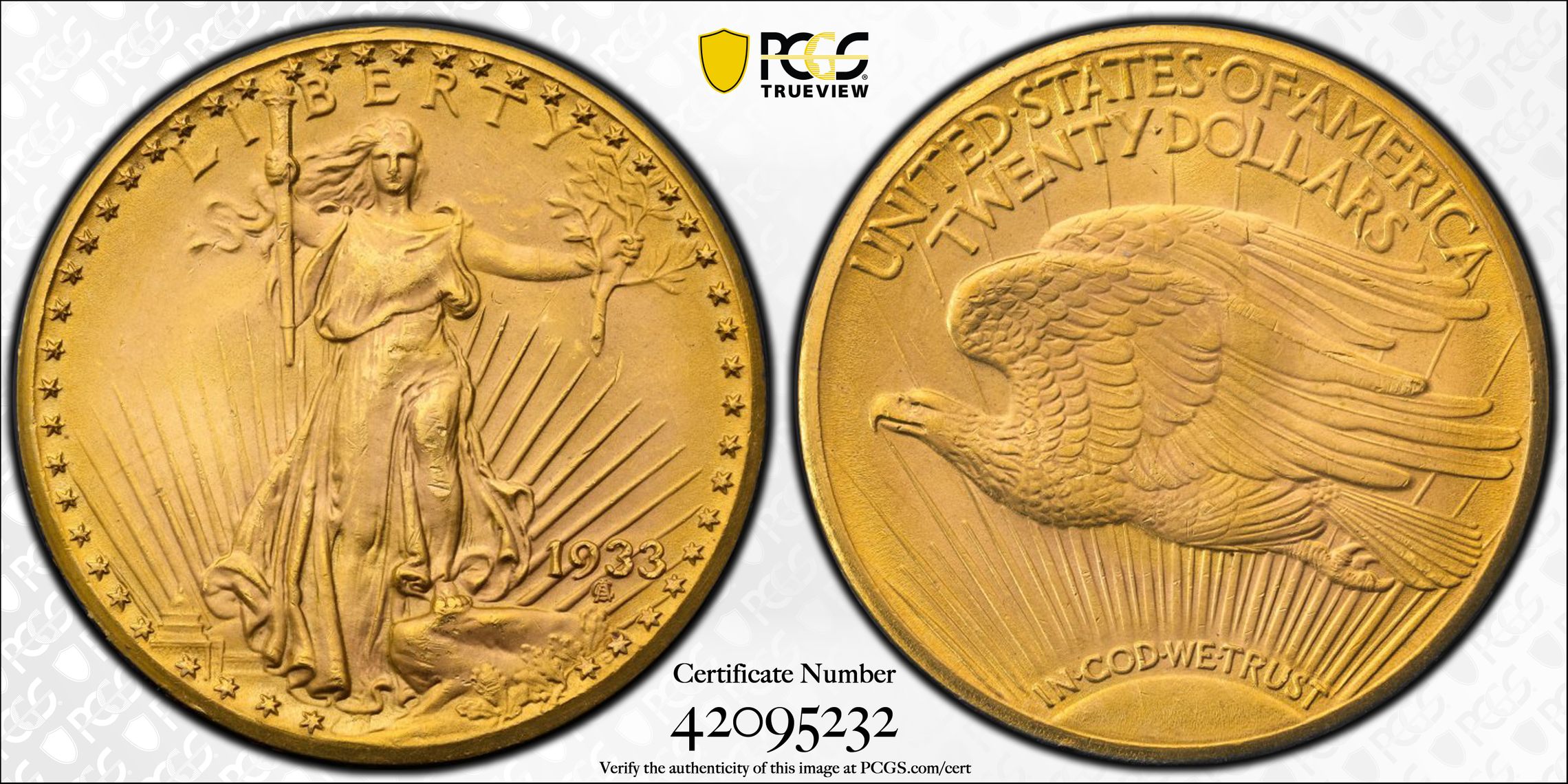 Created by: Panda on 04/09/2021
I have one!!

.
.
.

.

..
(in my dream :)
Us too!
Hi-Ho Silvered Away! New!
04/02/2021
The following was written by Brian.
We folks in the hobby know that the precious metal content of our circulation strike coins contain less and less precious metal (particularly silver and copper) as the dates of those coins get more modern. It's just a cold fact that over time, the intrinsic value of our coins has decreased.
Roosevelt and Mercury Dimes, Washington Quarters, and Walking Liberty, Franklin and Kennedy Half-Dollars minted in 1964 and earlier are 90% silver (just finding a 90% silver coin anywhere outside a coin shop these days is finding a needle in a haystack).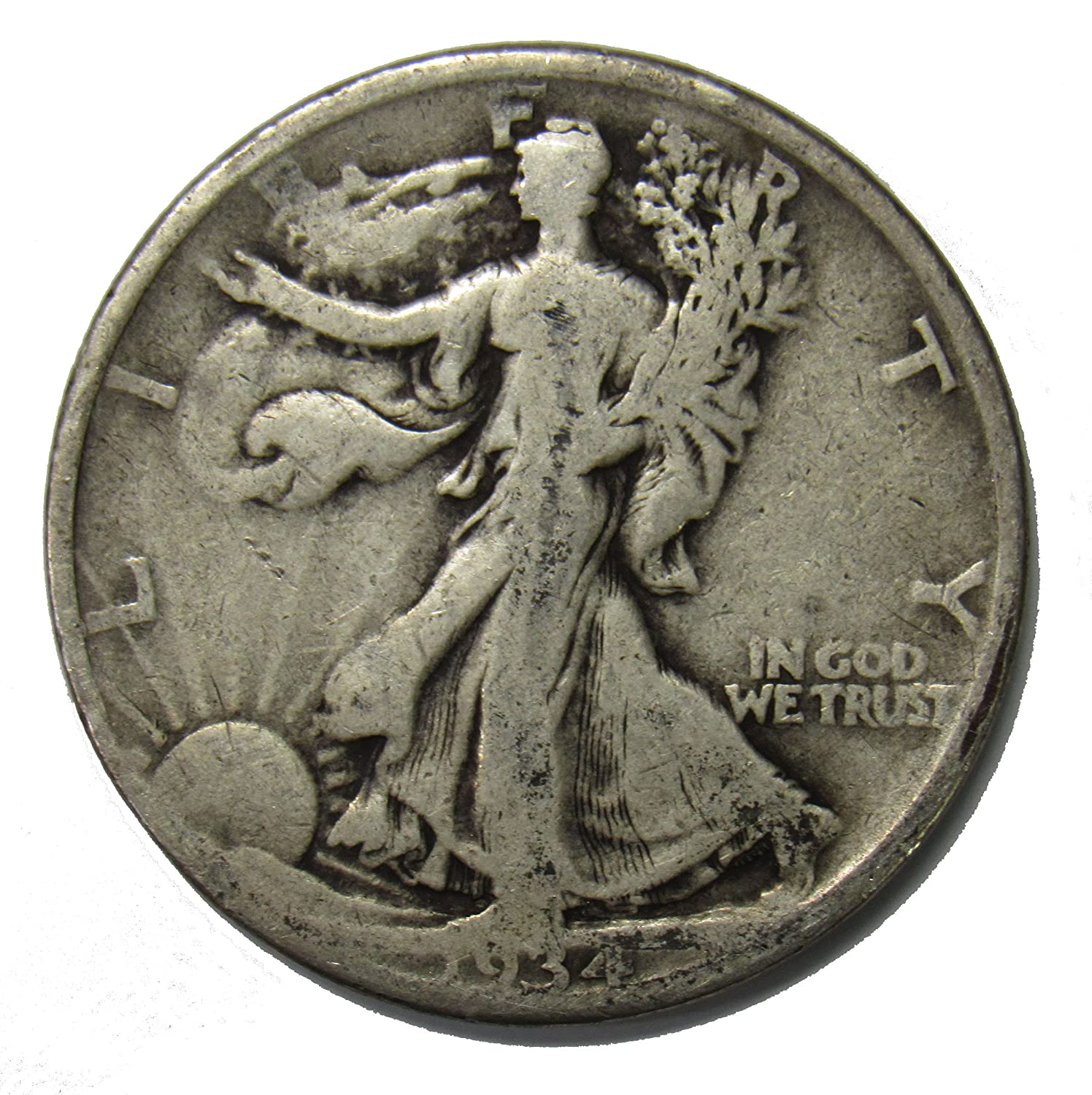 Between the years 1965 and 1976, two major U.S. coins contained 40% silver. The term "40% silver" is a way for investors, collectors, and buyers to refer to Kennedy Half-Dollars minted 1965–1970, and 1976, and Eisenhower Silver Dollars minted 1971-1974, and 1976.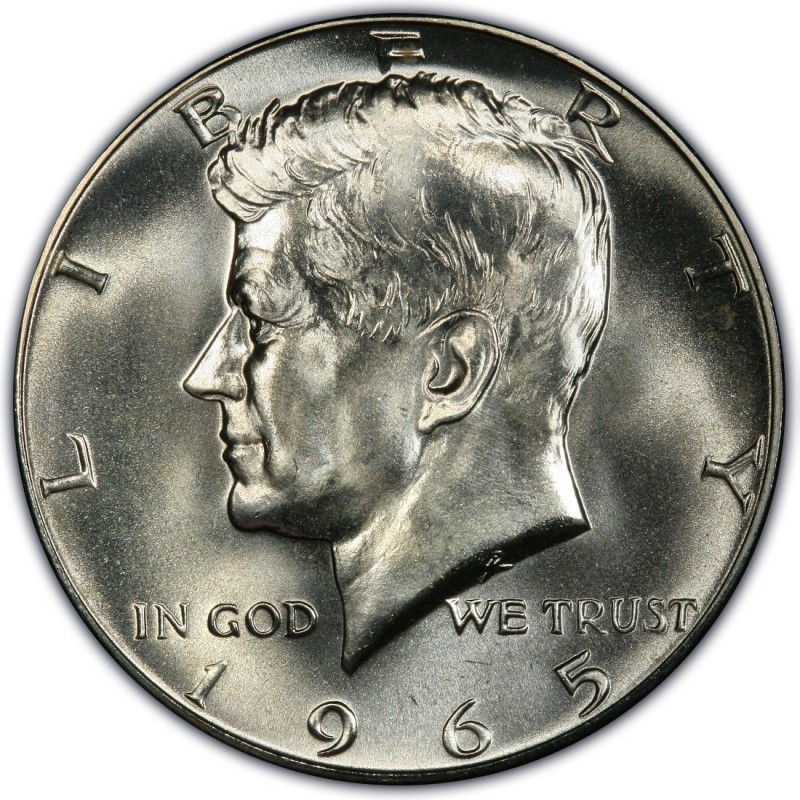 All regular coins dated 1965 or later are clad coins and contain no silver at all. That 1983 Washington quarter in your pocket (unless it is an extremely rare mint error, which I assure you, it isn't) has no intrinsic value. It is in effect, a physical bitcoin. And pretty much nobody cares.
For US cents, the alloy remained 95 percent copper and 5 percent zinc until 1982, when the composition was changed to 97.5 percent zinc and 2.5 percent copper (copper-plated zinc). I'm pretty sure not many outside the hobby even noticed.
So…where's the outrage?
Well, nobody has seemed to bat an eye at these changes when they happened and this is due in part to the ancient Roman theory that if it looks the same, it must be the same in value. No need to alarm the citizens, right?
The Romans employed a technique of 'silvering' coins; essentially brushing on a light coat of heated silver onto a non-silver coin – all in an effort not to stir the commoners. And it worked. Silvered coins were indeed just made to look silver. As previously mentioned, they did contain some silver but in small enough proportions that it was not obvious so the 1% to 5% silver containing coins were plated to look like their ancestors that bore a pure silver content.
People of the day expected a coin to contain the required amount of the precious metal but inflation made a solid silver coin too high in value to be a useful denomination.
Today we see the same thing, but like I said all along, nobody really cares.