Northeast's Blog
Come See Northeast at Gillette Stadium New!
10/15/2018
Tom and Brian from our office will be setting up shop at the 2018 Best Years Expo at Gillette Stadium in Foxboro, Massachusetts. Home to the five time Super Bowl Champion New England Patriots, Gillette will host The Best Years Expo on October 20th.
The Best Years Expo provides attendees with a host of options to help them celebrate, learn, and experience life in their 50s, 60s, 70s, and beyond. Close to 50 vendors will be in attendance. Guests will enjoy a day of celebrity appearances, seminars, vendors, activities, giveaways, and more!
So to our New England customers, come on down to the stadium and see us. We encourage you to bring any coins you might like to sell. Hope to see you there!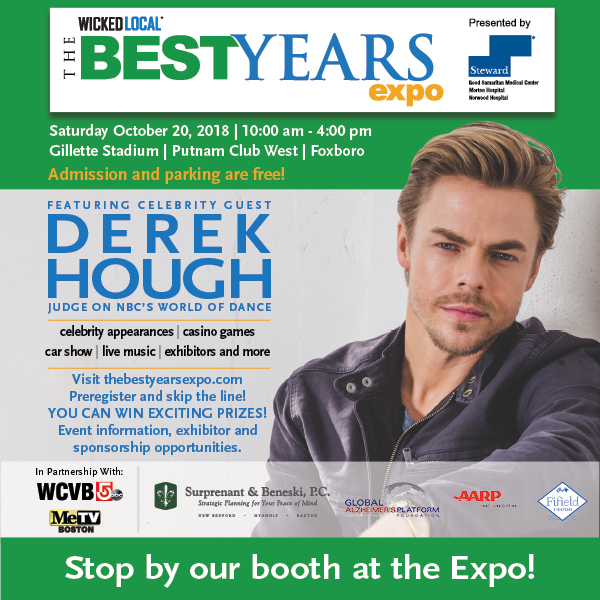 Lifetime Numismatic Goal Achieved! New!
10/12/2018
The following was posted by Brian:
We have a wonderful customer named Paul from right here in Massachussetts that we have been doing business with for the last couple of years. Paul is 92 and is a spry, fiery sort. We all enjoy his conversation and enthusiasm for life and his coins. Paul has been collecting for just shy of 75 years and has built an impressive collection of Flying Eagle Cents, Lincolns, Mercury Dimes, and Walkers (among other types). In fact, Paul recently completed his Walking Liberty Half Dollar set with us.
A few months ago after purchasing a 1942/41-D Mercury Dime from us, he proudly mentioned that he now needed only one coin to complete the set - the key date 1916-D. We did have one at the time, but unfortunately for Paul it was mint state and a bit outside the range with which he was comfortable paying. He asked if we could try and locate one in Fine condition.
With that, we added Paul's wish to our want list and sure enough, Tom from our office found just such a coin. I called Paul and he said he hadn't been feeling so good lately, although he did seem to perk up when I gave him the news that we had located a 1916-D Mercury Dime NGC F12. Paul said that if he "makes it through the night" then he will call us tomorrow.
Sure enough we got a call the next morning. Paul was feeling much better and was ready to buy the coin and finally complete his set. He sounded like he was beaming at the prospect of finally reaching this life-long numismatic goal. Congratulations to Paul!
We all like happy ending stories like this one, but remember - you don't have to be 92 and on your last coin in order to give us your want list. Perhaps we can make it happen for you whether you're just starting out or just finishing up your collection. Email us at info@northeastcoin.com or give us a call at 800.449.2646 and let us know how we can help you.
1943 Copper Cent - Dreams do come true! New!
08/28/2018
The following was written by Tom:
Early last year we acquired a certified 1943 Copper Lincoln Cent in XF condition. This was the first 1943 Copper that I have had the privilege to own and offer in my entire 54-year career. This rarity is among the most desirable and rarest United States coins and it is known among veteran coin collectors and non-collectors alike, as it frequently makes the news.
All coin dealers, ourselves included, receive phone calls and emails on a regular basis from the public with claims that they have a genuine piece. In most cases, simply taking a magnet to the coin will prove that the coin in question is just a copper coated specimen of virtually no value, thereby immediately dashing dreams of riches. Occasionally more sophisticated counterfeits surface that demand more attention to disprove authenticity. With only about 20 known pieces, the chances of finding a genuine piece are, needless to say, astronomically slim.
We enjoyed the pride of ownership of our piece while displaying it at regional and national coin shows, where it garnered a lot of attention and comments from collectors (and dealers!) who had never seen such a piece in person. Some folks even asked to take photos and/or hold the coin, figuring another such opportunity would never arise. We were very happy to oblige.
After offering the 1943 Copper for sale on our site (www.northeastcoin.com) for much of 2017 without a sale, we decided to take it off the market and perhaps bring it out for display again at some later date. While packing for the recent ANA Money Show that was held in Philadelphia, we decided this might be a good opportunity for the collectors in the City of Brotherly Love to view the coin, so we brought it along.
One of the collectors attending the show, Willie (a client of ours whom we see at every ANA), came by the table and expressed interest in the coin, saying he had always dreamed of owning one. We then recalled last year that Willie had mentioned he was anticipating the sale of his restaurant and if it happened to go through he would consider the purchase of our piece.
Well, the timing was right for Willie this year!
As we are always willing to work with clients on a layaway basis for big and small purchases alike, we were able to come to an agreement with him on the 1943 Copper. We are thrilled that our rarity has found a new happy home. Congratulations Willie - sometimes dreams do come true. Enjoy!
An interesting find New!
08/23/2018
Our in-house variety specialist and intern, Benjamin Simpson, recently discovered an interesting item. He wrote the following post:
Benjamin found a perpetual calendar ferrotype located at the bottom of a grimy old box in Tom's office. While it may not look very attractive or special, the medallion is a rare relic of Civil War era America, and highly collectible.
The silver plated brass medallion was manufactured by Ellis and Read of Springfield, Mass during the Civil War. It features an inlaid ferrotype of Major Gen. Benjamin Butler on the obverse, and a perpetual calendar on the reverse. The calendar can be used to determine what days of the week correspond to any date, past, present, or future.
Benjamin Butler, whose photograph is encased in this brass medallion, was a famous general, politician, and businessman of the 19th century. Born in 1818, Butler was a native of Lowell, Massachusetts. He studied to be a lawyer at Colby College and began a career in politics as a democrat after graduating. He entered the Lowell militia in 1840 and rose to the rank of colonel by the beginning of the Civil War. Butler was promoted to major general in 1861. He oversaw the 1862 Union occupation of New Orleans while simultaneously making himself a fortune by manufacturing war supplies in Lowell (Butler used his position in New Orleans to ensure that his textile factories got a steady supply of cotton). After the war, Butler was elected Governor of Massachusetts, and he unsuccessfully ran for president in 1884. Butler died in 1893.
Little is known about Ellis and Read of Springfield, who manufactured these political medallions during the civil war.
Several varieties of the Ellis and Read perpetual calendars are known to exist, including variants that feature ferrotypes of Abraham Lincoln, Ulysses S. Grant, George McClellan, and other prominent political figures of the time. They are all highly sought after by collectors and can sell for thousands at auction. There are no Benjamin Butler medallions known to exist, nor have they been listed in any catalog of American political exonumia. Therefore, we believe we have a unique discovery piece for the series of perpetual calendars. You never know what you will find by doing a little digging through Tom's cluttered office!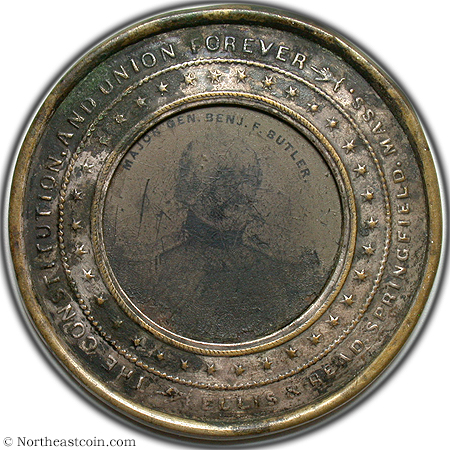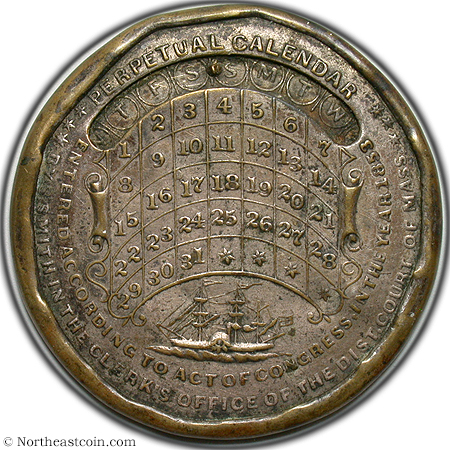 Nine pound Redbook? New!
08/02/2018
This is from a 2004 E-Sylum article. What a neat story!

The E-Sylum:  Volume 7, Number 44, October 31, 2004, Article 24

FIRST AND ONLY NUMISMATIC BOOK IN BRAILLE?

  Rich Mantia writes: "I just read an issue of The E-Sylum while
  jumping around on the internet and one of the articles caught
  my attention.  The question was posed as to the thickest
  numismatic book and I'm reasonably sure that I own it. I
  realize that pages and paper thickness matter, but for shear
  thickness it would have to be my copy of the "Redbook".
  Yes, The Guide Book of United States Coins by R. S.
  Yeoman. I own the 1969 edition which was typed in braille
  and is to the best of my knowledge unique. The book is
  slightly thicker than 12 inches. It was so thick when typed
  that it couldn't be bound in one volume. It takes nine volumes
  to create the single book. Page counts vary from volume to
  volume while the cover size remains at 11 1/2 by 12. It is
  considered to be one book because it is fully transcripted
  from the regular 1969 edition. This was done in 1969, not
  recently. I also believe that it is the only numismatic book
  that was ever written in braille. On the lighter side, it is not
  this thick from ever having been water logged."

  [If the date were April first I'd be certain this was a joke.
  Blind numismatists?   This sounded to me like something
  cooked up after drinking one too many steins of German
  beer after a Milwaukee Central States coin convention.

  Of course, one needn't collect or even see coins to
  appreciate their history.   When I asked for more information
  about the edition, Rich sent pictures along with the following
  note.  -Editor]

  Rich Mantia writes: "I don't mind giving more information
  about my "Redbook". I first became interested in "Redbooks"
  when I read an article by Ginger Rapsus in the September
  1988 issue of "The Numismatist". I didn't start to collect
  "Redbooks" actively until several years later, but I'm blessed
  with a good memory and I referred back to the issue when
  I wanted to collect on a serious level. I'm aware that the value
  in any collection is in its completeness as well as condition
  and I decided to start with the rare copies first. I used the
  article as the basis for my collection and I've collected every
  item listed in it as well as some items that aren't listed.

  I purchased the braille "Redbook" some years back in a
  private transaction for a substantial price that I shall keep to
  myself. I have sent along some photos of it which help verify
  its existence. In the photos one can see that the book was
  transcribed for Davyd Pepito who was a member of the
  Covina Coin Club. It was done by Ms. Lois Kelly of the
  San Gabriel Valley Transcibers in Covina, California over
  a period of 3 months in 1969. The page counts vary from
  volume to volume, but on average it took 4 braille pages to
  equal 1 printed page. My guess is that there are about 1000
  pages in the 9 volumes total.

  The 9 volumes combined weigh more than 26 pounds. The
  book has only been displayed a few times at some regional
  shows over the years and I have no desire to bring it out for
  more displays because it doesn't look as impressive as a
  showcase full of rare coins. It is rather bland in its appearance,
  because after all it is page after page of impressed bumps
  with no inked words to accompany. To my knowledge it is
  unique in that it is the only "Redbook" to be in braille and also
  the only numismatic book ever written in braille.

  More than anything else the greatness of Mr. Richard Yeo
  stands out because it is his book that stands out as being the
  one that reached into the darkness of a blind childs' life and
  helped him enjoy a hobby that we take for granted. Perhaps
  Davyd Pepito can be known as a pioneer coin collector
  who loved coins without ever seeing them and his name
  should be chiseled in stone on the new A.N. S. building as
  prominently as the scholars of the past.   I hope this helps
  answer your questions."
_________________________________________________________________
Copyright (c) Northeast Numismatics Inc.
800.449.2646
Home
|
Inventory
|
Contact Us