Northeast's Blog
Stella - Part Twenty New!
01/07/2022
There is 1 comment on this post.

The following was written by Brian.
Normally this would be called a 'Part II' follow up to the last blog about the fabulous Gold $4 Stella, but this time we'll be discussing something far rarer – the 1879 Gold Twenty Dollar Stella.
While the Gold $4 Stella has enjoyed immense popularity over the years, it's scarcer, much lesser known counterpart has slid under the numismatic radar for the most part.
Here she is, in all her glory. Just 1 of 5 known (1 of which is in the National Numismatic Collection in the Smithsonian) and commonly referred to among numismatists as the "Quintuple Stella"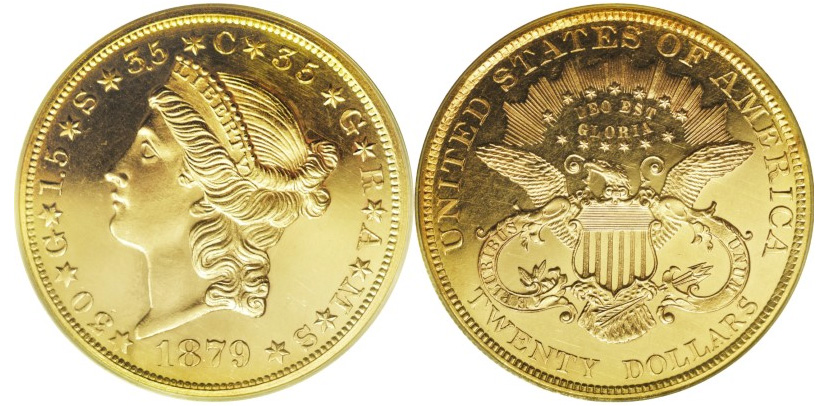 As with the $4 Stella, the Quintuple Stella is a proof-only pattern (Judd-1643). Also like the $4 Stella, it was meant to facilitate international trade and travel. There had been a schtickle of effort toward this goal earlier in the decade, specifically with the 1874 Bickford pattern $10 gold pieces, but 1879/1880 were the years that serious endeavors were made to accomplish these aims.
Here's the Bickford example; an interesting design in its own right.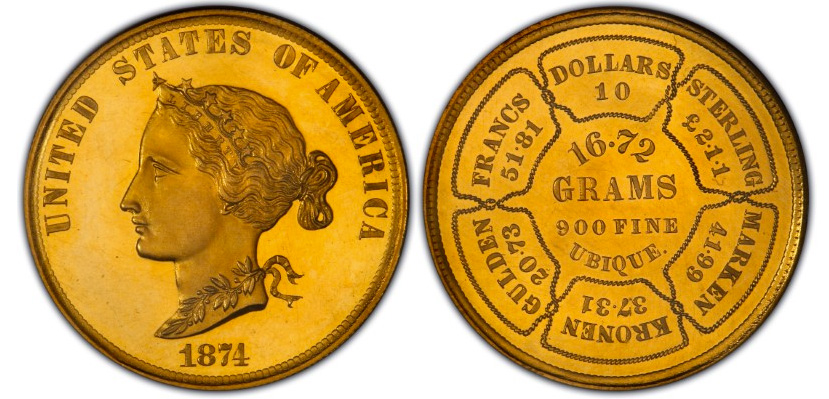 Like the other Stellas, the $20 Quintuple was designed by John Barton Longacre. Around the head is the legend +30+G+1.5+S+3.5+C+35+G+R+A+M+S+.
Fun facts: The last sale of a genuine $20 Gold Stella brought $1.88 million. The US Mint also produced other $20 Stella patterns including copper and gold plated examples.
Pretty cool!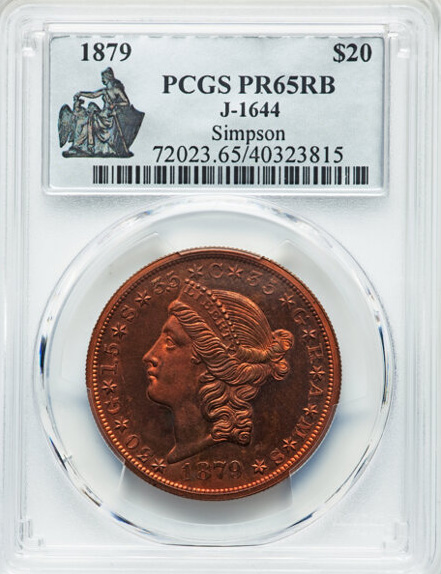 Created by: Panda on 01/07/2022
Thank you for sharing this amazing piece, very nice to know!
Stellaaaaaaaaa!!! New!
12/16/2021
The following was written by Brian.
If you saw it, you never forgot it. Marlon Brandow's legendary scream to his wife in the 1951 film A Streetcar Named Desire. So cool. Just so damned cool.
Almost as cool is another legend – this time in the field of numismatics; the 1879 and 1880 $4 Gold 'Stella'.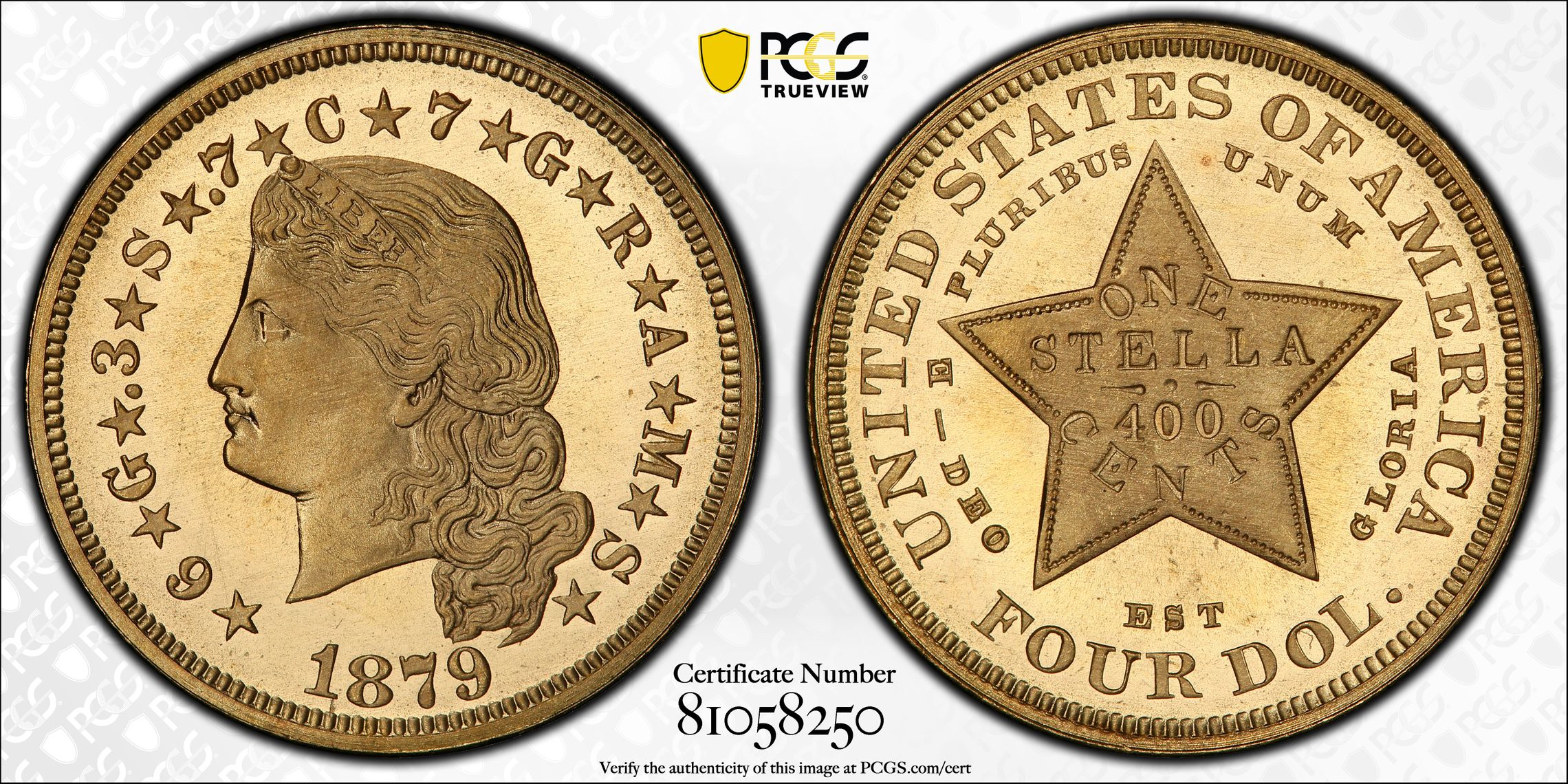 What a great issue and certainly a coin that you will find in every edition of the book 100 Greatest US Coins by Jeff Garrett (usually near the beginning of the book – top 20).
During the mid 1800's, the United States had difficulties getting congressional approval for an international gold coin. Despite several attempts, nothing had moved forward until 1879 when the US Minister to Austria John Kasson (he was also the former Chairman of the Committee of Coinage, Weights, and Measures) suggested a US gold coin be created similar to the Austrian 8 Florin piece. The coin would have metallic content stated in metric units and would approximate in value the Spanish 20 pesetas, Dutch 8 florin, Austrian 8 florin, Italian 20 lire and the French 20 franc among others. The hopes of representing in metric units was that it would be easier for Europeans to use and it would aid in international trade and travel by US citizens. Its namesakes come from the Latin word for star "stella" and indeed the reverse bears a 5-pointed star.
Two US Mint chief engravers Charles Barber and John T. Morgan were responsible for the designs and the two portraits were very different from each other; Barber's version displayed loose, fluid locks, while Morgan's featured a tight, coiled, braided hair style. Each year – 1879 and 1880 - feature a flowing hair and coiled hair design amounting to 4 designs in total.
As mentioned, there are 4 known varieties, but the most readily available is the 1879 Flowing Hair Stella. This was a proof-only issue (as were the others) with a mintage of (about) 425 that were given to members of congress. It is said that many of the 1879 Flowing Hair Stellas were given to mistresses of these congressmen, which would explain the large number of ex-jewelry pieces. Now that's a spicy coin-a! Although the 1879 Flowing Hair variety has the zesty back-story, the other 3 varieties are significantly rarer. The 1880 Coiled Hair has a mintage of just 20, but all 4 bring huge premiums at auction when and if they show up. A very tough, but most beloved and interesting US coin.
Our 100,000th Invoice New!
11/02/2021
There is 1 comment on this post.

The following was written by Tom.
Around 20 years ago we started our current invoicing system, beginning at invoice number one. Today we reached a significant number; we created invoice number 100,000. It means little in the big picture other than to show that Northeast has been busy these past couple of decades. We are proud of our consistent daily activity and fair dealings of buying and selling with collectors, investors, and dealers, all while under the same ownership. We thank you, our customers, for making it all possible. We look forward to reaching the next big milestone!
Created by: Panda on 11/02/2021
Congratulations!
Keepin' It Reales! New!
10/27/2021
The following was written by Brian.
One of the most historic events in world currency came in the year 1497 with the creation of the Spanish '8 Reales' silver coin. For many, many years after the first minting, these 8 Reales would be the standard of global currency. The 8 Reales was known as the Spanish Dollar but also was referred to as 'pieces of eight'. At the time it was the largest denomination silver coin in the New World. The coin boasted a 38 mm diameter size.
For comparison, here is an 8 Reales next to a Morgan Dollar.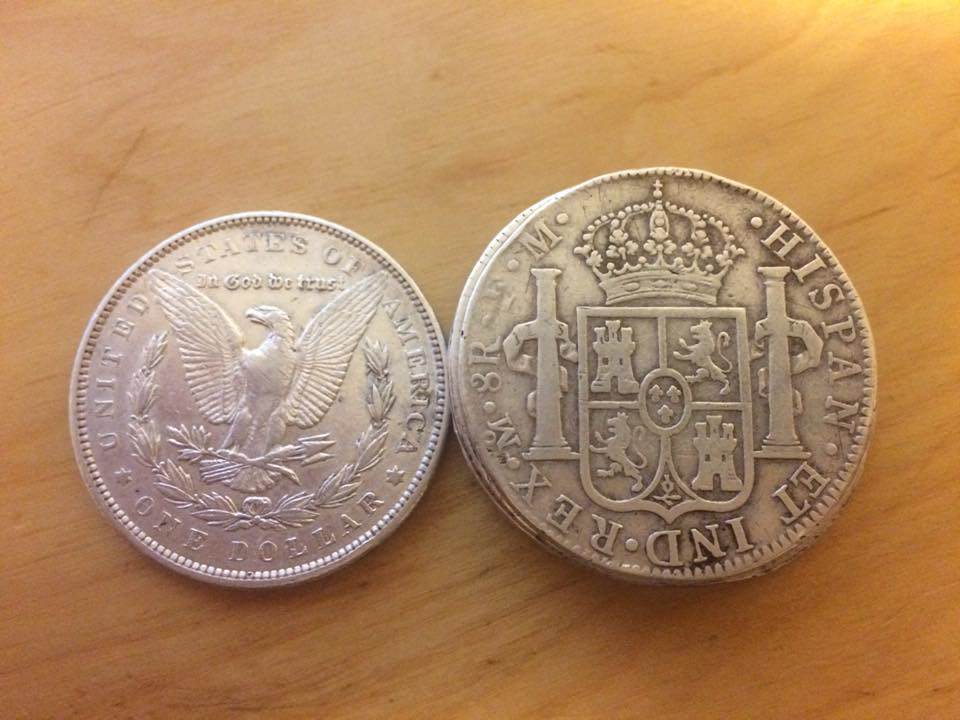 These coins were minted in Potosi, Bolivia where the main 'silver mountain' and mine were located. The harsh reality is that thousands of indigenous people were held as slaves to operate the mine. Many died due to the harsh conditions and the demand for silver to pay for Spain's military initiatives. This, however, did nothing to diminish the coins' impact on world currency and one could say that it was the first uniformly used global currency.
The Spanish dollar coin was worth 8 reales (a unit of currency in Spain) and could be physically cut into 8 pieces or 'bits' to make change and indeed this was a very real practice. The Spanish Dollar could also be cut into quarters or even halves.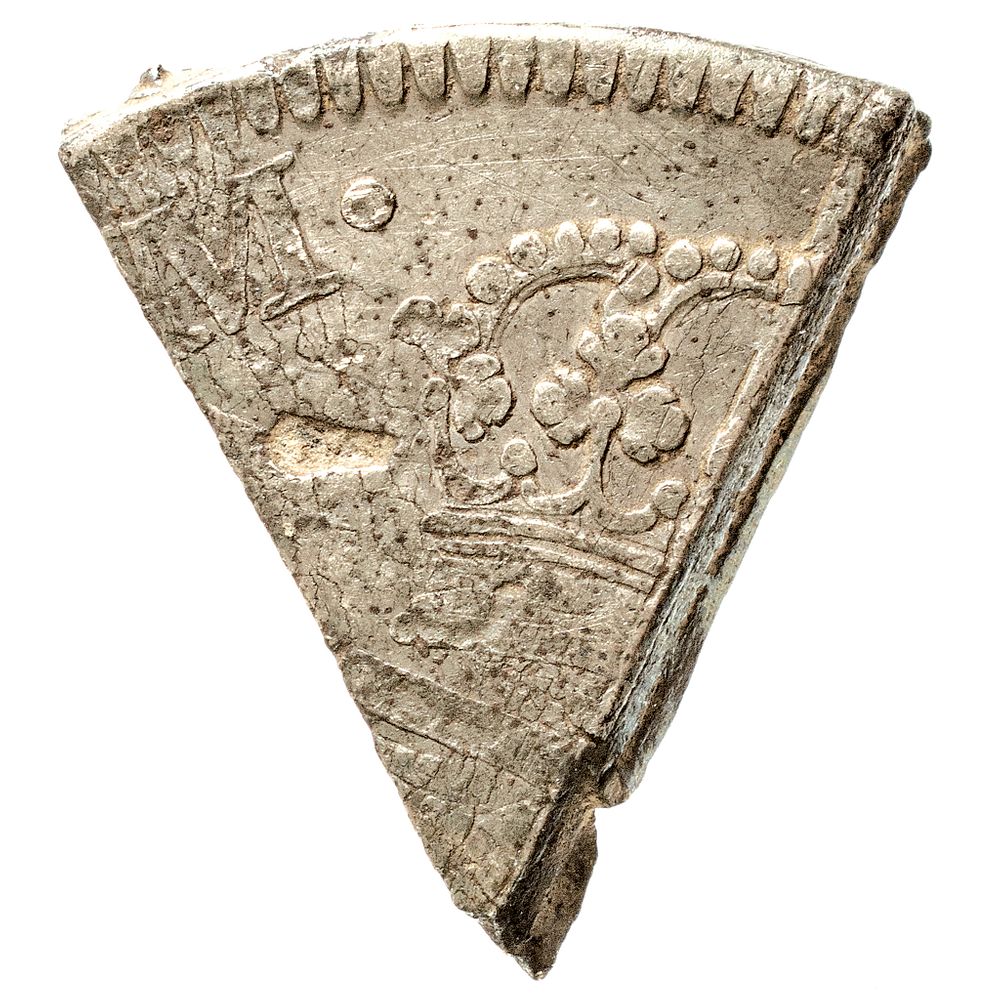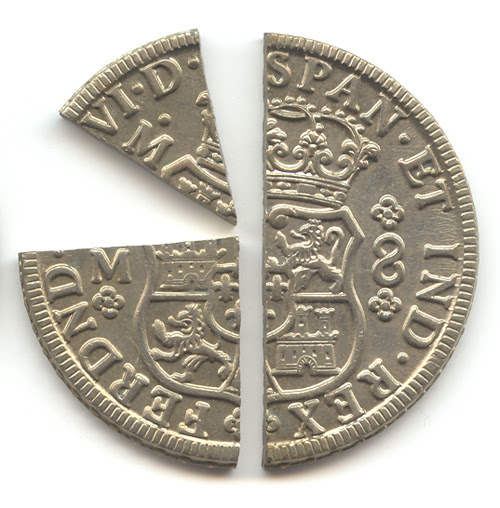 Here is a modern representation of how the bits might be cut.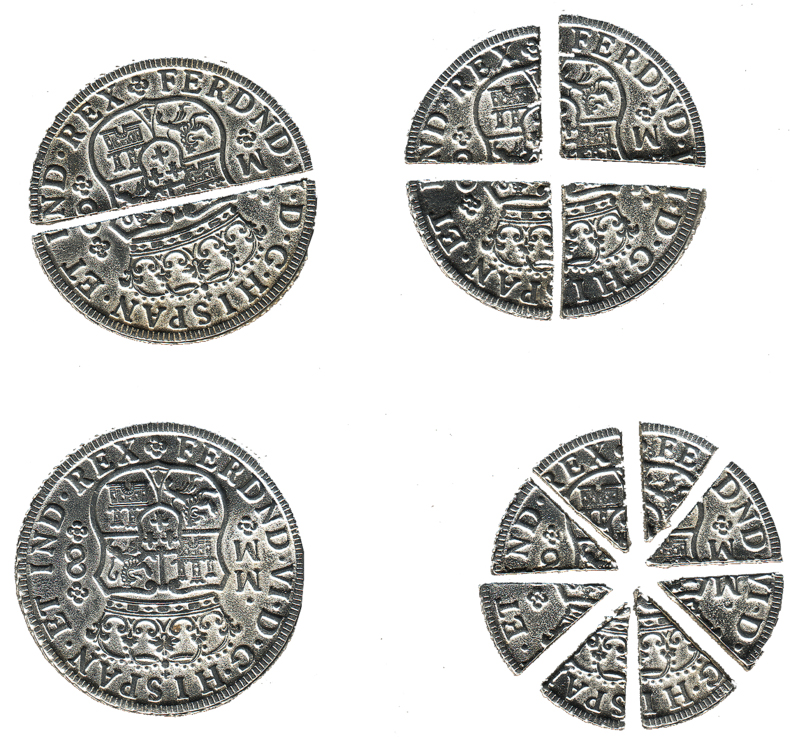 If you're like me, you immediately think of a pie chart when viewing these bits. Here was my first thought and an example we can all wrap our heads around.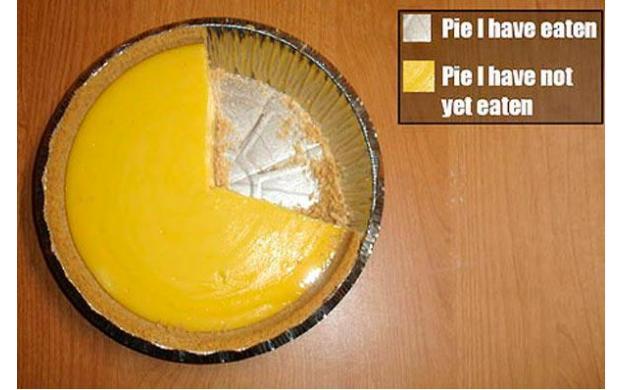 Spanish coins were increasingly popular and were preferred over other currency because they had a milled, or patterned edge, which prevented the practice of shaving down the edges of coins without being detected. Many years later, the United States and Mexico would adopt a similar style silver dollar/peso.
For this particular Spanish Mexican colony piece (below), the obverse has a profile portrait of King Charles IV and reads "Del Gratia 1805 Carolous IIII," (Charles IIII by the Grace of God, 1805). The reverse shows an image of Spain's Pillars of Hercules lesser royal coat of arms and reads, "HISPAN ET IND REX M 8R T H" (King of the Spains and the Indies, Mexico, 8 reales).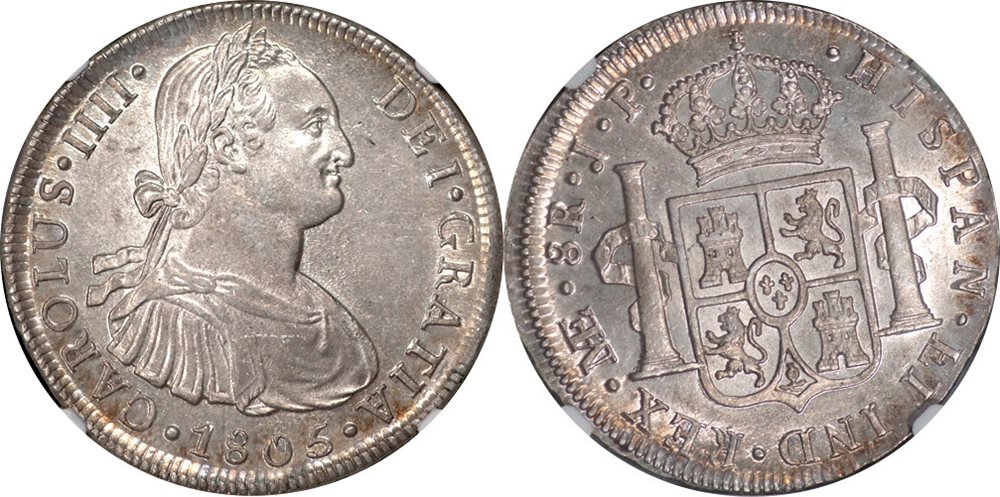 The 'M' is for Mexico, but more interestingly, the 'T H' on the reverse refers to the assayers initials; one for each of the first letters of the first names of the senior and junior assayer. In this case, the TH is for Thomás Butrón y Miranda & Henrique Buenaventura Azorín.
A great coin indeed and the popularity of this coin continues to this day. But hey, that's just my two bits. The most important take from all of this is that you now know truly how much a shave and a haircut will cost you.
Oh My Gaudens! New!
10/12/2021
Fall is a wonderful time to travel in New England, especially by car. This is the season that many thousands of 'leaf peepers' will descend upon sleepy towns in the northeast to be dazzled by vivid displays of the changing season. Apple orchards, cider donuts, pumpkin-fests, decorative gourds and of course the foliage are among the many wonderful features to enjoy during your stay.
Believe it or not, this isn't Photoshopped!
Another perhaps lesser known New England attraction can be found in Cornish New Hampshire. Cornish is a pleasant 2 hours 15 minutes drive from Concord, MA (home of Northeast Numismatics) on the New Hampshire-Vermont border. Cornish is also home to the Saint Gaudens National Historic Park. Within the park grounds you will find the home of Augustus Saint Gaudens. St. Gaudens was one of the world's preeminent sculptors of the 19th and 20th century and he made Cornish his summer residence from 1885-1897 as well as his permanent home from 1900 until his death in 1907. The grounds also feature many of his bronze sculptures, the Blow-Me-Down farm, dance hall, nature trails, monuments, statues, memorials, atriums, flower gardens, ponds and wide open fields that showcase views across the Connecticut River to the Vermont mountains.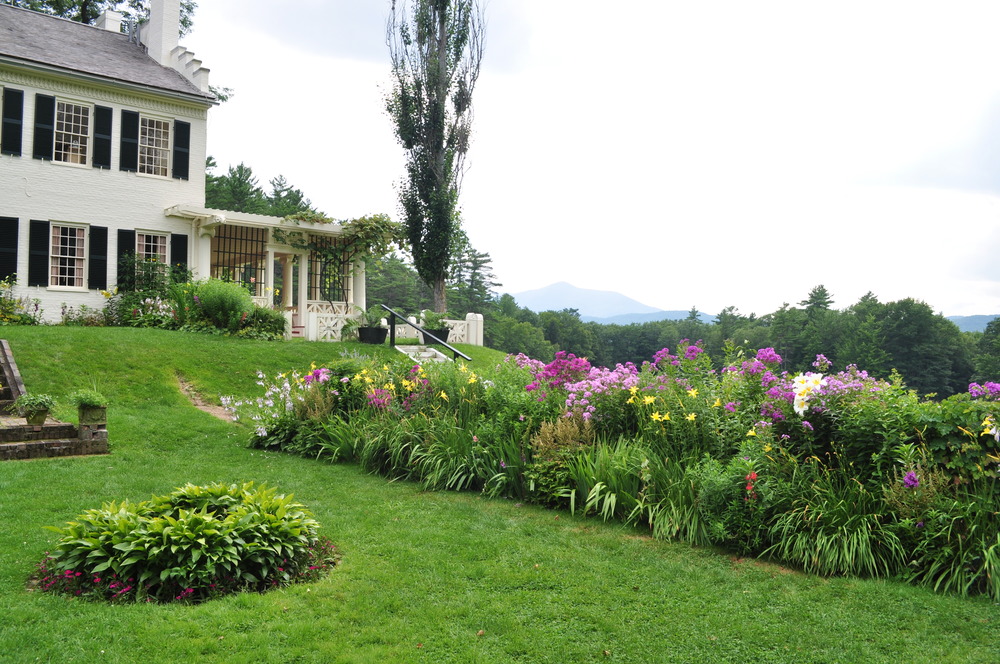 Main House and Flower Gardens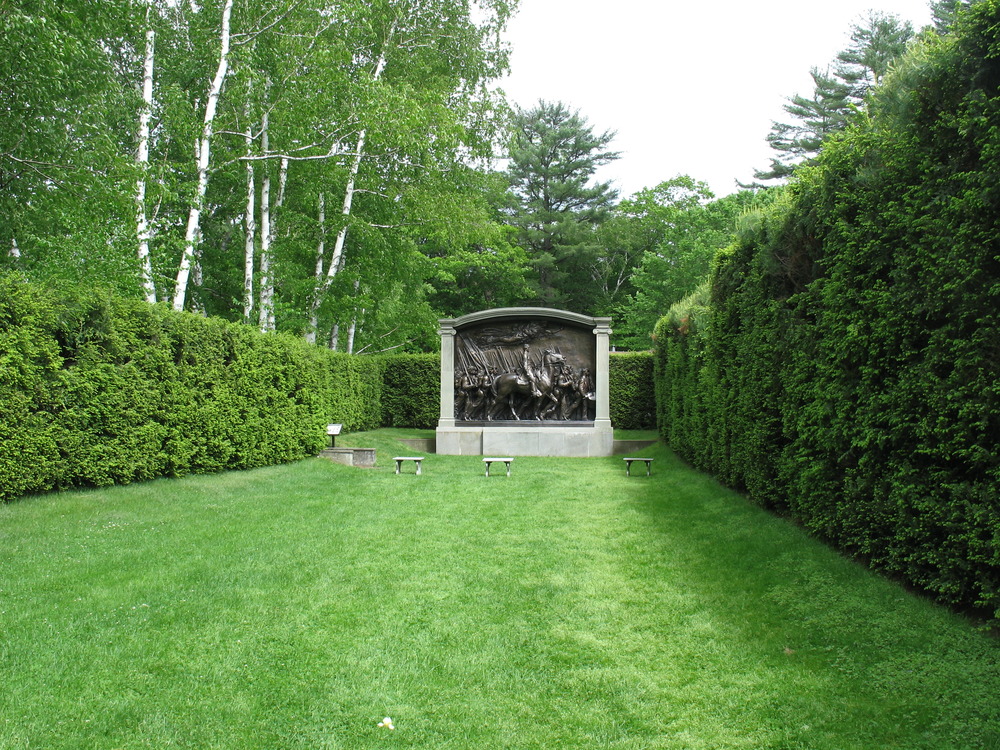 Shaw Memorial on the Bowling Green
St. Gaudens was well known for his 'Beaux-Arts' generation sculptures and was quite famous during his lifetime. Some of his major achievements include the Civil War Robert Gould Shaw Memorial which still stands on Boston Common, the General John Logan Memorial in Chicago's Grant Park and a plethora of other works too voluminous to name here.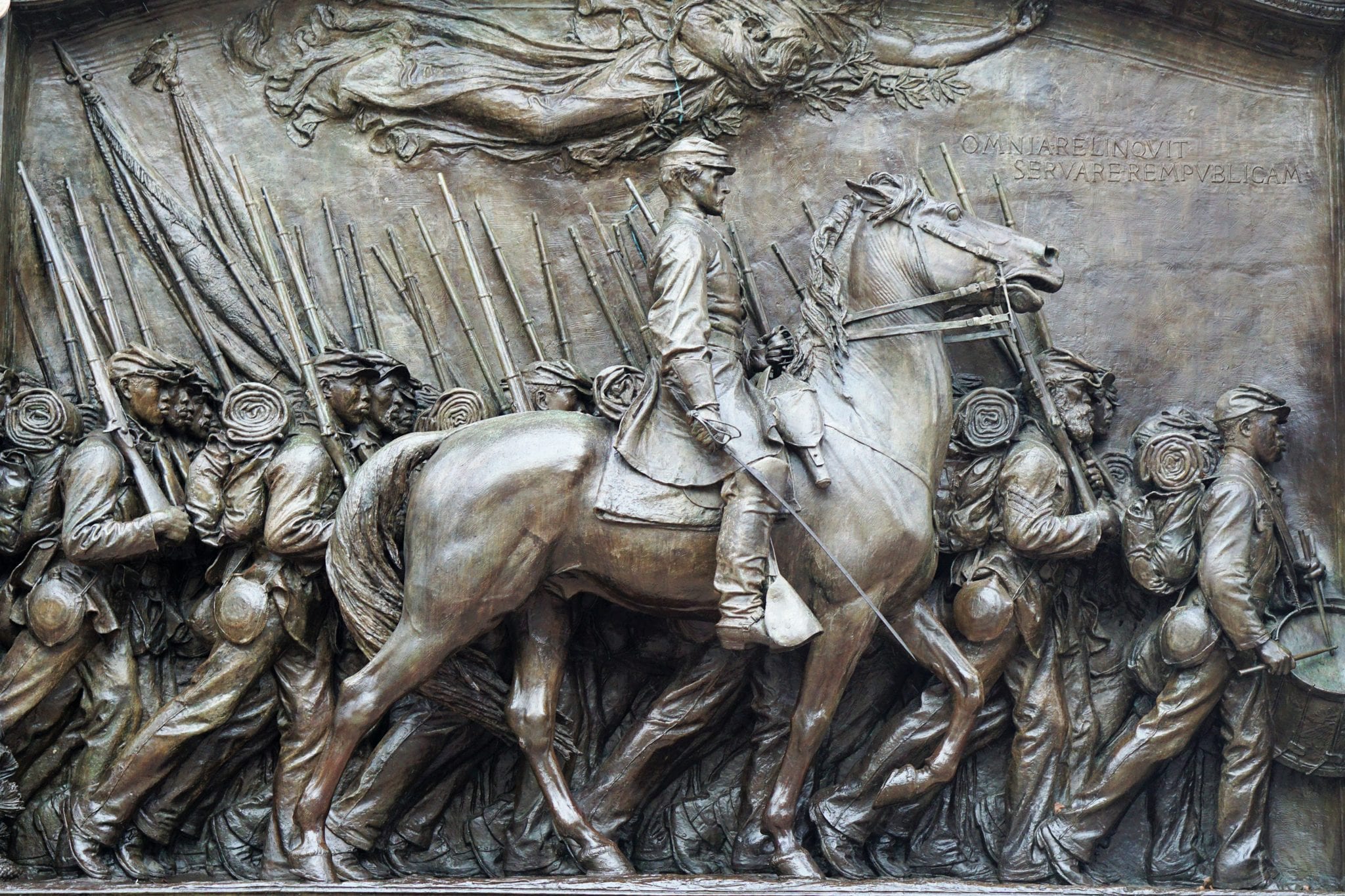 Robert Gould Shaw Memorial honoring the 54th Regiment
It is said that St. Gaudens was a good friend of Teddy Roosevelt. Roosevelt, early in his time in office, was unimpressed (to put it lightly) with the designs of US gold coins and he developed a scheme to change that. St. Gaudens was commissioned to lead the way for these advancements and was charged with designing a $20 gold piece, a $10 gold piece and a cent (which was never minted). Many consider his gold $20 Double Eagle to be the most beautiful in all of US coinage. Here is one of the finest known of his $20 designs.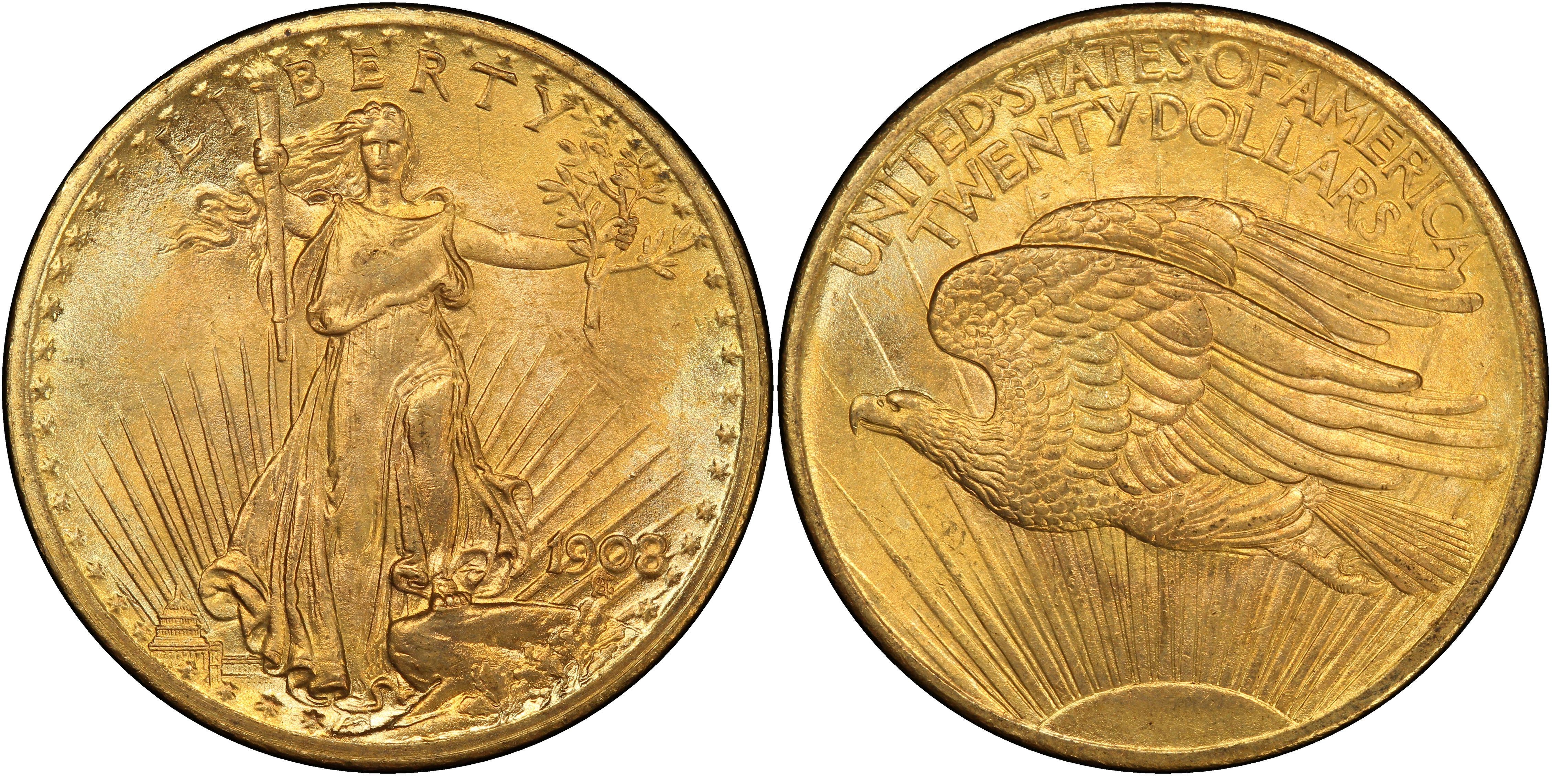 And of course the $10 Gold Indian Head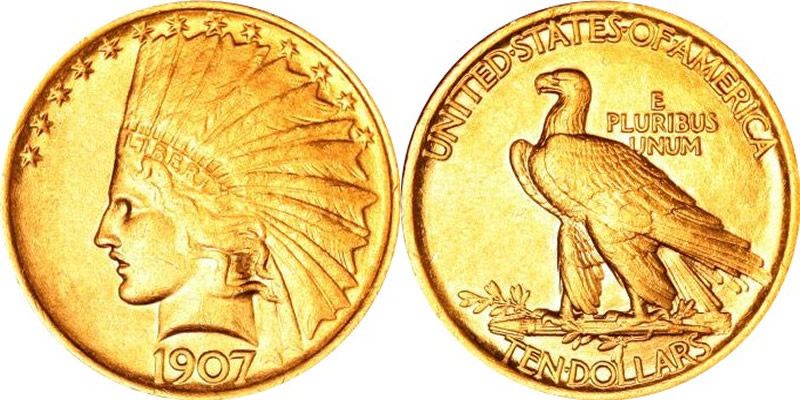 The most famous (and perhaps most controversial coin in US history) is the 1933 $20 Double Eagle of which only 13 remain and just one privately owned. This particular specimen just sold for 18.8 million dollars in June 2021.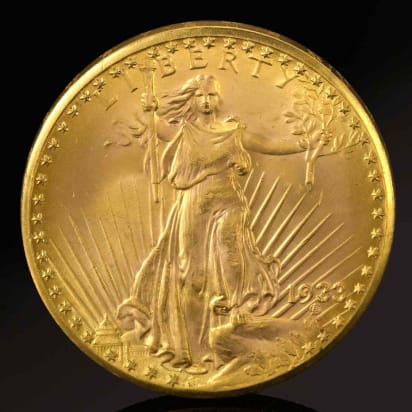 Perhaps second only to the '33 Saint is the equally famous and certainly more attainable 1907 $20 High Relief. This important US coin comes in two varieties; the Wire Rim and Flat Rim, although they are not true varieties as the two different strikings were not planned by the mint, but rather a result of a rather tedious striking process (each coin required 5 blows by the equipment in order to bring up the design elements fully).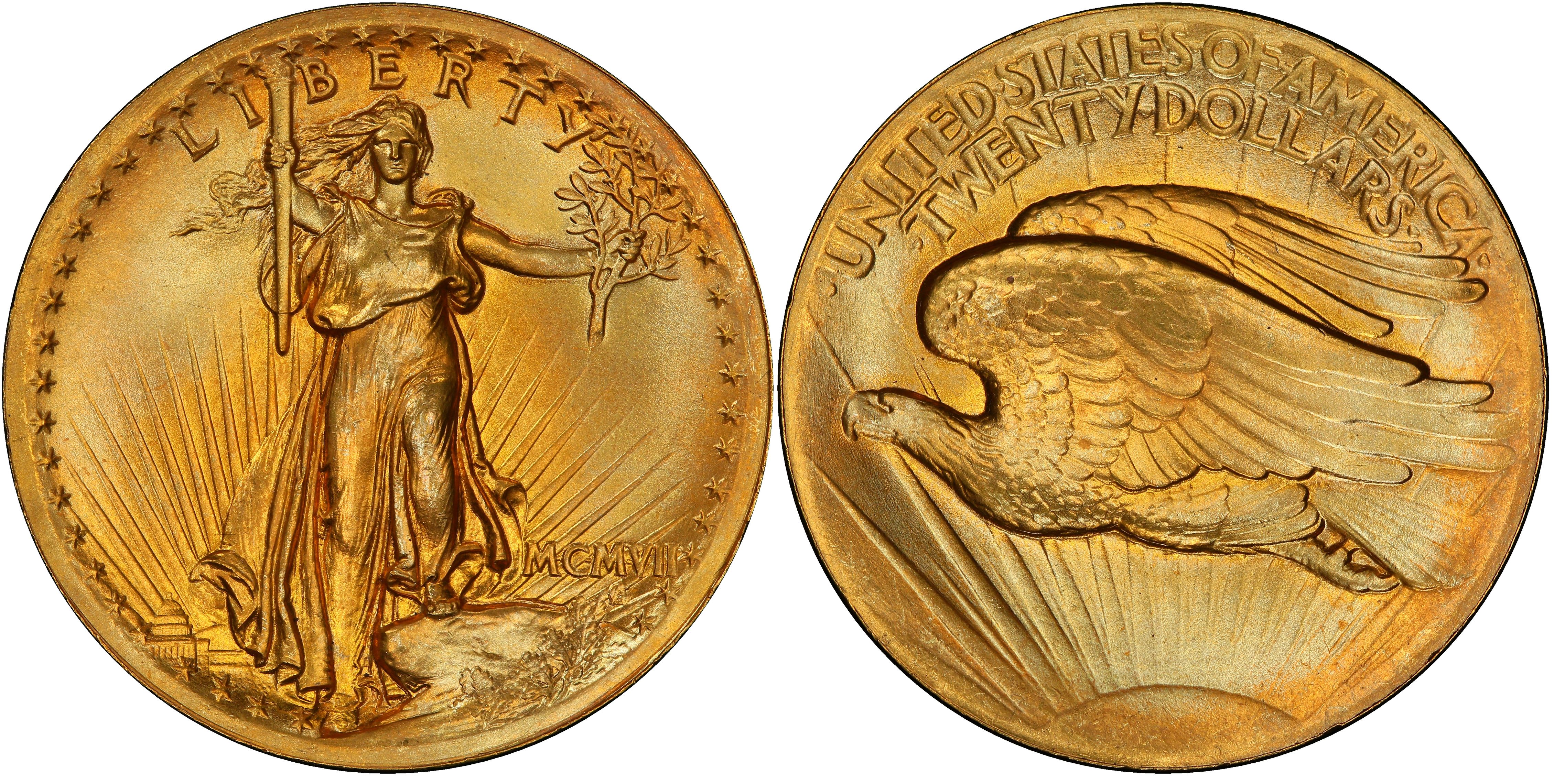 Beautiful American coins designed by a very talented American artist. If you're ever in New England you should definitely make this one of your must-see attractions.