Northeast's Blog
Attention coin club members - books for your library? New!
09/11/2023
We recently culled the random assortment of books shown below from our library. If you are a member of a coin club and would like to add these to your club's library, let us know and the group is yours at no charge. Given away on a first come, first serve basis. You can request them by leaving a comment on this post.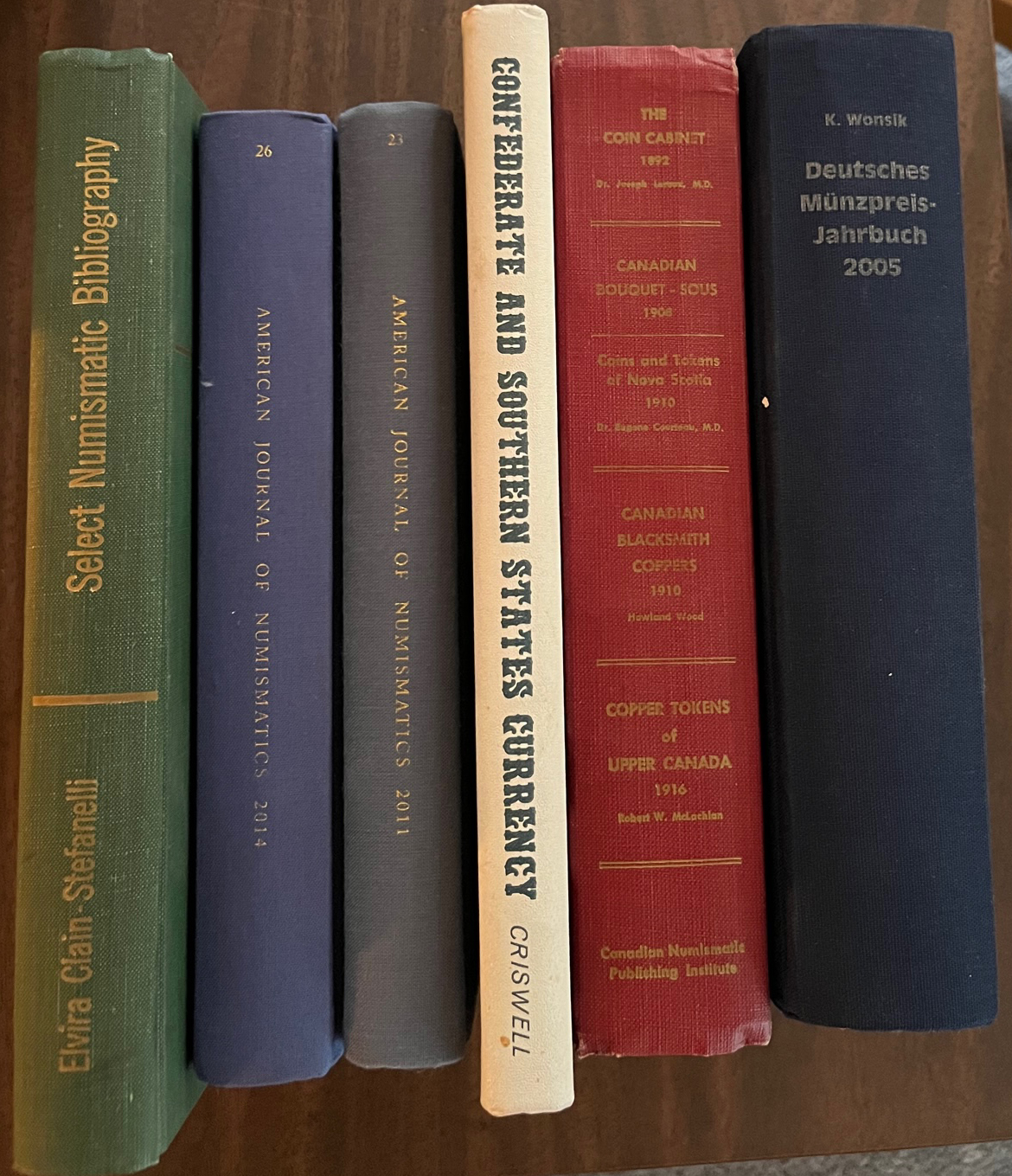 Long Beach Coin Show Report New!
09/08/2023
The following was written by Chris
I'm always very busy after coin shows playing catch-up, which is why the occasional coin show report we post shows up several days, if not weeks, later. But considering how short the show was, I figured I'd bang one out quickly.
As mentioned in our previous show report, NEN did not take a table at this show for the first time ever. Sales were terrible at the last LB show we attended, and two of our other buyers (Tom and Frank) either couldn't or didn't want to go to this one. That said, I was not ready to give up on the show. A big reason is that I enjoy attending it. The weather is almost always the same (lovely), and the downtown area is light years ahead of where it was 10+ years ago in terms of things to do and places to eat.
I flew into LAX from Boston Tuesday night. (I sure do miss those nonstop flights from Boston to Long Beach!) I started early Wednesday morning doing pre-show biz with wholesalers. Show setup started at noon, and I was able to get in thanks to getting an Early Bird badge. It was refreshing to see that the show opened on time and everything was set up. Not so the past couple of shows.
From noon until 6 pm or so, I traveled to various wholesalers' tables looking through their boxes. My plan was to fly home late Thursday night on the redeye, but by the end of the first day, I knew I was going to be taking an earlier flight. I'm disappointed to say it, but wow, has this show declined significantly. More and more dealers are no longer setting up or even attending. That night I changed my flight to a Thursday afternoon flight, with the added benefit of getting a full day in the office on Friday.
Thursday morning I hit a few other dealers who still had their inventory in boxes or who hadn't set up at all (see my previous show report about trawling the floor looking in showcases). I went to the show with two empty double row boxes, with the plan to hopefully fill them up, but not looking to buy any more than that. I was definitely being selective. After I finished my last deal, it fit perfectly in the second box. I didn't have to cram anything in nor was there room for another coin. Exactly two double rows!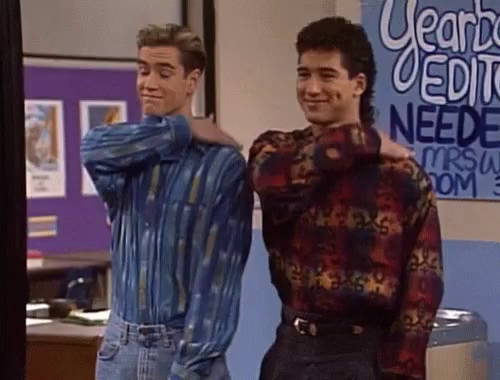 I shared a ride to LAX with a dealer friend of mine and grabbed yet another shockingly on time JetBlue flight home, getting to my house around 1 am this morning. Now for a quick food summary. Lunch from Islands Restaurant on Wednesday was generously provided to me by one of the wholesalers, and dinner was with a long-time coin circuit friend of mine at some Italian restaurant. I generally do not eat Italian food, so I of course tried their burger. One hockey puck later, it was time to call it a night.
I'm not sure if we'll be taking a table at the next LB show. Regardless, I will definitely be attending. While there are way fewer dealers at this show now, it was well worth the time and expense to head out there. I am very pleased with what filled the two boxes I bought.
2023 ANA World's Fair of Money Show Report New!
08/25/2023
The following was written by Chris.
The ANA's World Fair of Money was held earlier this month in Pittsburgh. Back in the day, this show used to be in a different location every year. I really enjoyed the fact that I could count on being able to travel to a different city at least once a year, as all of the other shows on the circuit are held in the same place (e.g. the Whitman show in Baltimore, the Long Beach show in CA, the FUN show in Orlando, etc.).
The ANA then started holding the WFOM every year in Rosemont, IL. Nothing against Rosemont, as it is convenient and they have a nice entertainment complex near the convention center, but it became boring. So, it was nice to have a different host city this year. Of course, we're back to Rosemont next year. And after that, they are moving it to a new place – Oklahoma City. In August. What?! NOT a convenient city to get to and it's going to be HOT.
Tom, Brian, Frank, and I attended the show. We flew into Pittsburg Sunday evening and I hit the ground running. I had second shot at a wholesaler's inventory, so I didn't want to miss the opportunity. We set up in his hotel room and I was able to pick up a decent group of coins from the 12 or so double row boxes that he had, while eating a pretty darn good takeout burger in the process. Wrapped my night up around 10:30 pm and went back to my hotel for the night.
Dealer Day started Monday morning, and it was a nice short walk from the hotel to the convention center. Not everyone who sets up at the regular show gets a table for the dealer day. Tom and Brian were not on the bourse floor right away, as they were offsite showing our inventory to two different dealers whose business we rely on for a good show. As soon as I had my lamp set up, I flagged down a dealer walking the floor and the day began. Next thing I knew, they were announcing that the bourse floor was closing soon. The day flew by just like that. I recall taking a break to eat some pork rinds I had brought, and Brian graciously provided the rest of my sustenance – a fountain diet coke. It was a successful day of buying from strictly wholesalers.
Tuesday brought the rest of the table holders in. From all appearances it looked like a pretty full bourse floor. That said, I rarely ventured away from my table other than to look at a couple other dealers' inventories in their boxes. My preferred way to look at coins is in boxes, and I'm fortunate to be able to do most of the viewing at my table. Dealers would bring me their inventory and leave it with me to go through. I don't enjoy, nor am I very good at, walking around the bourse floor peering into showcases looking for coins to buy. This was a 10-hour day of pretty much nonstop box-looking. I think more pork rinds were consumed, a soda, some candy, and 25 gallons of water.
Wednesday was more of the same for me. I looked at a couple of sealed bid auctions, and went through a few other dealers' coins at my table. 3 ½ days of buying is plenty for me, so I was scheduled to fly out that evening. Grabbed my first meal of the day at the airport, and an unusual on-time JetBlue flight was greatly appreciated. I was glad to get some much-needed time in the office on Thursday and part of Friday, before heading out for a very enjoyable weekend visiting some friends at Lake Sunapee, New Hampshire.
Tom, Frank, and Brian stayed at the show until Saturday. They sent me a photo of the bourse floor Saturday afternoon. It was a ghost town. I wouldn't be surprised if they decide to fly back on Friday next year.
Overall, it was a decent show. I was happy with what I was able to buy. Sales were a bit disappointing, particularly considering how much inventory we brought. We're hopeful for a rebound at next year's WFOM.
I DID eat while I was in Pittsburgh. I found this fantastic bar that is 100% my scene. Kinda sorta divey, with very friendly staff and great food. If you find yourself in the city looking for a place to unwind and enjoy a good meal, I highly recommend The Warren Bar & Burrow (www.thewarrenpgh.com).
Next up on the show schedule is the Long Beach Expo. For the first time ever, Northeast Numismatics is not taking a table. (Possibly more on that later.) I'll be heading out for just a couple of days to buy. Hopefully it will be eventful enough to warrant a show report.
Frankly Speaking - Summer Grading Seminar New!
07/21/2023
There is 1 comment on this post.

The following was written by Frank.
Last month, I attended my second ANA Summer Seminar in Colorado Springs. Brian and I had just been at the Long Beach Coin Expo the week before Summer Seminar, so I had flown from Los Angeles to Colorado Springs. This time around, I took Advanced Grading taught by 3 industry leading professionals, Jeff Garrett, Don Ketterling, and Ken Park. The first day of classes began with introductions of all students and instructors. For the first day, we all graded coins individually and had to record our grades on a sheet of paper to be turned at the end of the day. The next day, our instructors created three teams of 7 graders with each having a finalizer; I was chosen as a finalizer for one of the teams. The instructors passed out 7 certified coins with the grades covered with stickers to each team. As a team, we all graded individually and when everyone graded all the coins, we came together and formed a consensus grade. There were times when we disagreed on grades, but discussed our opinions thoroughly until we came up with an agreement. After gathering consensus grades, one of the instructors would sit down with us and talk us through every coin, give their expert opinion, and tear the sticker off to reveal the grade. Most of the coins we either nailed the grades right on the head or were within a point. Some tricky coins were passed out over the course of the week, including a 1907 Omega High Relief $20 (in a straight grade holder), and a counterfeit 1885-CC Morgan Dollar in an altered holder, amongst many other details coins. During the first couple of days, our individual grades were all over the place, but gradually tightened as the week progressed. Nights were spent talking coins, shooting pool, and riding electric scooters in the downtown area.
The instructors held a grading competition during the last day of class. This was the moment we had all been training for. Over the course of the week, the ANA had a camera crew in the classroom filming parts of class which will later be shown on the ANA's website for educational purposes. Before the competition began, the film director wanted a representative from each team to go in front of the camera to introduce themselves, talk about their team and about the class. My team nominated me, and I hesitantly walked over to where the camera was stationed and talked for a minute or so. Anybody that knows me, knows that I am a pretty shy person and don't like to be in the spotlight. The grading competition consisted of 21 coins, whichever team graded the most coins right won. The prize: bragging rights. We graded all of the coins and felt confident in our grades. After the class had graded the 21 coins, Ken Park would finalize each grade. There were many coins that Ken disagreed with once the stickers were torn off, but ultimately it was his call. For instance, there was an AU 1884-S Morgan Dollar in a PCGS Old Green Holder that we had called AU55, but Ken called it AU Details Damaged. I felt that our team had a solid shot at winning, but we ended up tying for second place, at least we weren't the only team to come in last place. After the competition, we all said our farewells and thanked the instructors for taking the time to instruct the class. I went back to my hotel and flew back to Boston the next morning. Summer Seminar is a great place to learn and socialize with people who have a similar passion, I would highly recommend anyone with an interest in coins to attend Summer Seminar next summer.
Created by: creolechowder on 07/21/2023
What Frank has humbly neglected to mention is that he got the highest score on the individual grading test in his previous grading seminar. -Chris
Frankly Speaking - Two Cent Coins New!
06/09/2023
The following was written by Frank.
Production of business strike Two Cent coins officially began in 1864 but talks about introducing a Two Cent coin started over fifty years prior. In 1806, Connecticut Senator Uriah Tracy proposed the idea of the production of Two Cent and Twenty Cent pieces. The proposed Two Cent coins would be made of Billon, a composition of silver and copper - 6.4 grains silver and 24.3 grains of copper. The bill made its way through the House but died in the Senate, as it was too expensive of a project and would likely be an unpopular coin for public use.
The concept of the Two Cent coin was brought up once again in 1836. These coins would be made of Billon, this time 90% copper and 10% silver. Infamous Chief Engraver Christian Gobrecht would oversee making the new design. The U.S. Mint struck patterns for the Two Cent piece, but none were ever struck for circulation because of counterfeiting concerns. Franklin Peale, U.S. Mint Melter and Refiner, was worried that these new coins could be counterfeited quite easily. The Mint would halt experimentation of the Two Cent denomination until the idea was revisited during the midst of the Civil War.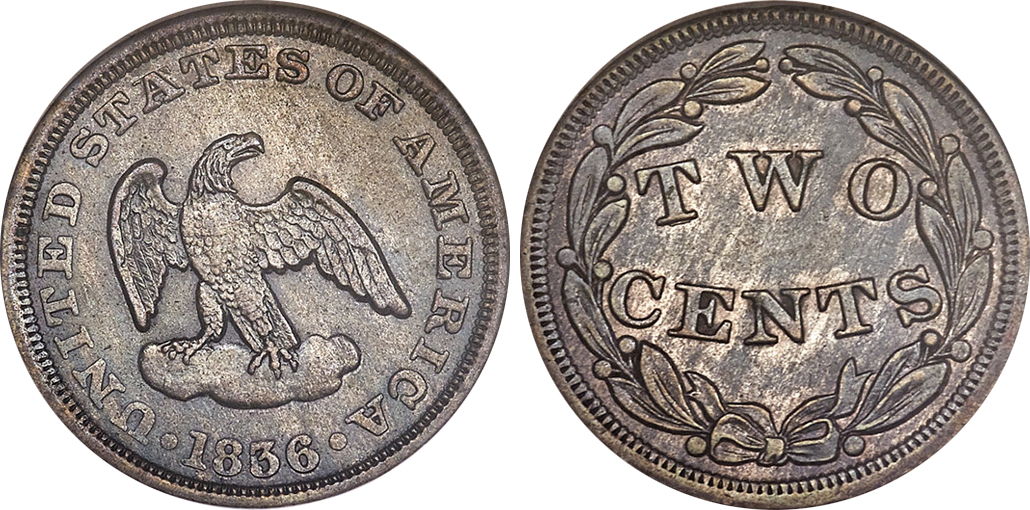 Images from Heritage Auctions.
As they say, "The third time's a charm!" The Two Cent piece discussion was brought up for the third time in 1863. The Mint began crafting up some potential designs for the brand-new coin. One of the designs depicts George Washington on the obverse with the legend "God and our Country" and a similar looking reverse to what we see today. Another 1863 pattern has a very similar obverse to the business struck Two Cent pieces, but instead of "In God We Trust", the motto is "God Our Trust". The reverse is the same as the George Washington issue.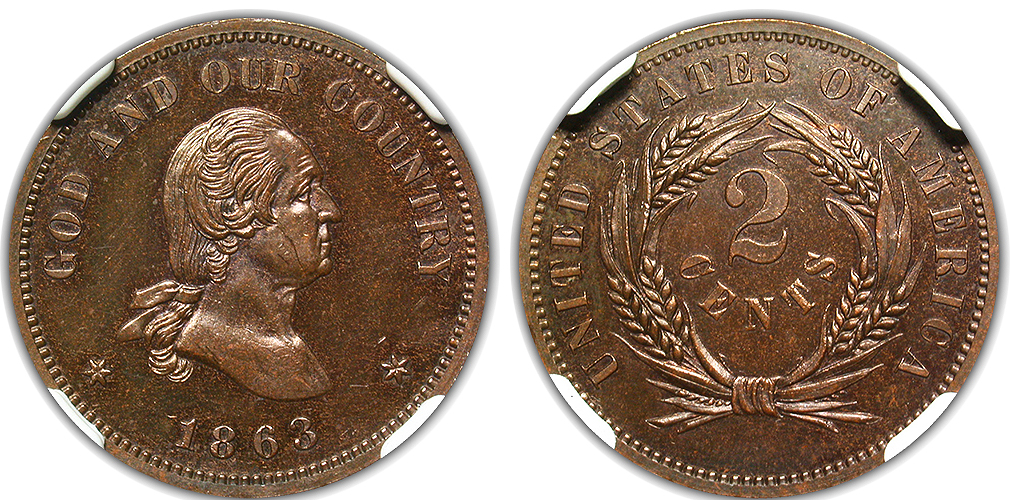 On April 22, 1864, the Thirty Eighth Congress approved legislation which would allow the Mint to strike Two Cent coins for circulation. Chief Engraver James B. Longacre designed the new denomination. The Two Cent piece finally became a reality; over 50 years since the idea was first introduced. The Two Cent piece would be the first coin to bear the motto "In God We Trust." Many coins followed suit later. The United States suffered a great coin shortage during the Civil War. Two Cent pieces were initially widely accepted because of the dire need for new coinage. Once the coin shortage subsided, these coins were not very popular in commerce as smaller silver coins were more available for transacting. This is proven by the amount of heavily circulated Two Cents from 1864-1866. Coins with later dates are not often seen with heavy circulation. The Mint ended production of business strike Two Cent coins in 1872, which is considered to be the key date of the series. The final Two Cent pieces were struck in 1873 as proofs only.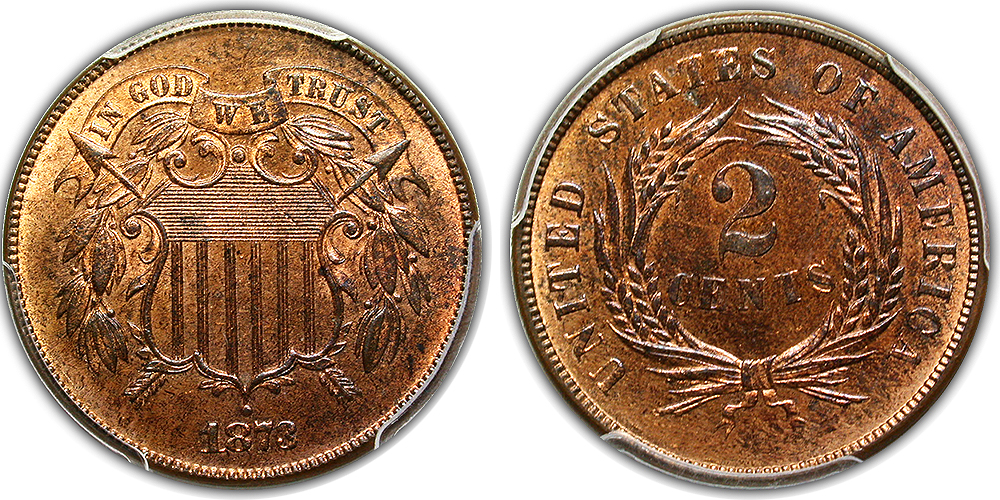 Sources:
https://www.pcgs.com/coinfacts/category/two-cent-1864-1873/670