Northeast's Blog
The passing of a friend New!
01/20/2021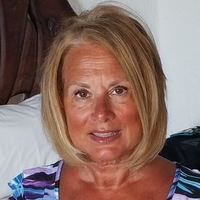 We are very sad to announce the recent passing of our friend and colleague, Margie Sheaffer. She passed away at the age of 71, with her husband Gary by her side. Margie started working the coin shows with us back in 2011. Based out of Pennsylvania, she would fly out and meet us at all of the major shows. She primarily took our coins around the bourse floor to show other dealers, but she also provided invaluable assistance behind the table.
Margie's time in the coin business started well before she started working with us, however. In fact, she started in the biz almost 50 years ago. To this day many still knew her by the name of Margie Sharp from her single days. Over a 50-year span, Margie has worked for Worldwide Numismatics, Britt Simons, Bob Hughes, Dennis Steinmetz, Frank Greenburg, John Maben, Modern Coin Mart, us here at Northeast Numismatics, as well as others. She was known by almost every dealer in the show circuit and was well-liked by all.
It was always a joy hearing the stories about the pre-coin circuit days when Margie had a minor rock and roll hit, cutting a record in the late 60's or early 70's. If only she could have traded in her cheery bourse floor voice and personality for rock & roll fame! In recent years Margie retraced bits of this glory performing in senior music competitions.
From Tom
Smiling & friendly. Reading the many tributes & remembrances from Margie's many friends & dealer colleagues from across the country, I am really struck by these overriding comments. Margie was always known as someone that would greet you within a nice big smile on her face. She was funny & cheerful, would remember a birthday or special event, & was very easy to talk to.
Margie's tremendous energy & hard work will be missed for sure, but more we will miss the Margie that would bring a thoughtful gift to a dealer friend, remember & comment on your grandkids, or some other thoughtful event. We were honored to be Margie's friend & she will be missed immensely.
From Chris
Margie was such a lovely and fun person to be around. Some of my favorite moments with her was when she would recount the coin stories of old, well before my time in the business. The 70's and 80's were some crazy times in this industry, and she knew most everyone in the biz back then. I never tired of hearing the old school scoop.
It was always a treat to see Margie at each show. A fond memory I will always have will be the actual "treats" she would sometimes bring me. Her husband Gary is an avid hunter, and occasionally Margie would show up to the show with a bag of homemade deer jerky for me. (Thank you, Gary!)
While we didn't go out to dinner too much together while on the road (Margie usually preferred calling it a night early and would enjoy some room service…probably because she was sick and tired of working with me and Tom all day!), we would occasionally enjoy an after-show cocktail in the hotel lounge. Tequila was her beverage of choice. You could always tell if Margie had had one or two tequila drinks. The color of her cheeks and her stories were the giveaway. She normally retired to her room after her second, but not after we had a bunch of great laughs.
Margie always asked about my daughter, wanted to know how she was doing, and see any updated pictures I might have. She was a kind and caring person. I will miss her so much, both as a colleague on the road, and as a friend.
From Brian
I first met Margie when she was visiting Boston and came into the office at our old place. We were introduced but before I could put my hand out to shake hers, she gave me a big hug. That really says it all about Margie; a wonderful, cheerful, loving, funny and welcoming lady. Though she never met my son Lukas, she would always ask me about him and tell me how adorable he is. It was always so nice to see her at the shows and we immediately had a musical bond that would keep us talking music the whole time. Gone way too soon, I will miss her greatly.
Collection of Walkers - video New!
01/13/2021
There is 1 comment on this post.

Tom discusses a collection of Walkers we recently acquired.
Created by: Robert on 01/19/2021
I enjoyed this vlog. I would love to see more in the future. It would be great to include some market commentary and forecasts as well!
We're glad you enjoyed the video. Stay tuned for more. And thanks for the feedback - we'll certainly keep your suggestions in mind!
He Schützen and He Scores! (Part II) New!
01/05/2021
The following was written by Brian.
Now that we are all familiar with the Schützenfest (if you're not, please read the previous blog), let's move on to the reason I'm blogging about it in the first place - the medals!
Shooting medals and cups are the most common form of the Swiss awards and are made from many different metals including silver, bronze, gold, aluminum, and white metal. Shooting medals in general are scarce due to low mintages (averaging 700-800 some more, some less), melting, being lost and basic attrition. The size of the medals ranges from 23 mm to 62 mm, with 45 mm being the most common. What makes these medals so noteworthy are the fantastic, complex designs that many display.

Here's an example (and this one happens to be our lead numismatist Chris' favorite) of the 1890 Old Suisse Confederacy Thurgau-Frauenfeld Silver Shooting Medal "Helvetia the Protector."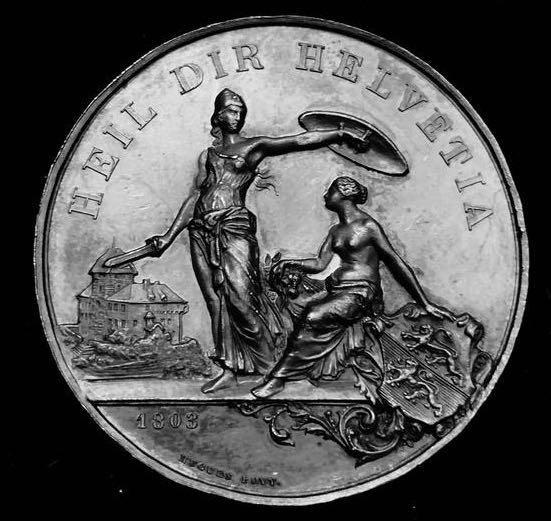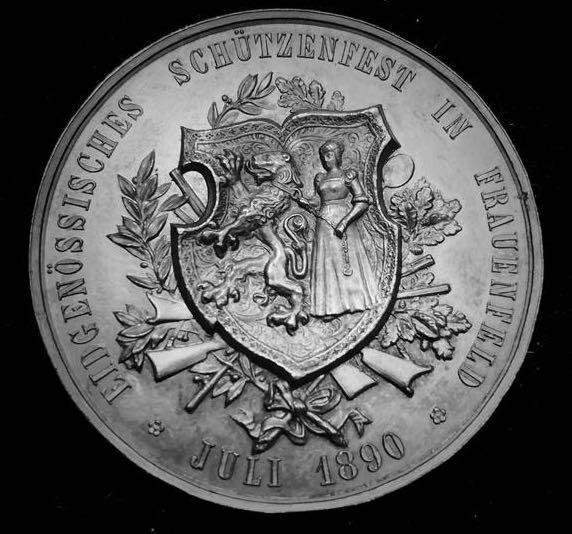 Some designs convey a sense of movement and emotion, like the one below. I think it is clear what this man's intentions are and I for one would not mess with him.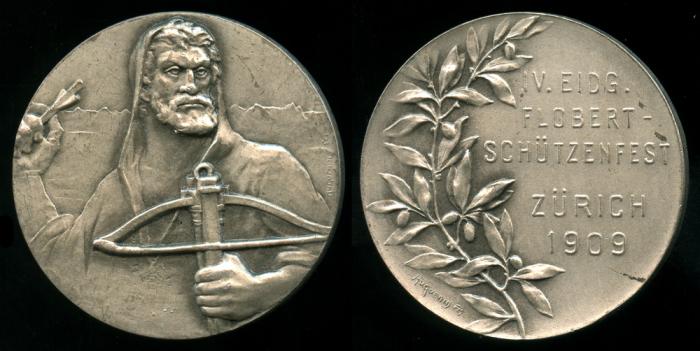 Shooting Thalers are minted to commemorate the festivals themselves. Here is the 1874, Swiss Cantons - St. Gallen. Silver Shooting Thaler (5 Francs).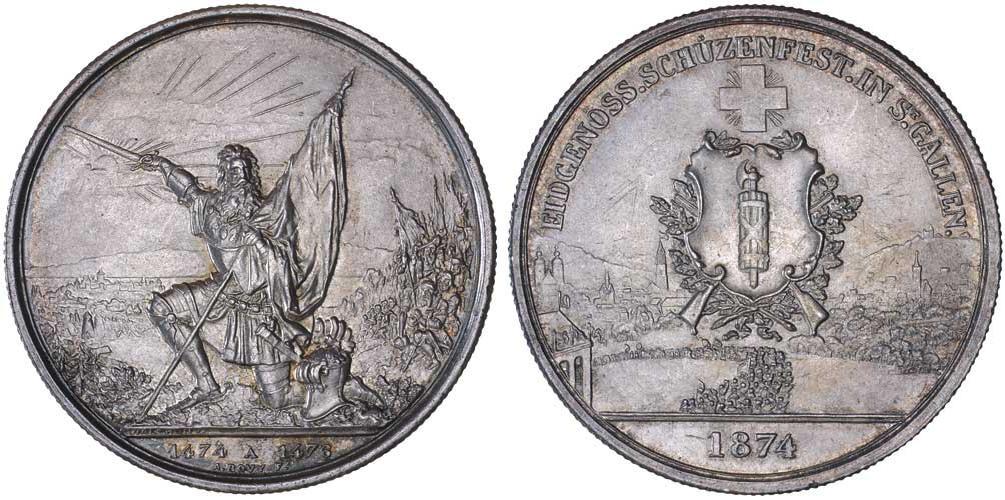 Some are quite elegant in design. The 1886 Old Suisse Confederat Neuchatel La Chaucer de-Fonds Schutzenfest Shooting Bronze Medal "Helvetia & Youngling" is quite popular.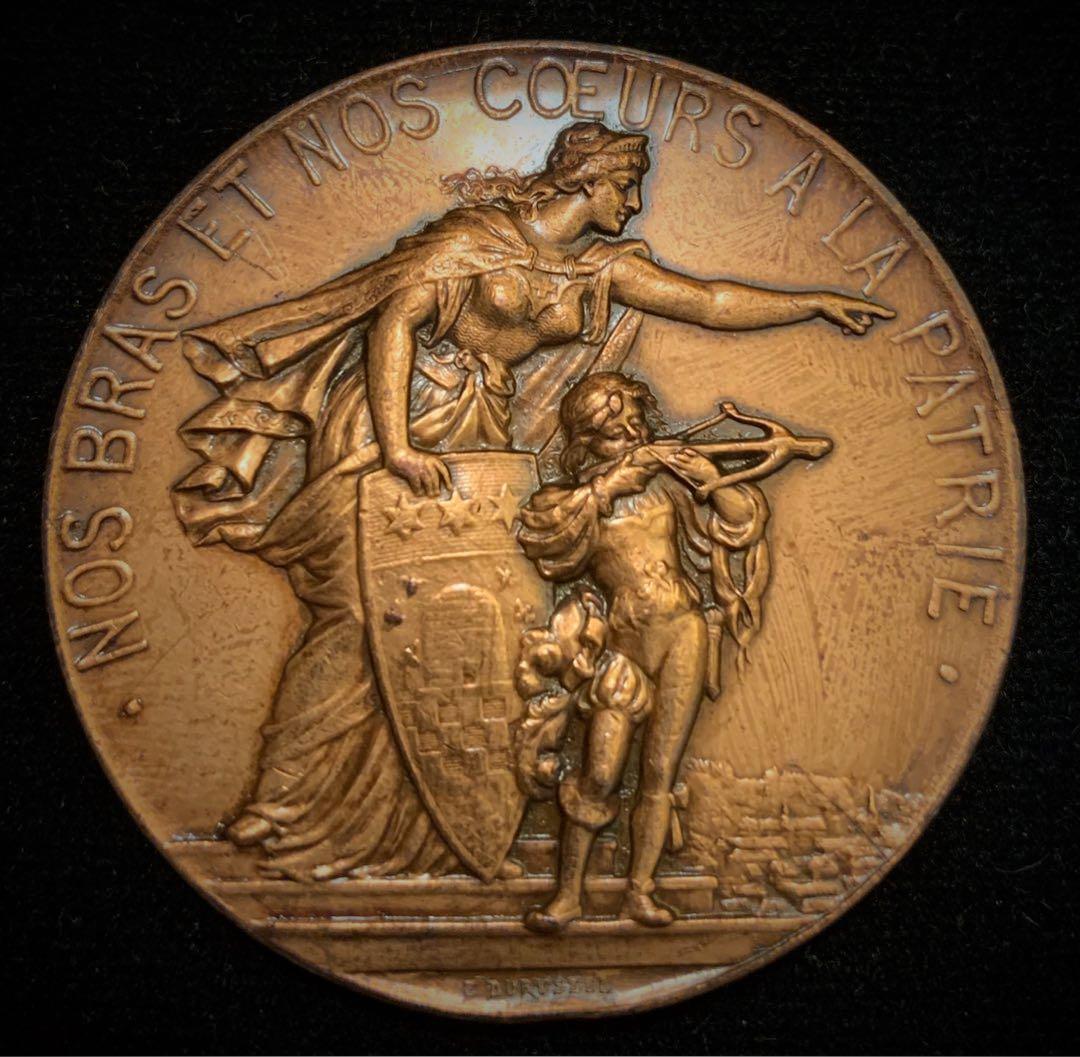 Many collectors are big fans of the shooting medals, which by the way falls under the category of Phaleristics, an auxiliary science of history and numismatics which studies orders, fraternities, and award items, such as medals, ribbons, and other decorations.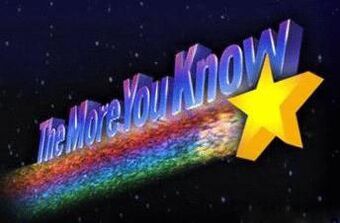 He Schützen and He Scores! (Part I) New!
12/22/2020
The following was written by Brian.
Here's a pretty good trivia question with which you can stump your friends and family:
Q: What and where is the longest parade in the world?
A: The Schützenfest Parade in Hanover, Germany.
This "Marksmen's Parade" has more than 10,000 participants from all over the world, including over 100 bands. Even more impressive? It's 7.5 miles long!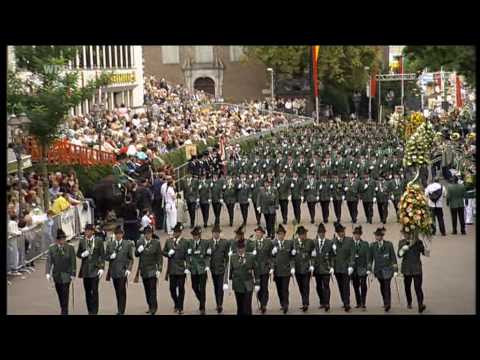 But what is the Schützenfest? I'm glad you asked.
A 'Schützenfest' or marksmen's festival is a traditional fair which features target shooting competitions in Germany, the Netherlands and Switzerland. This is a wildly popular yearly event that draws thousands of spectators in addition to the 5,000+ marksmen. There are over 250 rides and inns as well as give enormous beer tents (many festival goers are just in it for the beer).The landmark of the festival is one of the highest transportable ferris wheels in the world; soaring to over 200 feet high and seating up to 420 people.
So, basically, it's a place to get high, get drunk and watch people shoot a bunch of stuff. I'm in!
In Switzerland, the first national Swiss Federal Shooting Festival (Eidgenössisches Schützenfest) was held in 1824, but the local festivals date back centuries earlier. Here is the 1458 Schützenfest in Konstanz as depicted in the Luzerner Chronik of 1513.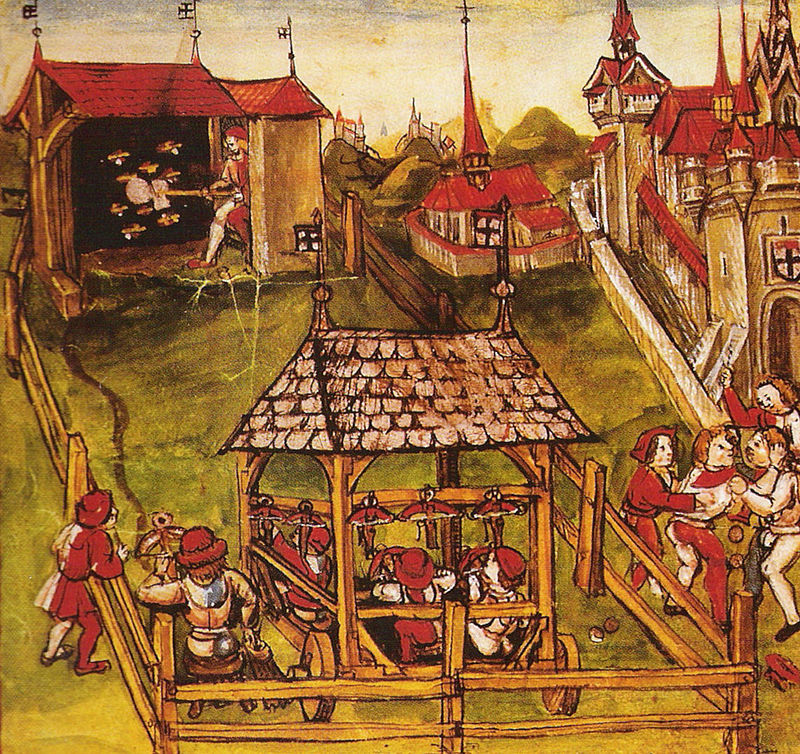 And a much more recent photograph from the festival in Winterthur, Switzerland 1895. This is the main entrance.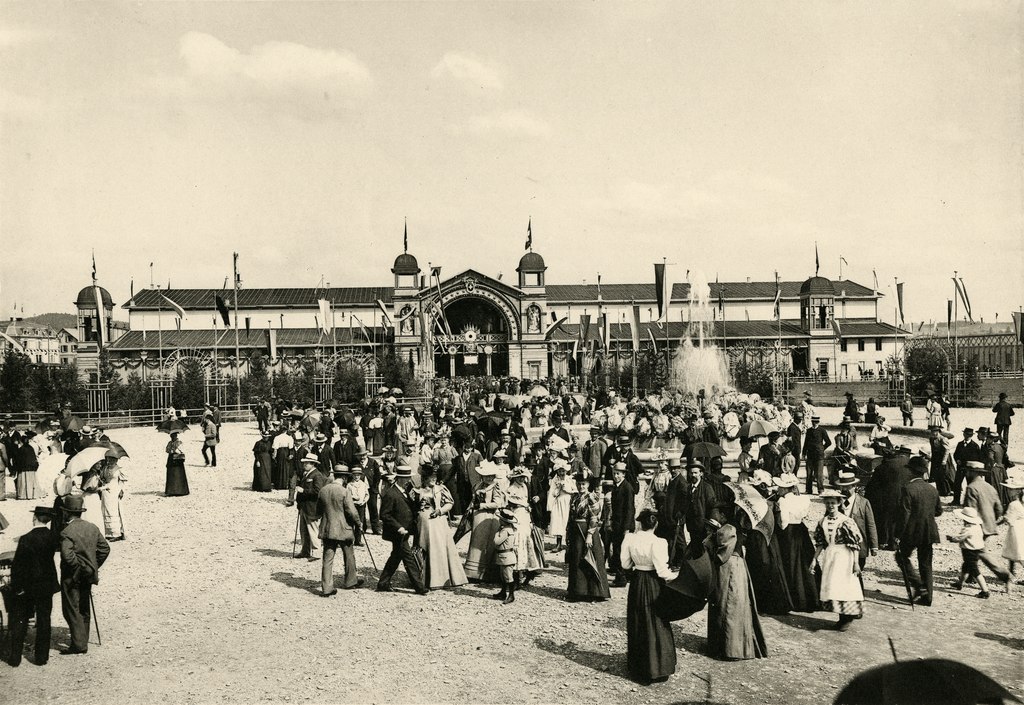 Originally an event for bow & arrow/crossbow types only, weapon technology would ensure that later events would include rifle and pistol. These are still used in the modern shooting competitions.
The winner of the competition becomes the Schützenkönig* or "king of marksmen" until the next year's competition. Everyone else gets a medal and the medals are spectacular. We will talk about these medals soon…when I write to you next.
*I have secretly always wanted to be called this.
All Good Things Come to an End New!
11/19/2020
Except for Tom Brady.
With six championships trophies in under 20 years, including three in the last six years, I don't think anyone in their right mind would not consider the New England Patriots a dynasty. And with so much parity in the league these days (and professional sports in general…well, except for the New York Jets), one could even argue that they may be the last dynasty. I recall after the Pats won their 3rd Super Bowl, that many people were telling me "It'll all come to an end soon." Fast forward 15 years and three more Super Bowls, and it seems that perhaps this fairy tale story has finally come to an end.
Except for Tom Brady.
Brady is still perched near the top of his division (just a half game behind as I write this), albeit this time as quarterback for the Tampa Bay Bucs in the NFC South. Meanwhile in New England, our new QB is none other than Cam Newton – the overwhelming choice for MVP in 2015. While Newton still shows flashes of his dazzling athletic ability, it now seems like a lifetime ago as Newton does not look like the player he was then. Like I said, all good things come to an end.
Except for Tom Brady.
Recently a box was put on my desk. Tom from our office had purchased something pretty cool and fun, especially for us Pats fans - The Tom Brady Super Bowl Commemorative Coin Collection. Five images from five different Super Bowls embossed on American Silver Eagles that correspond with the dates New England won. In the drawer are cards for each year detailing the Pats run to the title. There are actually two more spots for additional coins, so hopefully we'll come across the Silver Eagle celebrating his sixth title. (And perhaps the final spot for a Bucs coin if he wins it all with them?)
Not for sale, but I thought it was worthwhile sharing. Particularly since there's not much worthwhile to write or say about the Patriots anymore.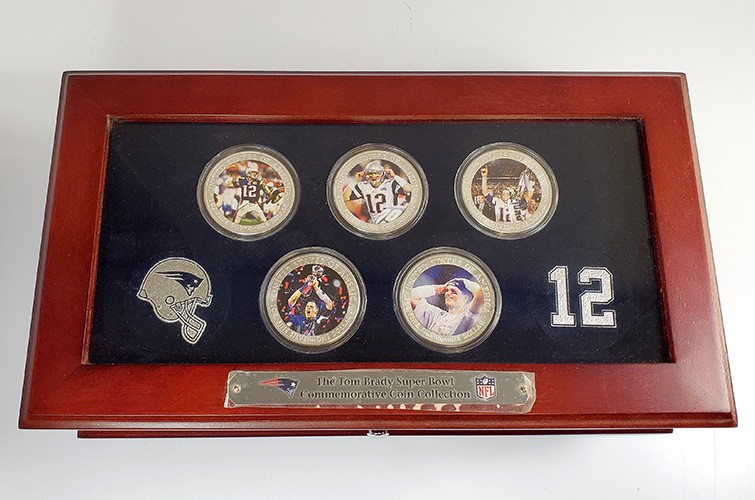 This post was written by Brian.