Northeast's Blog
Frankly Speaking - Bust Quarters New!
11/11/2022
The following was written by Frank.
Capped Bust Quarters have been a favorite of mine for a number of years because they have tremendous value and rarity compared to their larger counterparts (Capped Bust Halves). Only 5,496,984 Capped Bust Quarters were minted from 1815-1838, while 91,088,096 Capped Bust Halves were minted from 1807-1839. It's also a rather short series; it is quite attainable to put together a date set of business strike coins, with exception to the 1823. Capped Bust Quarters remain relatively affordable in moderately circulated grades. You can easily locate a so-called "common date" XF piece for $500.
The story of how the Capped Bust Quarter came to be is an interesting one. The Mint hadn't produced any quarters since 1807, which was the last year of the Draped Bust design. The United States began producing Capped Bust coinage with the Half Dollar in 1807. In the early days of the Mint, anyone could bring their silver and gold to the Mint and have them turn your metal into freshly minted coins. The Coinage Act of 1792 states, "That it shall be lawful for any person or persons to bring to the said mint gold and silver bullion, in order to their being coined." So, if you were in Philadelphia during the early days of the mint, all those gold implants you have could be extracted and made into freshly struck uncirculated quarter eagles, if you were in dire need of some extra cash. The Mint would charge one half percent of the weight of gold or silver to cover their expenses.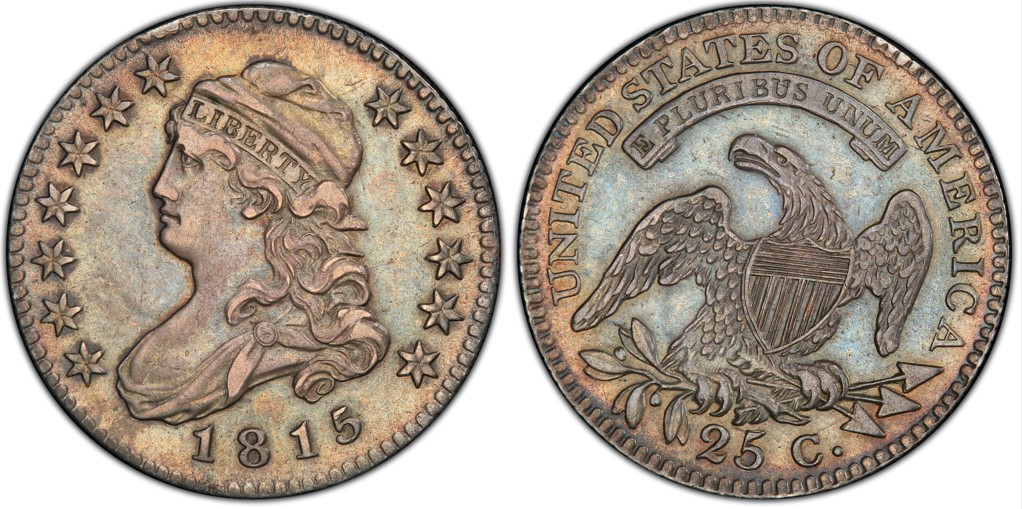 Photo courtesy of PCGS
Banks too would often deposit their sums of silver and gold to the Mint and get coins in return. In 1815, the Planters Bank in New Orleans placed a large order of Quarter Dollars from the mint. Bailly Blanchard, the head cashier at Planters Bank, wanted Quarter Dollars because of a local shortage of their Mexican counterparts, the 2 Real (1 Real was equal to 12 ½ cents). You have to remember that Mexican coins circulated alongside U.S. coins up until 1857. The Director of the Mint, Robert L. Patterson, didn't want to follow through with the order of Quarters because the Mint didn't have any Quarter Dollar dies prepared. Eventually, Patterson caved and instructed Chief Engraver John Reich to create dies for 1815 Quarters. The total mintage for 1815 Quarter Dollars is 89,235. 69,232 Quarters were struck in 1815 and another 20,003 coins made in 1816 bearing the 1815 date.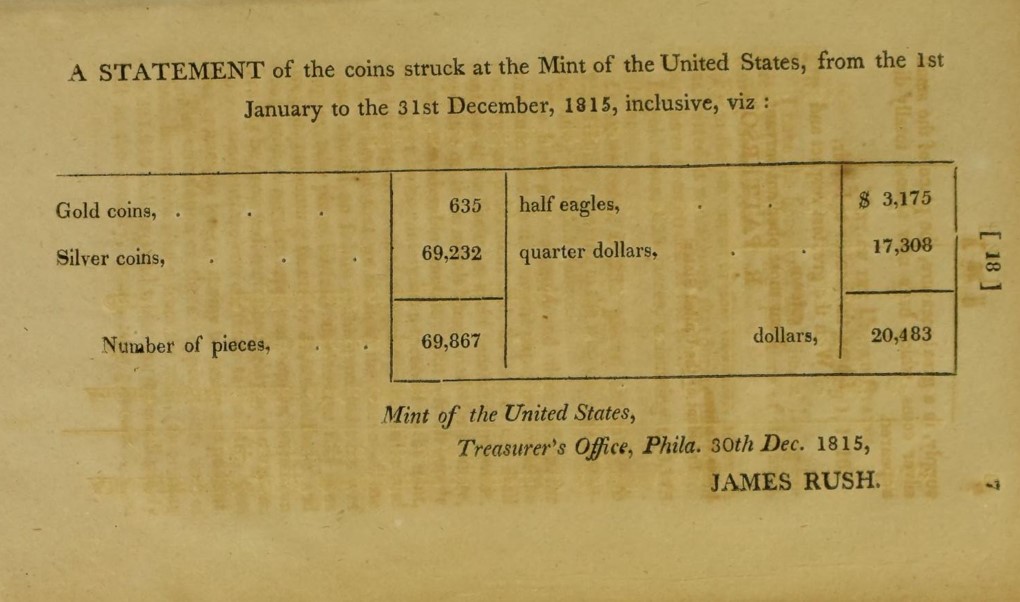 Photo Courtesy of Newman Numismatic Portal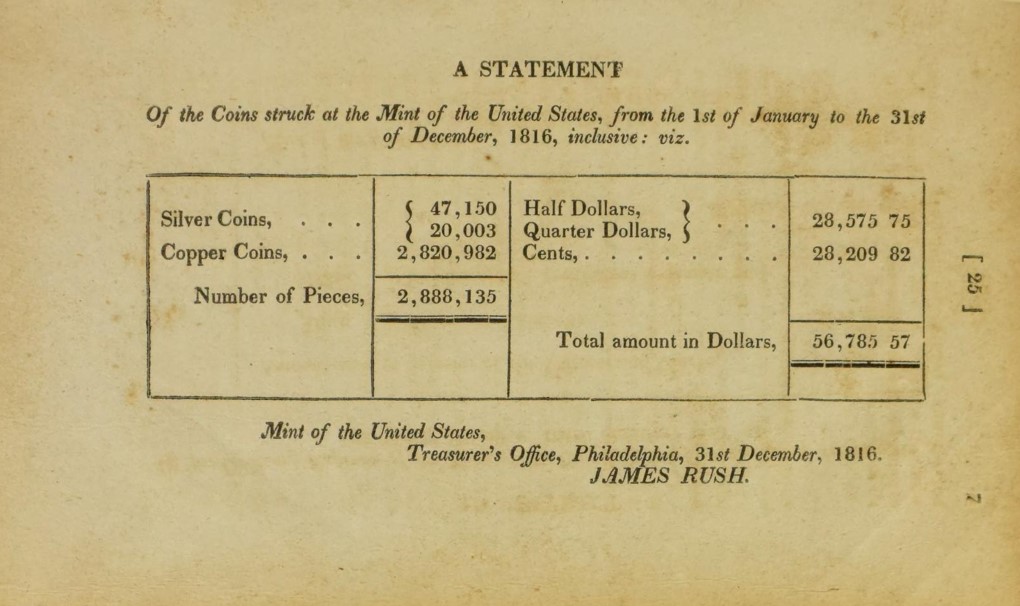 Photo Courtesy of Newman Numismatic Portal
Planters Bank would get their shipment of almost 57,500 pieces in December of 1815, the remainder of the coins were paid to the Bank of Philadelphia on December 30th, and Jones, Firth & Co. on January 10, 1816. The large diameter Capped Bust Quarter would be produced until 1828, when it was replaced with the small sized Capped Bust Quarter in 1831, these would be produced until 1838.
Works Cited:
1815 25C (Regular Strike) Capped Bust Quarter - PCGS Coinfacts. https://www.pcgs.com/coinfacts/coin/1815-25c/5321.
1815 – The Year Without New Cents." Numismatic News, Numismatic News, 2 Apr. 2012. https://www.numismaticnews.net/archive/1815-the-year-without-new-cents.
Numismatic Art New!
10/28/2022
We have quite a bit of numismatically related art hanging in our office. We thought we'd take the opportunity to share some of it. Do you have any hanging or on display in your house that you'd care to share?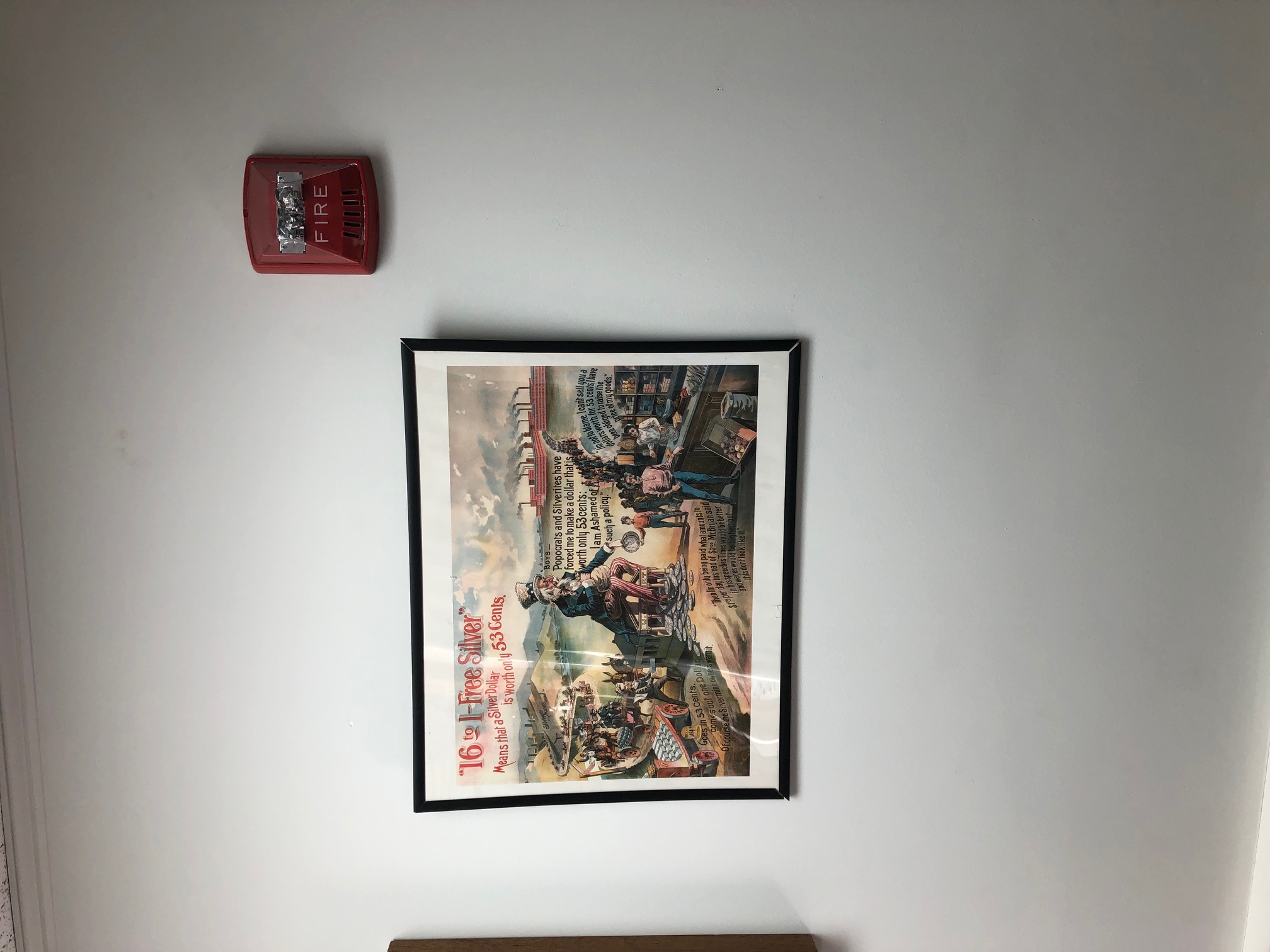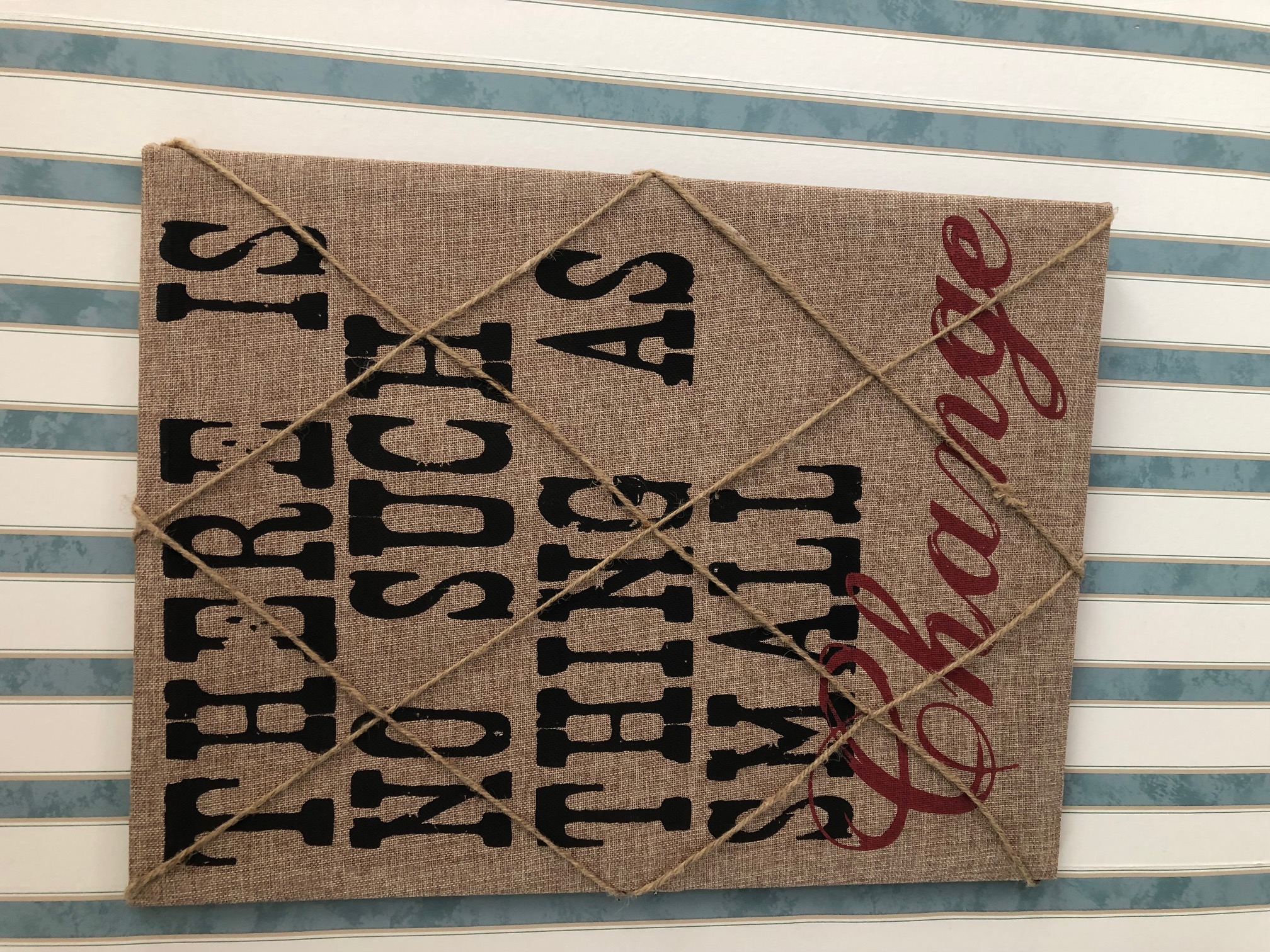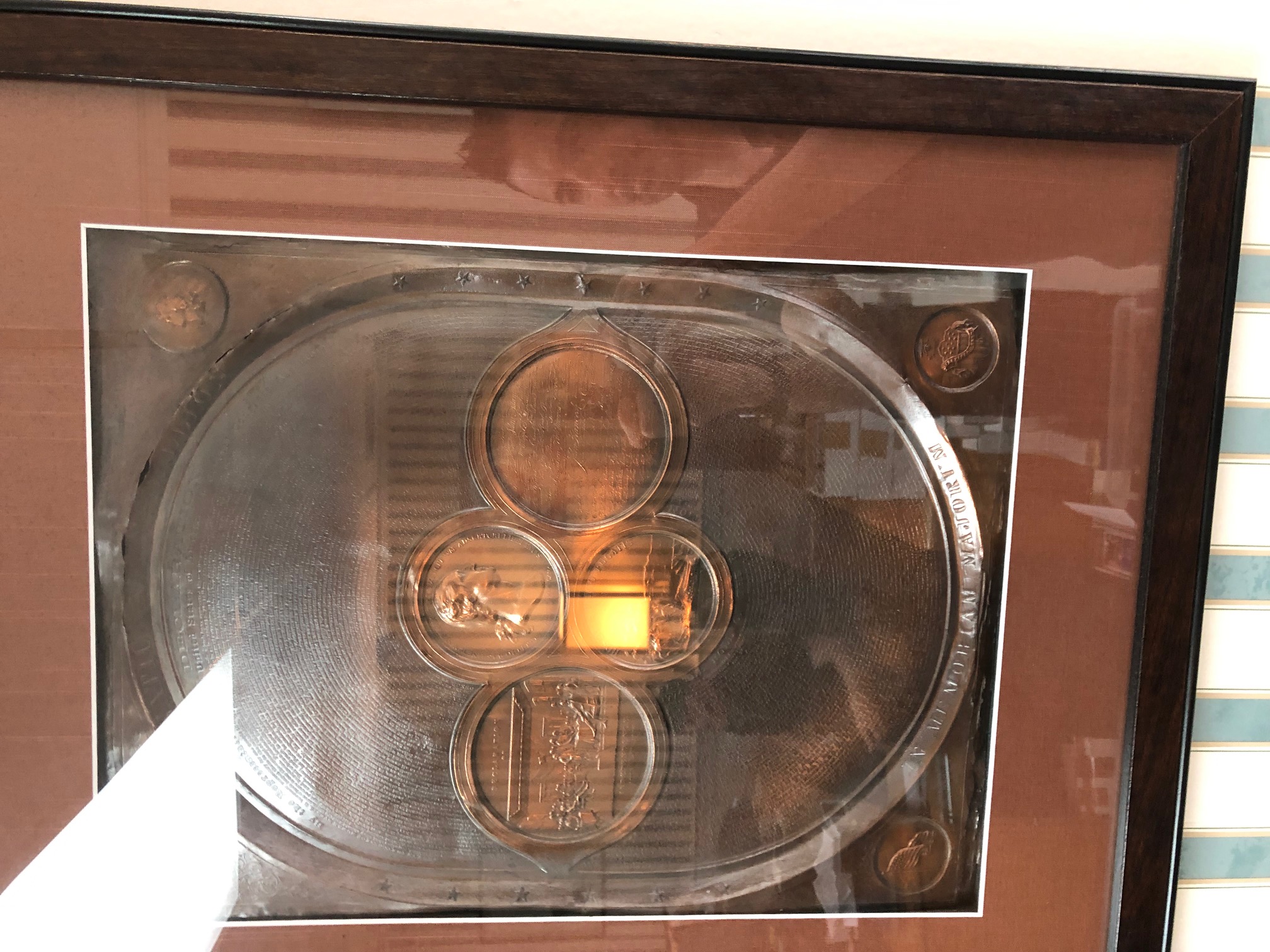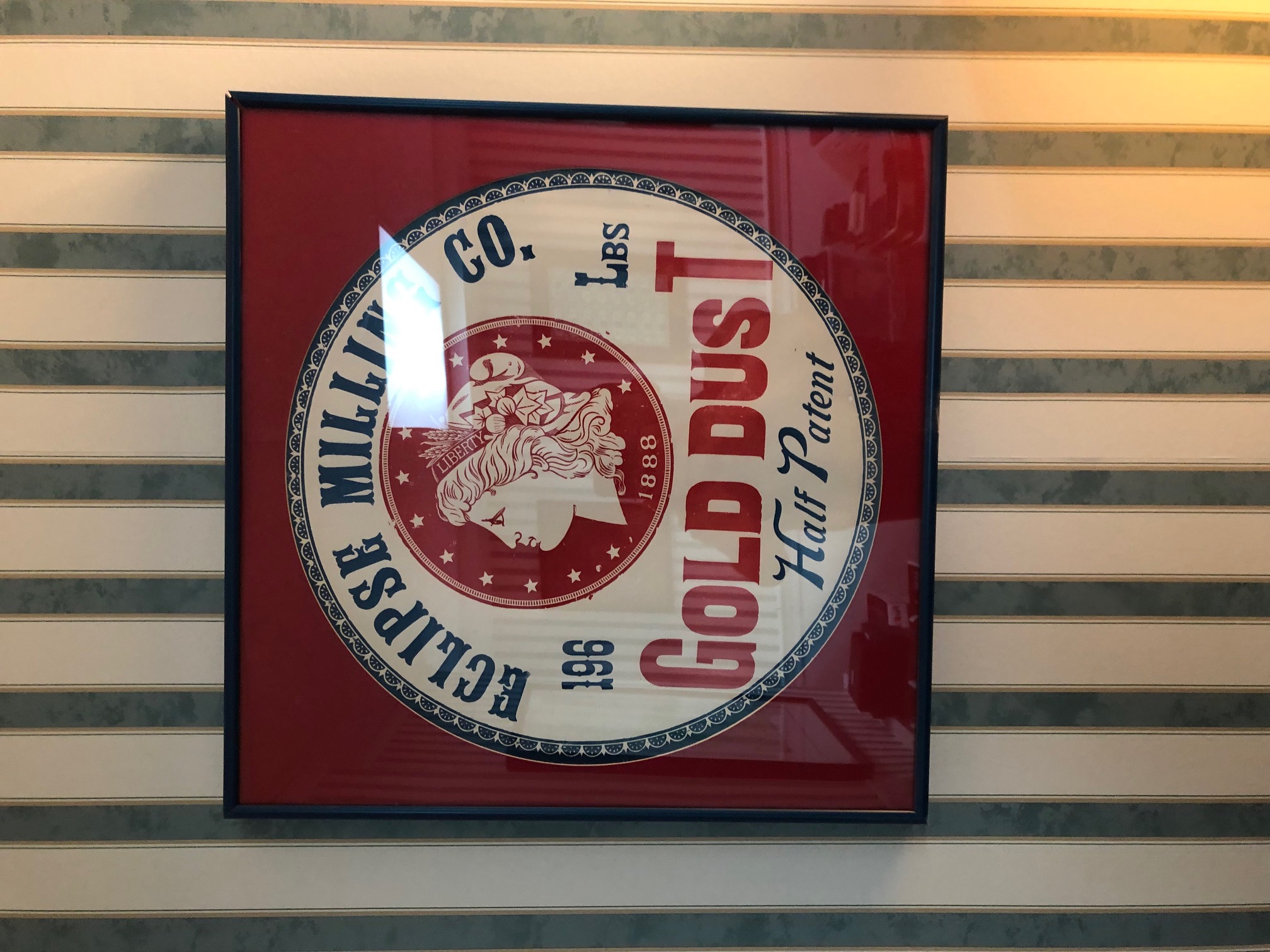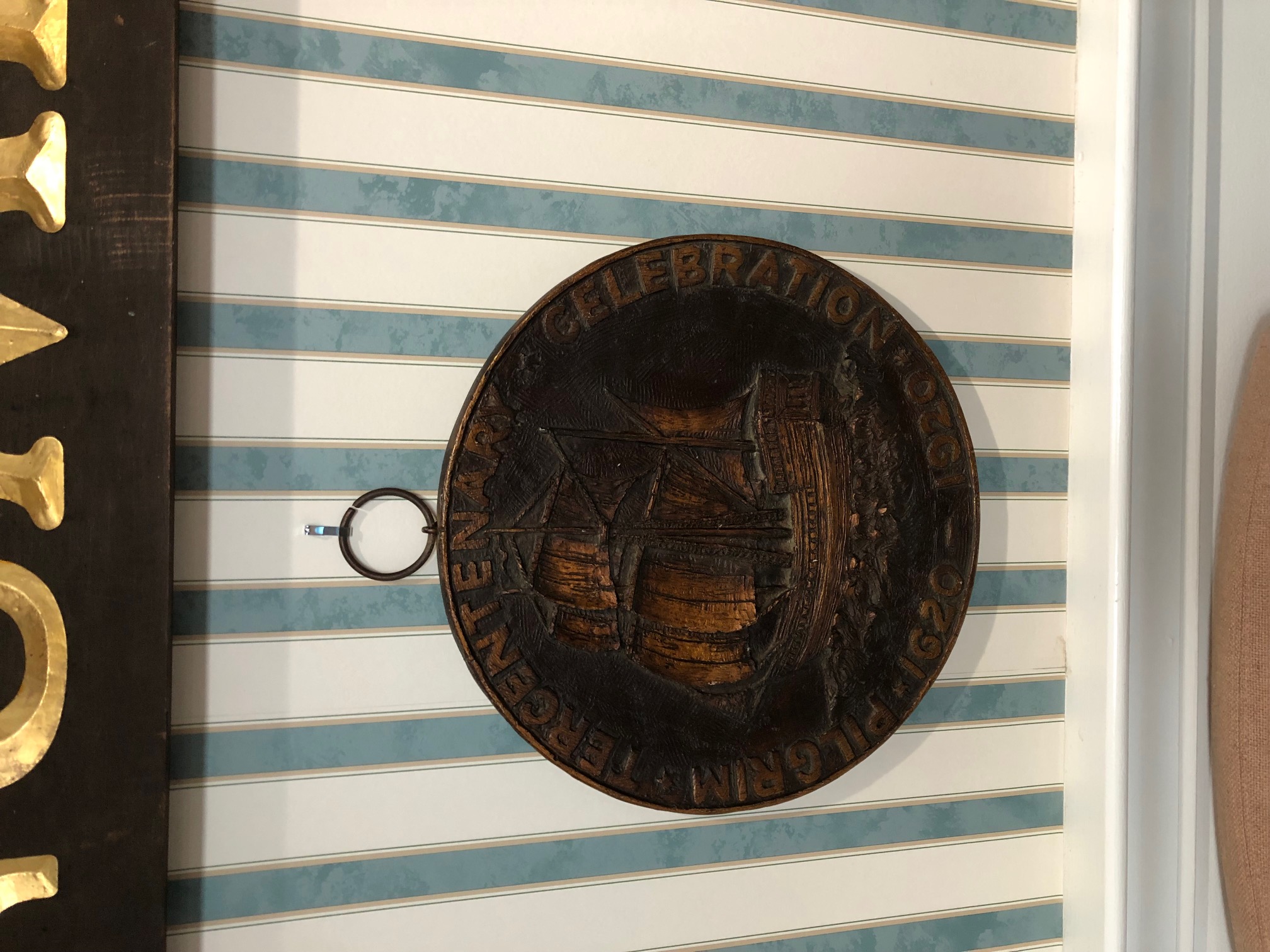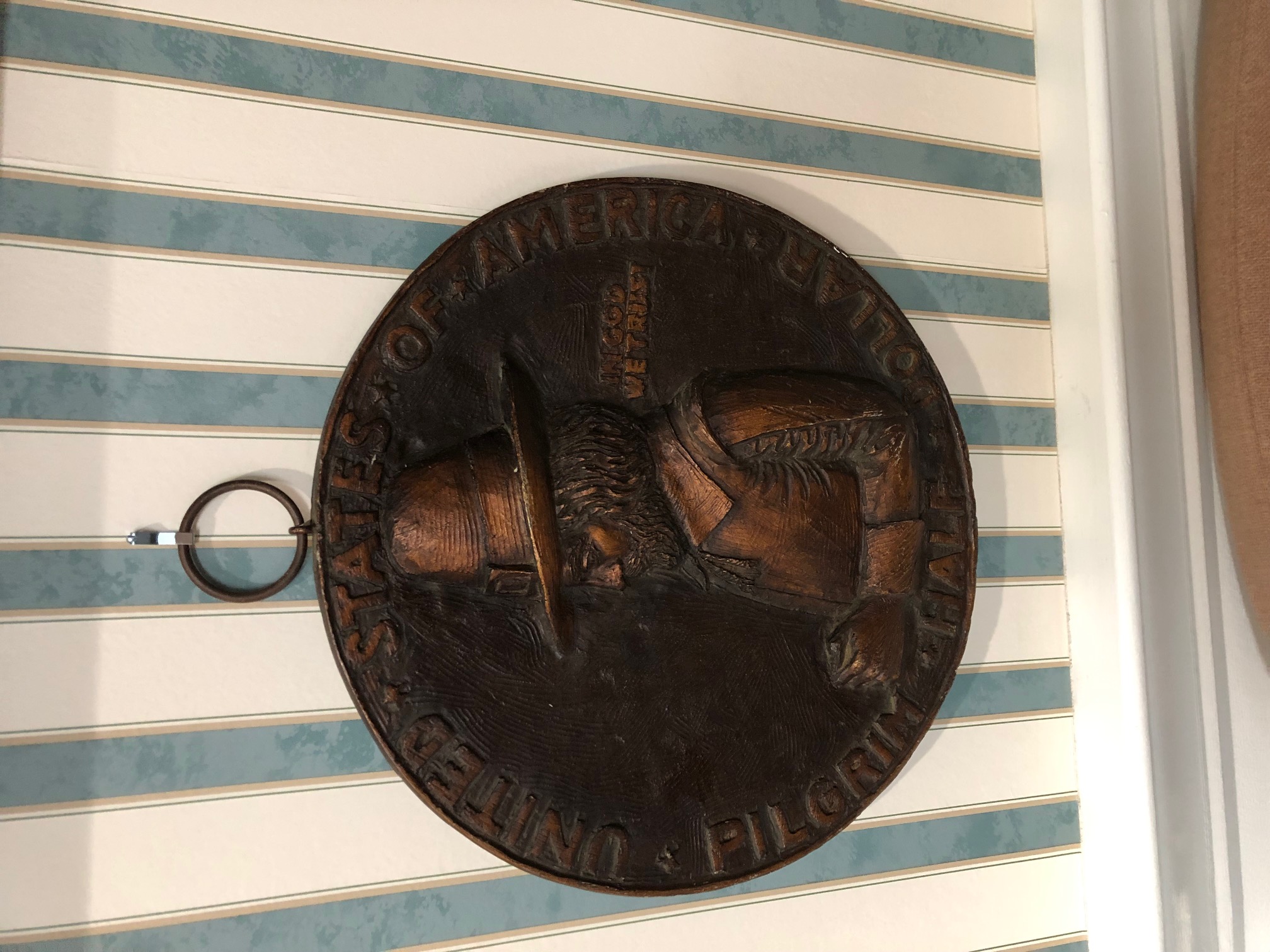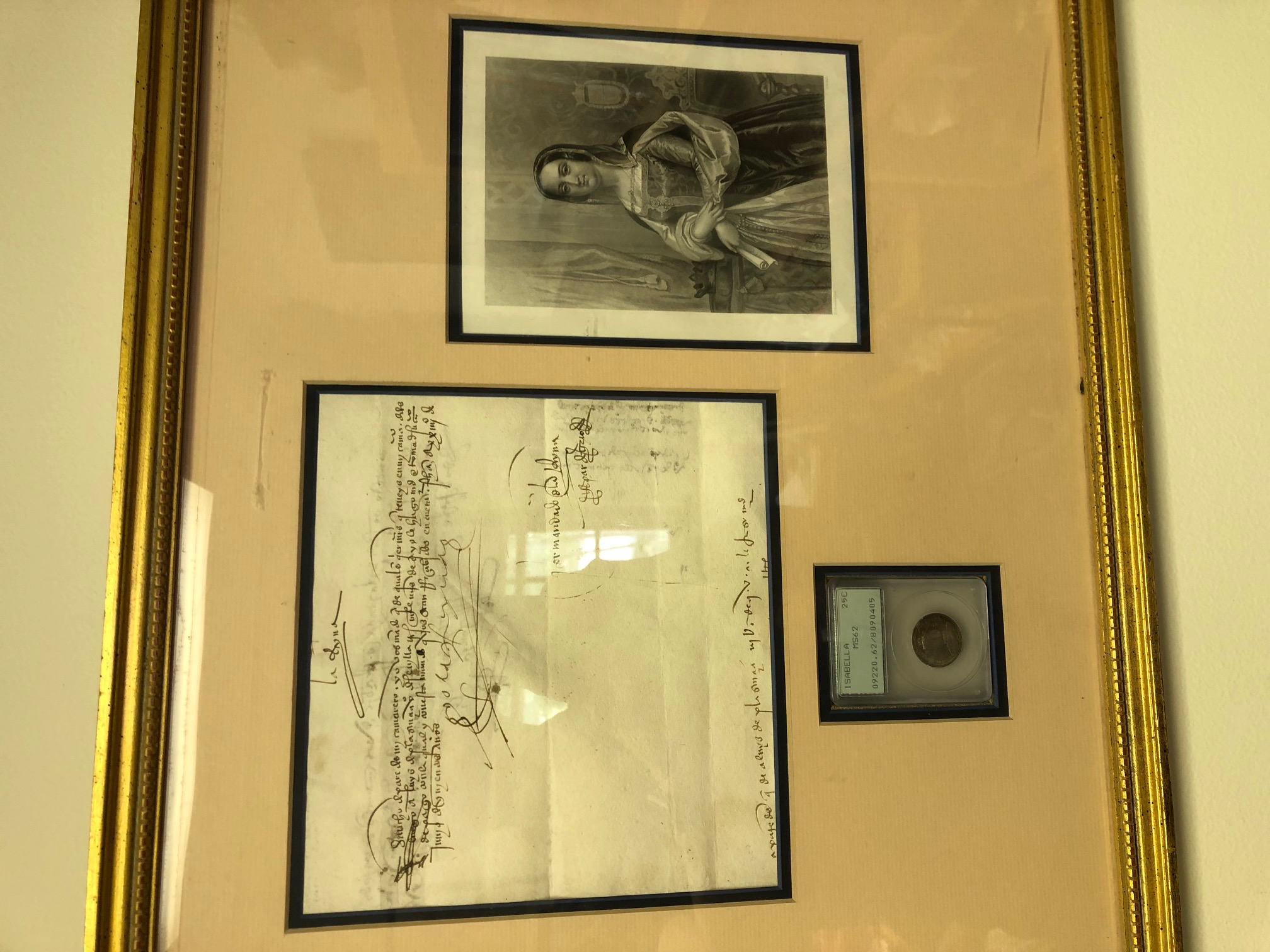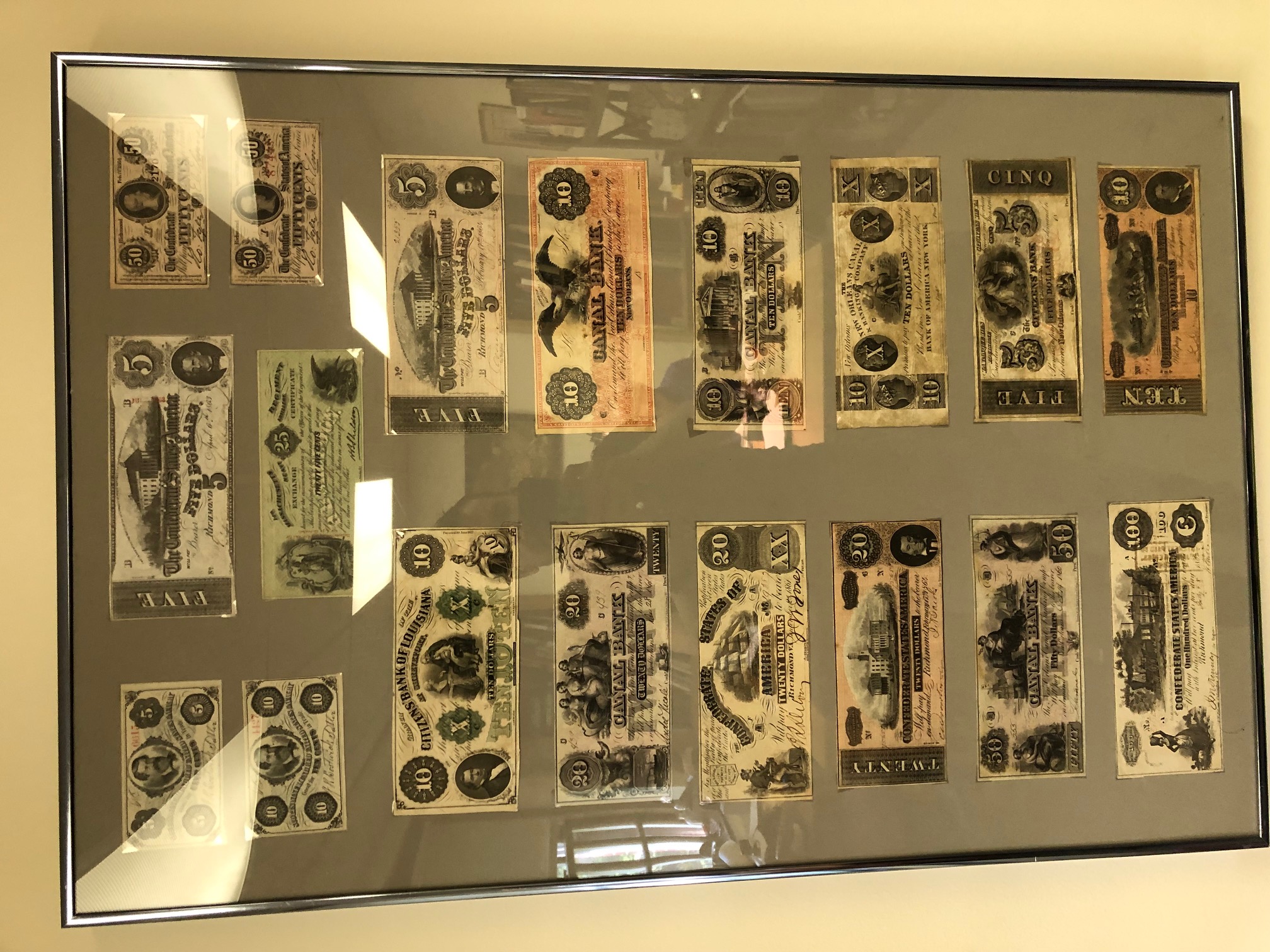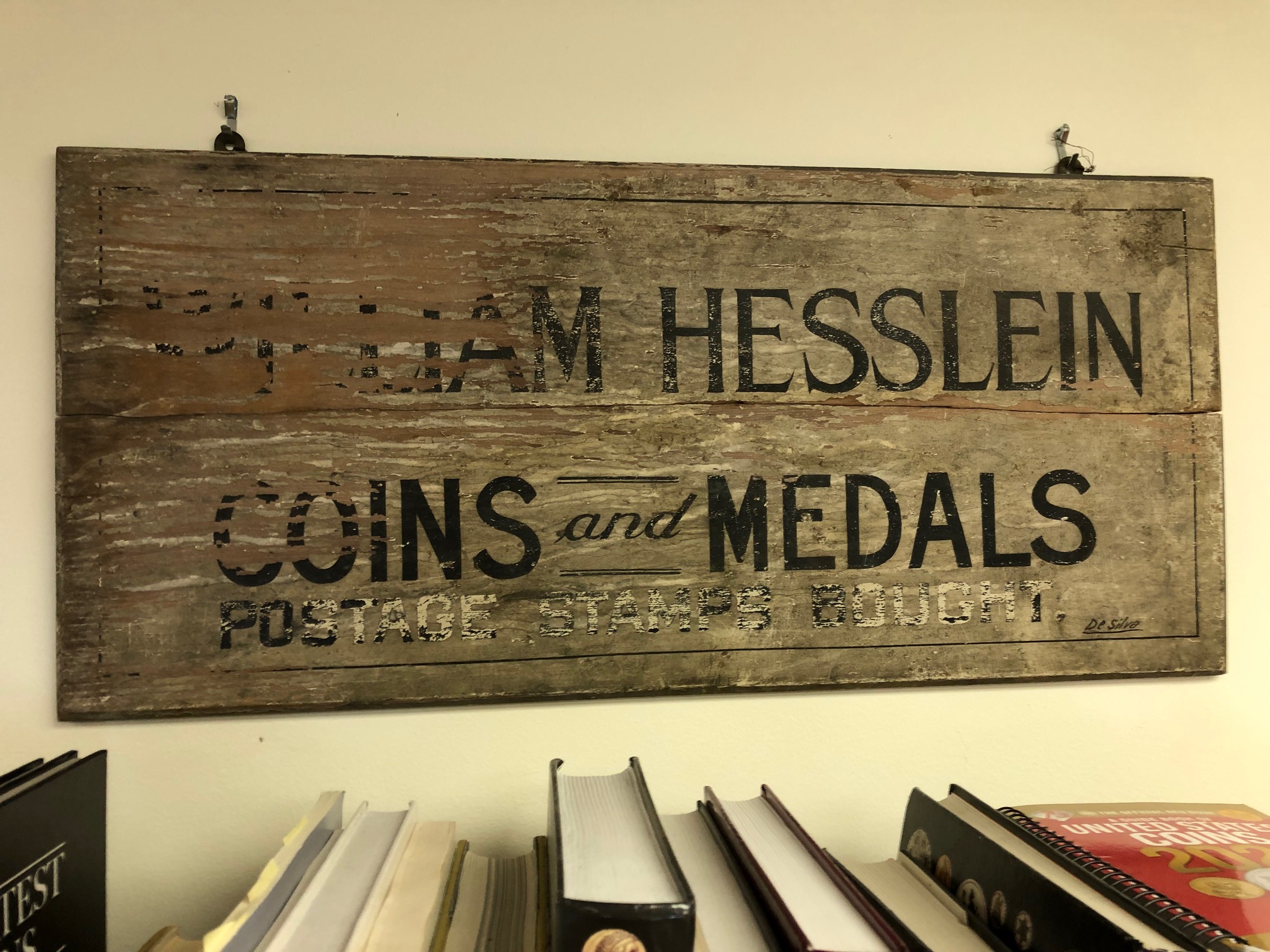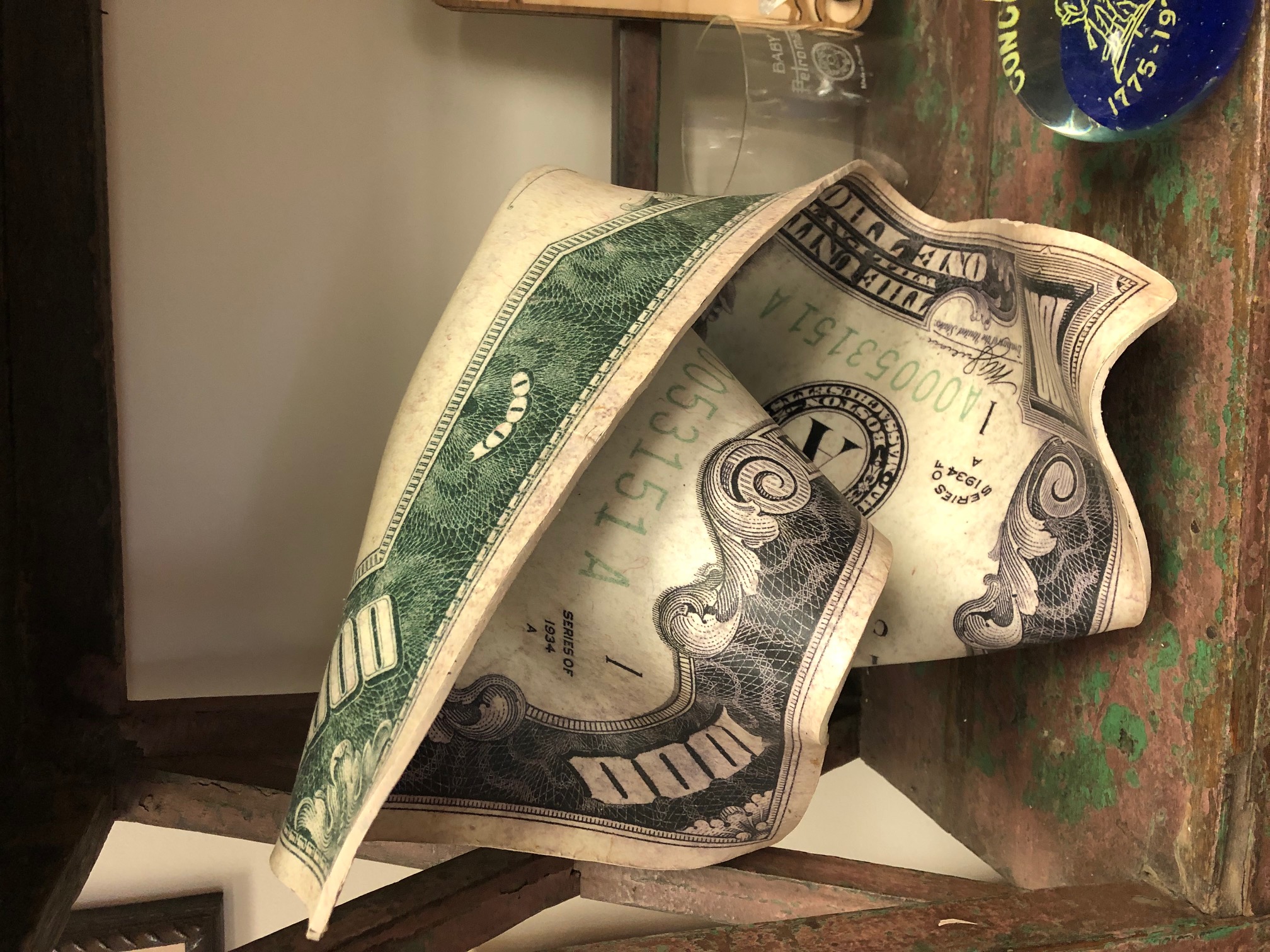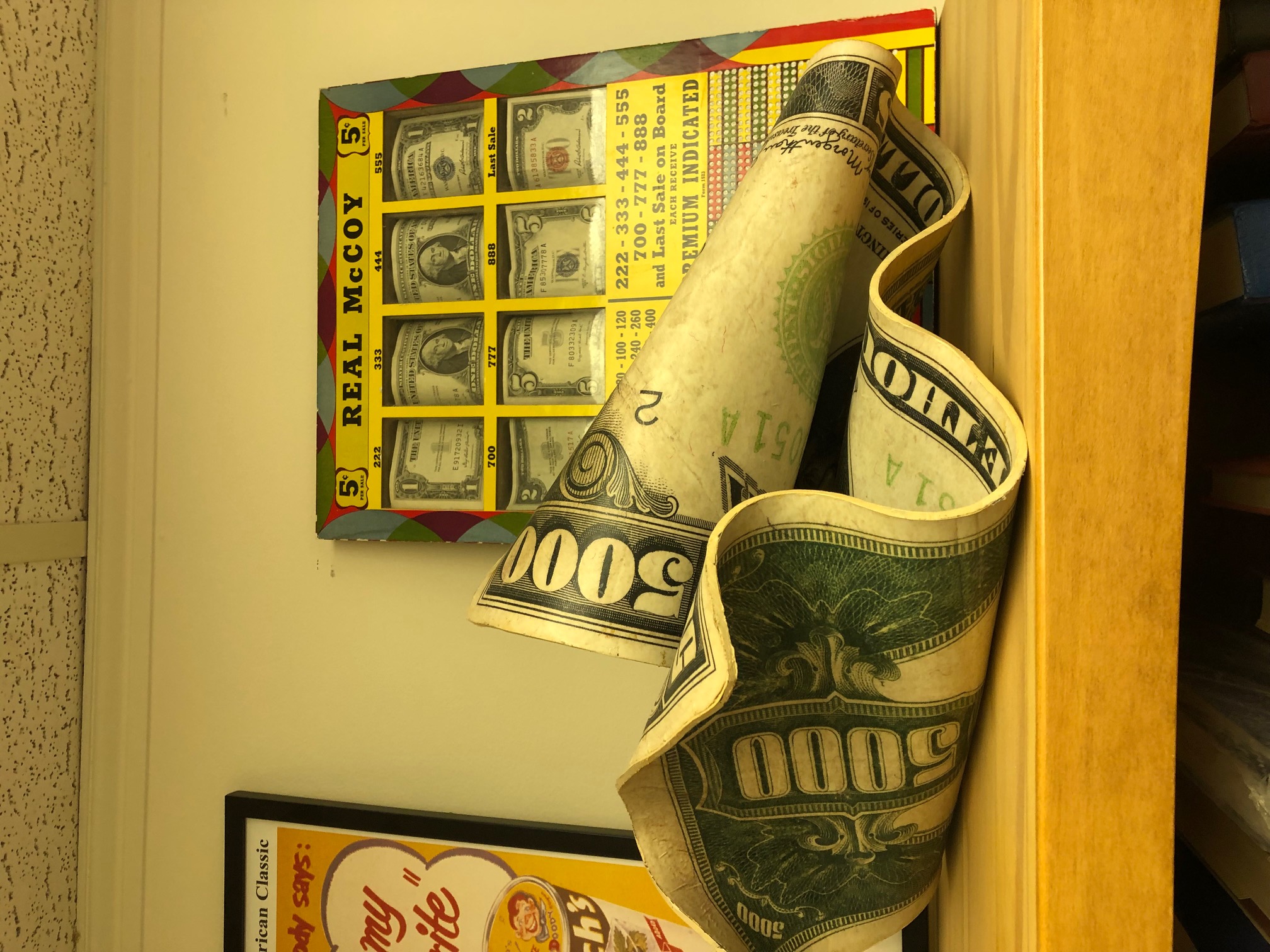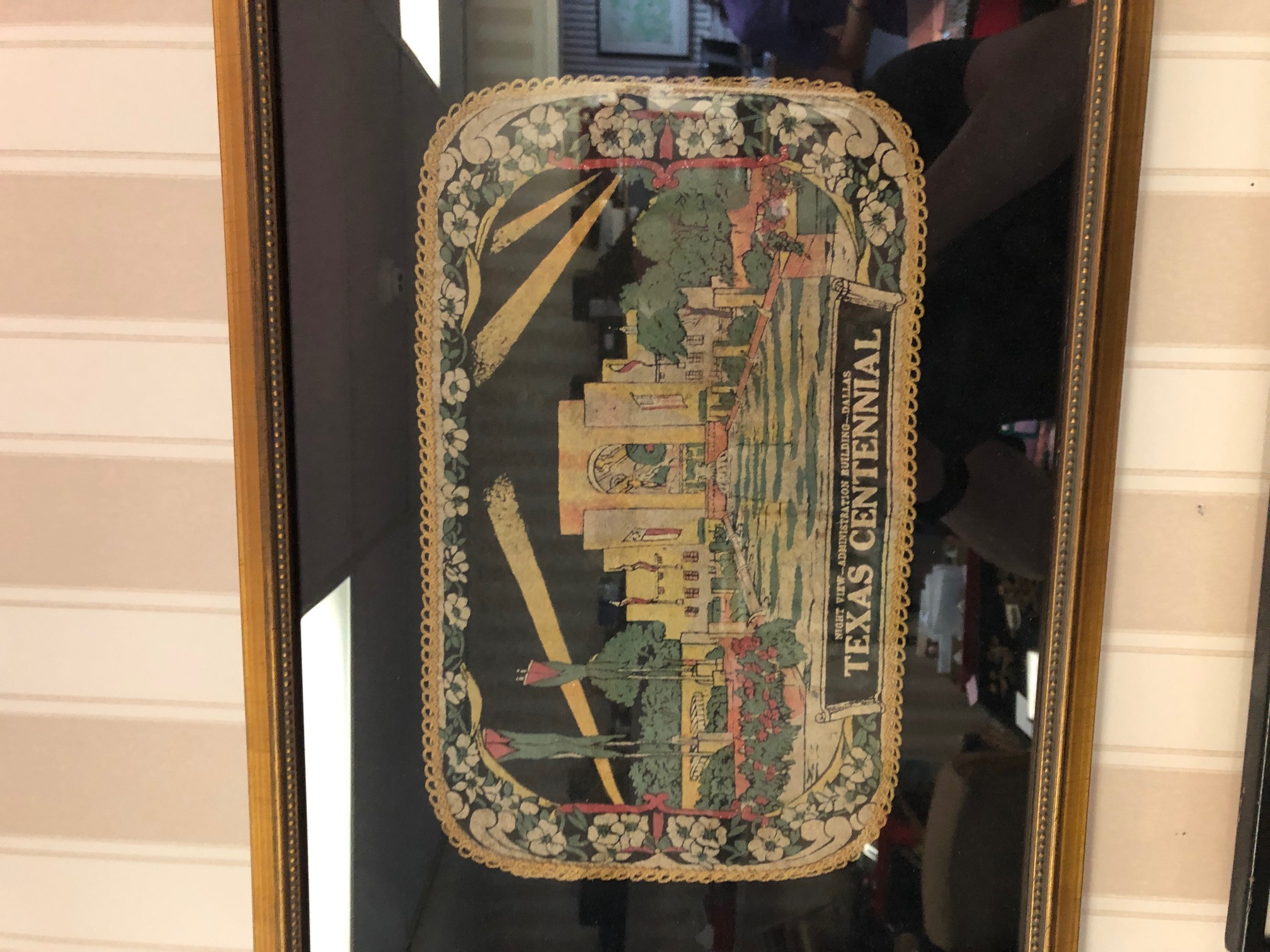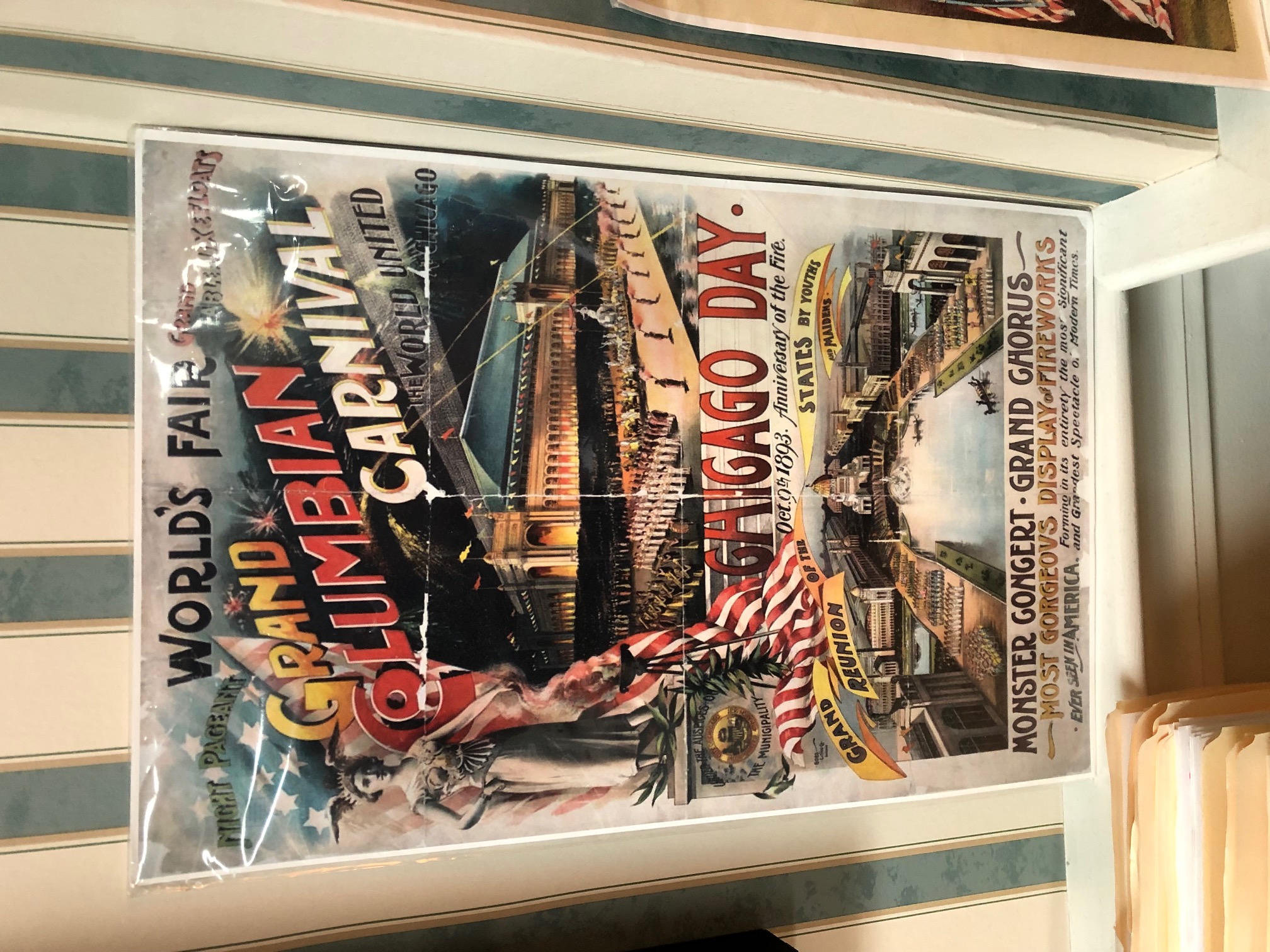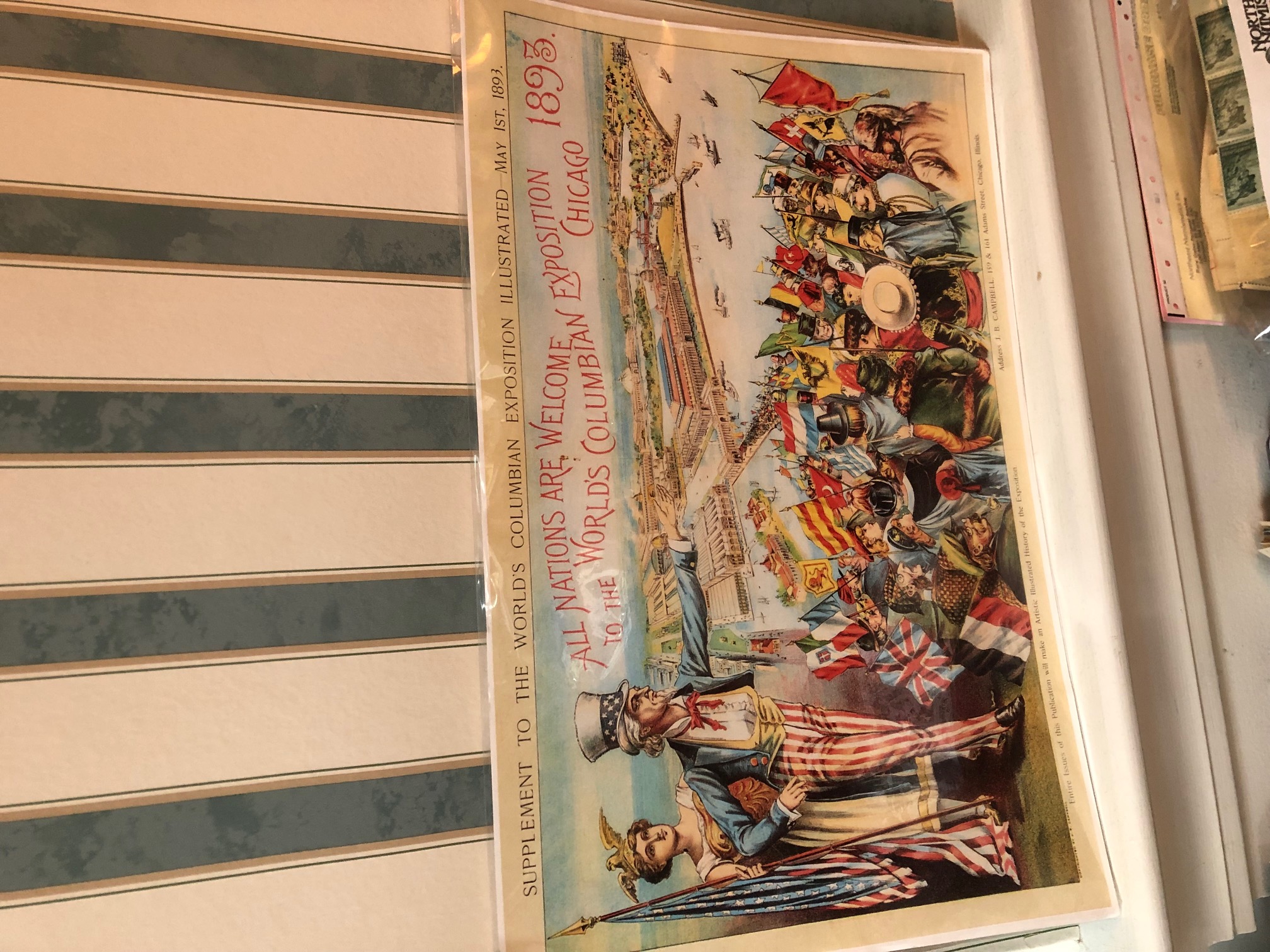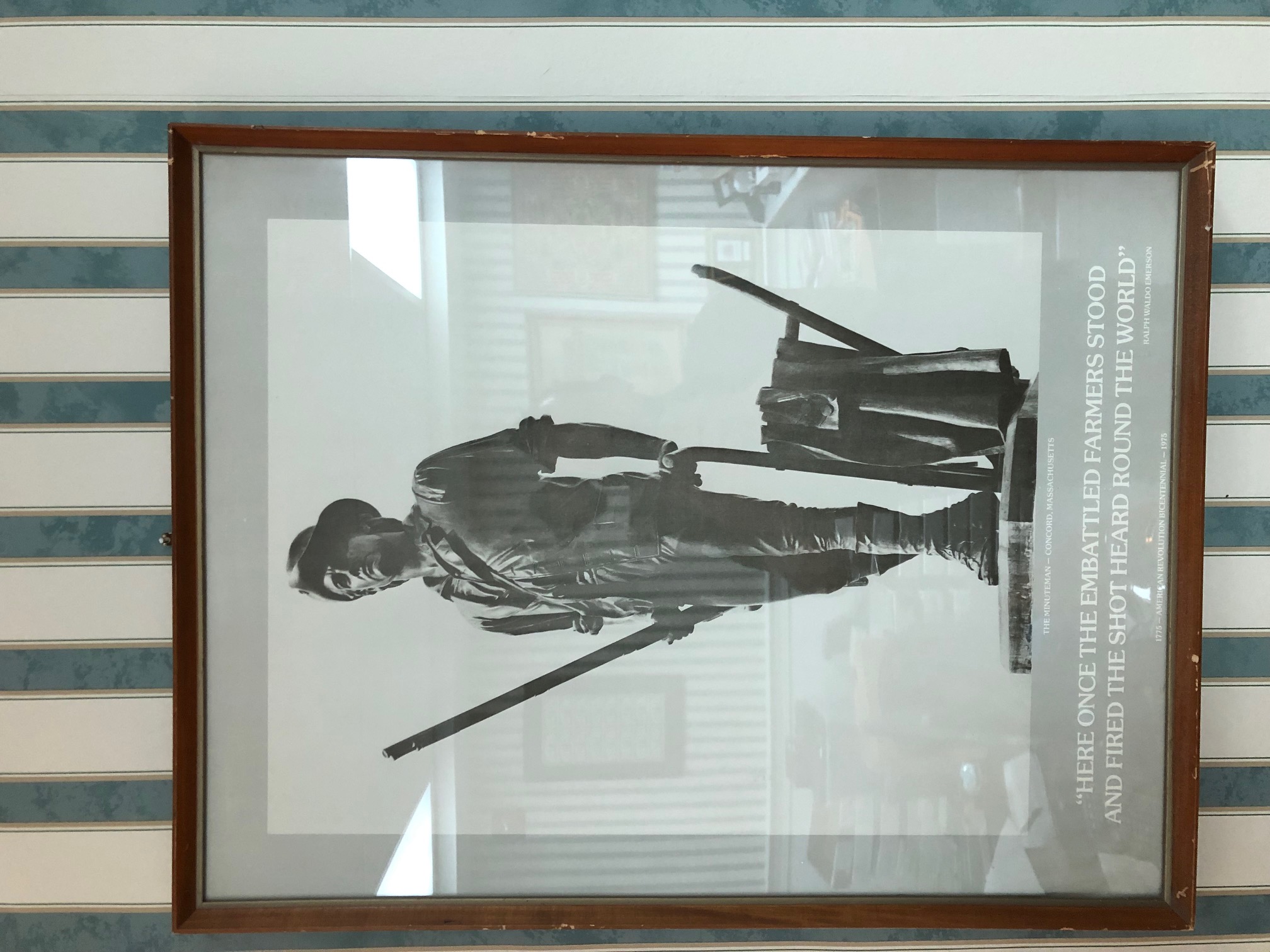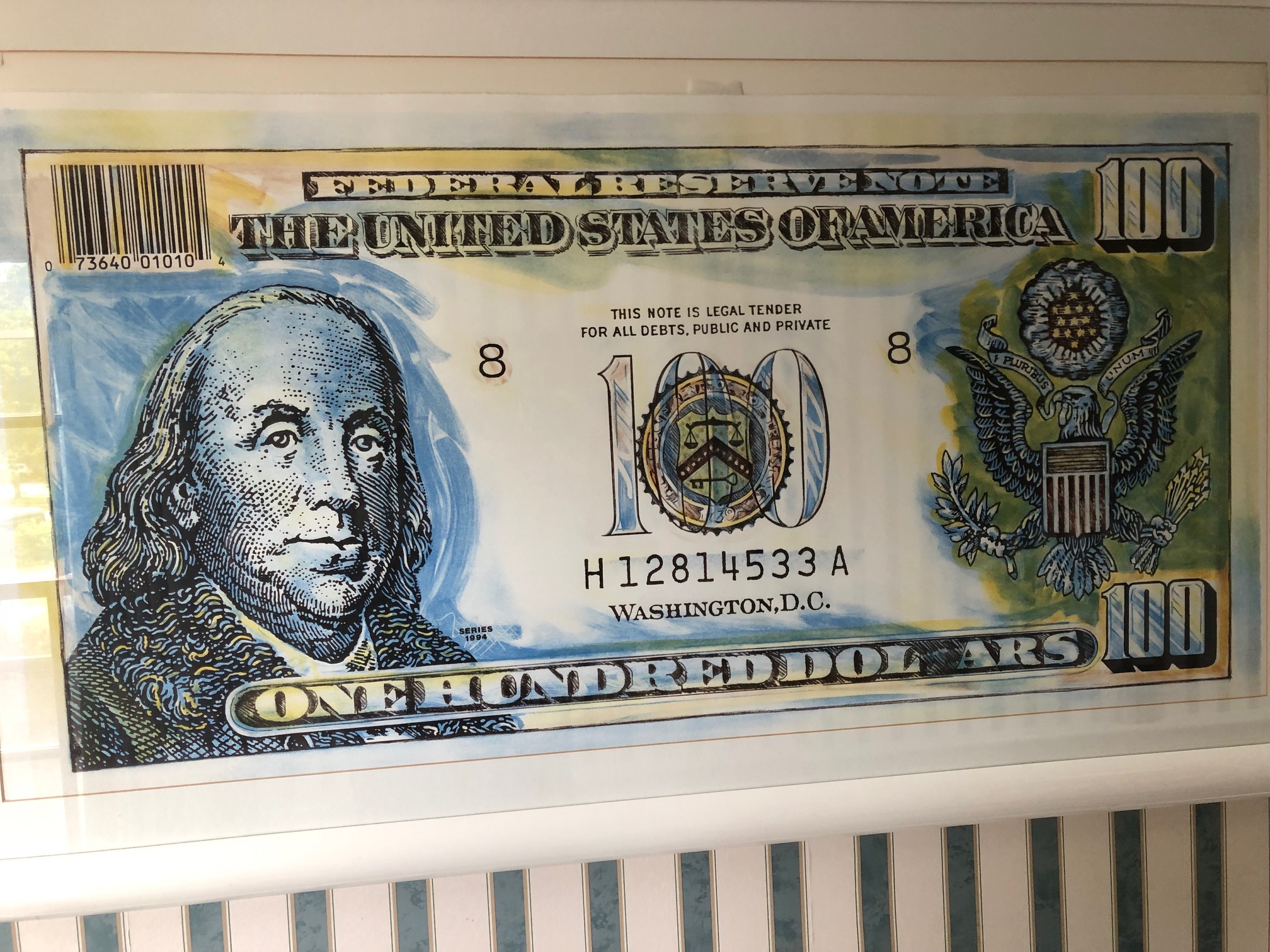 (Next post, our personal knicknacks.)
Long Beach Coin Expo show report New!
10/06/2022
There is 1 comment on this post.

The following was written by Chris.
We attended the Long Beach Coin Expo last week. It occurs to me that I've now traveled to this show for a quarter of a century, three times a year. That means I've spent well more than a half a year in Long Beach, or nearly 2% of my life, even though I've never lived there. Huh. (If you think that's impressive/depressing, our boss Tom has spent close to two years of his life in Long Beach, never having lived there either.)
Brian, who handles the vast majority of our wholesale sales at coin shows, was out for the count with a back injury. Tom's son Russell, who has worked many shows in the past for us, traveled in his place. We flew into LAX from Boston early in the week. Personally, I think LAX is a mess. Slow baggage claim, and a ridiculous trek via an overcrowded and/or delayed bus (or take a long walk) to the Uber/taxi lot. I really miss the non-stop flights from Boston to Long Beach. Boarding and deplaning outside on the tarmac via ramps and steps? Supercool old school!
Dealer setup for this show these days starts at noon on Wednesdays. We always attend some pre-show trading that morning (and often the day before). Our trading room at this show was maybe only 25% full, but we were certainly busy the whole time trying to buy and sell.
As mentioned, the show opens at noon for dealers. But not this time. For the first time in my coin show career, dealers were held out in the lobby for close to 30 minutes after the posted start time before being let in. I'm a bit surprised an email wasn't sent out by the show coordinators after the fact explaining the issue and issuing an apology. We have no clue what the hold up was.
Admittedly, expectations for me were not particularly high for this show. Some wholesale-only dealers with whom I often do lots of business were not in attendance. While formerly one of the major shows of the year, I feel the LB show has slipped down in the ranks a bit. My initial perception of the bourse floor was that it was two-thirds coin dealers, and the rest sports card dealers. Nothing wrong with that whatsoever, as it's a convention for many types of collectibles. But it's typically been a coin show with some other business going on.
Once we were in the show for setup, I was able to look through several boxes of wholesale inventory, mostly at my table. I bought what I could, but I passed on so many coins based primarily on price. The market remains solid in most areas that we buy. Has it tempered a bit since its take-off in Spring, 2021? Yes. But prices aren't falling. Unfortunately the overly aggressive pricing I saw limited my buying. Tom had more success acquiring fresh inventory thanks to his efforts prior to the show. Combined we managed to come home with about six double row boxes of newps.
If anyone cares to hear about our dining experiences, read on. To start, the show provides free beer for dealers later in the day at setup. I choked down my typical amount of light beer (about a 1/3 of the bottle). I'm just not a beer drinker. What I did notice for the first time was a full bar that was set up near the entrance. I did not partake, but I think it was an interesting idea.
Lunch every day was from California Pizza Kitchen. That's a staple for most of the dealers that choose not to eat an $18 hot dog from the concession stand, as CPK is right across the street from the convention center. Dinner Wednesday night was with a friend of mine from back in my NOLA days. He decided to swing by the show for a day, and it was nice to catch up. We ate at the Auld Dubliner, which is an Irish pub also right across from the convention center. Always great food. And the final night was dinner with Russell at a new and huge Mexican restaurant called Solita. It was decent, but nothing to write home about (yet here I am writing about it).
The last major show of the year is coming up in a few weeks at the Whitman Expo in Baltimore. I anticipate having a better show there than I did in Long Beach.
Created by: davidrhorer on 10/09/2022
Enjoyed, Chris.
Continental Curency New!
09/15/2022
The following was written by Brian.
Ok, fine, I spelled 'currency' incorrectly, but I'm not the first one. And at least I didn't design a US coin with a spelling error.
And so it is, one of the most famous (and controversial) coins in US history, the Continental Curency Dollar.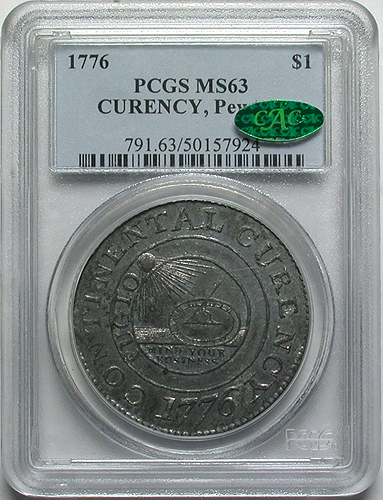 Listed at number 30 in the fifth edition of the 100 Greatest US Coins. This is and has always been an immensely popular coin, due to the theory that this was the first circulating US coin, it's magical date and its ties to Ben Franklin. This particular variety is noted for its lack of two R's in CURENCY. Designed by engraver Elisha Gallaudet, it includes elements from the One Third Dollar and One Sixth Dollar Continental Currency notes that were in circulation at the time, as well as some features proposed by Benjamin Franklin.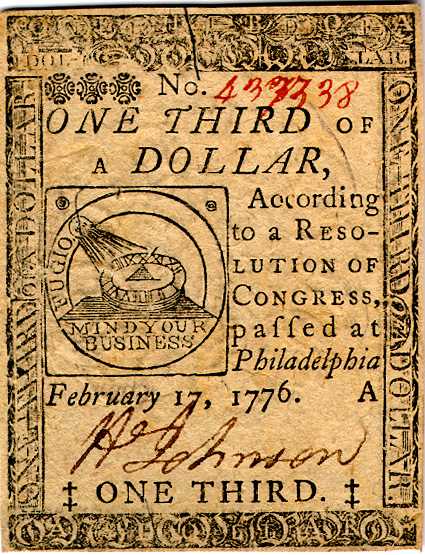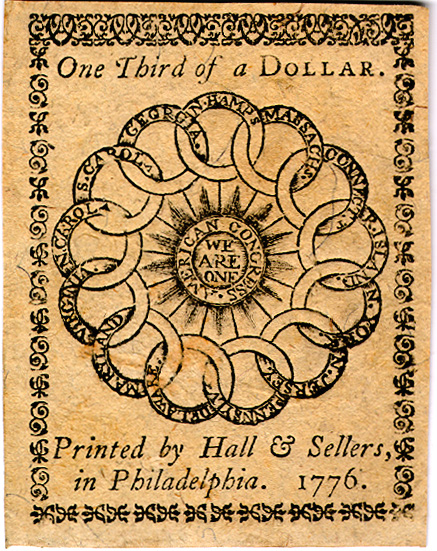 A most interesting inscription, Ben Frankloin's "Mind Your Business" (taken from the Fugio Cent) is located just below the sundial. Now, mind you, this phrase is not meant in the contemporary sense as in "mind your own business", like buzz off, go take a hike or take a long walk off a short pier or go pound sand. No, Franklin did not intend to communicate this idea. Instead, he likely meant to communicate that others should literally keep their business affairs at the center of their thinking. This wouild make sense as Franklin was a fervent businessman.
There are, however, some questions regarding the origin of the Continental Dollar. There are no remaining records of its production in congressional records and the first mentions of the coin in print are supposedly from European sources. Eric Goldstein and David McCarthy concluded that the Continental dollars were struck in London, circa 1783, as a commemorative medal, rather than a coin. Additionally, new research has revealed it may very well be German in origin. Appearing in a 1783 printing of Historisch-geneologischer Calendar was Daniel Berger's engaving of a piece nearly identical in design both on obverse and reversee (with the legends in German, not English).
Side note; I've always thought it was interesting that in colonial script, you will find f's used as esses. It was to distinguish between a hard 's' and a soft 's'. The 'f' represented the soft 's' which is why you will find words like house and houses spelIed 'houfe' and 'houses'. I really wish thif would make a comeback because I actually miff thif feriously cool fcript. And now I sound like Daffy Duck.
Frankly Speaking New!
08/31/2022
The following was written by Frank. He is a college student who has been working for us part-time over the past few years, starting with us when he was in high school. He's developing into a rather sharp coin buyer, and we are excited to have him on our team. Look for more "Frankly Speaking" posts in the future.
This past June, I attended the ANA Summer Seminar in Colorado Springs for the first time. I was excited to learn more about coin grading from two top notch professionals, Steve Feltner and David McCarthy. I landed in Colorado Springs Airport to find my checked bag filled with a week's worth of clothes missing. Traveling is still fairly new to me, so I was a bit frantic about the situation. After leaving the airline's customer service desk, I was kindly greeted by a representative of the ANA. From there, myself and other students loaded on to the bus and headed to Colorado Springs College. On the way, we chatted about coins and got to know each other. After checking in and settling into my wicked hot dorm room, I ordered out Thai food and called it a night.
The next morning I got a call from a Colorado number, my bag filled with clothes had arrived! I quickly changed into new clothes and went off to breakfast with a couple friends. Right after breakfast, we walked across the street to class. We all introduced ourselves and went right into grading. Both instructors are a wealth of knowledge, every coin that we graded, they went into great depth explaining why the coin was a certain grade. Every once in a while they would throw a curveball at us, including a proof Franklin Half Dollar with a huge wheel mark on the reverse, a proof Lincoln Cent with added cameo, and a 1927-D $20 Saint Gaudens with an added mintmark.
During lunches, we'd make root beer floats and if we had time, we toured the ANA's Money Museum, where many of the coins from the infamous Bass Collection were on display. Nights were spent hanging out with friends, shooting pool, and doing coin deals with each other.
The week flew by and before I knew it, it was time for the graduation banquet. We had a fancy dinner which ended with an award ceremony. Both Steve Feltner and David McCarthy were awarded their honorary doctorate in Numismatics for their dedication to the hobby.
After Summer Seminar, I attended the Coin-X West Coin Show in Colorado Springs to do some buying for Northeast. This was my first time going out to a show solely buying for Northeast, so I was a bit nervous about it. The show was a decent size, roughly 100 tables. My favorite buy from the show was an 1839-O Capped Bust Half Dollar PCGS F12; these have always been one of my favorite coins because it's the only Capped Bust coin with a mintmark intended for circulation. I spent 3 days at the show looking for good buys and came home with about 100 coins and COVID.
If anyone ever has the opportunity to attend the ANA Summer Seminar, I would highly encourage you to do so. I built many great connections and learned a lot in only one week.