Northeast's Blog
Murdock for Hire New!
02/19/2021
The following was written by Brian.
The die-sinker. Just what in the world is a die-sinker? Sounds German. Or perhaps it is a fishing lure of some kind? Hit man? Torture device? Well, it's none of the aforementioned. A die-sinker is a person who engraves dies used to punch or stamp designs onto coins or medals.
Surely, if you enjoy numismatics, you have stumbled upon a token or two in your day. Thanks to the die-sinkers, there are thousands of interesting and historic tokens and medals available for collection and enjoyment.
One of the most prominent die-sinkers of the 19th century was a Cincinnati businessman named James Murdock Jr. As a young man, Murdock emigrated from Ireland to the United States, working under the tutelage of another prominent Cincinnati die-sinker named John Stanton. Murdock would eventually purchase and run Stanton's business as well as others.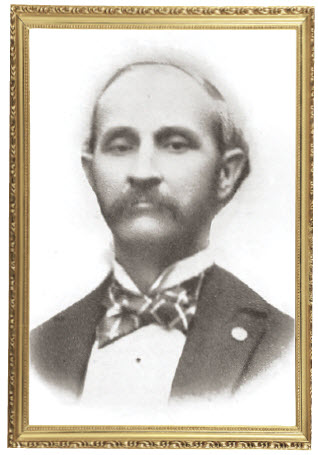 Here's an example of one of Murdock's Civil War Tokens.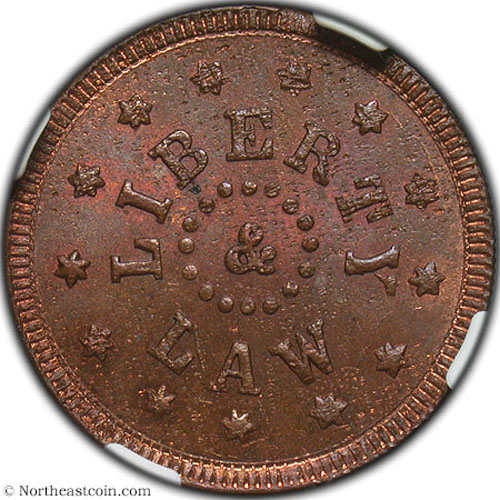 Here is another image of some of Murdock's Civil War 'storecards' (used mostly by tradespersons and valued generally at 1 cent). The top center is Murdock's advertising obverse and pictured around them are 5 stock dies.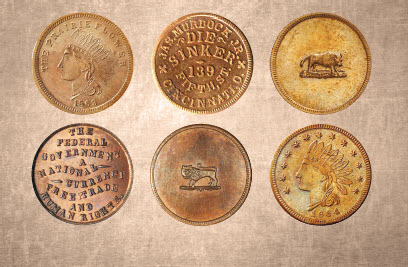 It is known that during the Civil War and post war, collectors of these tokens could purchase them directly from the die sinker companies. This is where it gets interesting as many collectors would convince the die-sinkers to create custom tokens using dies not intended for each other (a practice known as 'muling'). In addition to different dies, sinkers would often be persuaded to use different metals such as silver, aluminum and copper. This, in effect, resulted in some real rarities.
In addition to tokens, Murdock is credited with creating the first 'bag-tag' (a metal luggage tag used on the railroads). In fact, Murdock did so much more. His advertisement in the September 23, 1922, issue of The Cincinnati Enquirer listed the company's products as "Steel Stamps, Stencils, Metal Specialties, Name and Number Plates, Metal Checks, Burning Brands, Log-Branding Hammers, Embossing Dies." A regular Murdock for hire, this guy excelled at most everything that presented an opportunity across many industries – including seals. This neat image below is from the ANA magazine.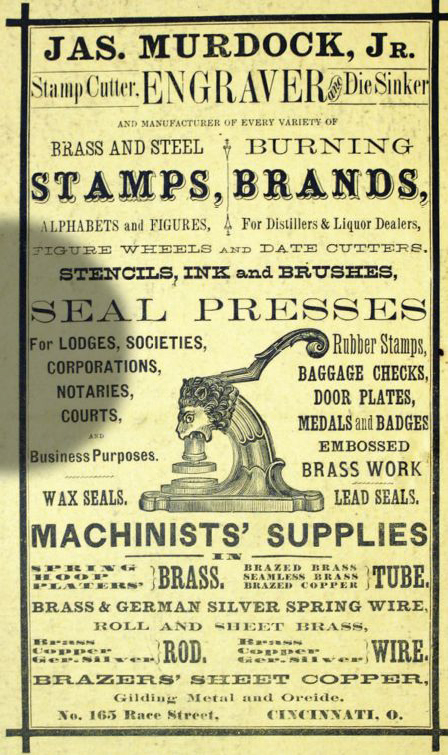 Emergency Issue Notes New!
02/05/2021
The following was written by Brian.
This is a silver certificate.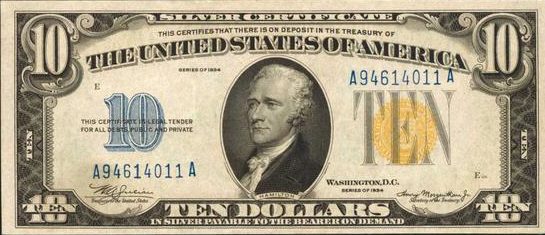 Many beginning hobbyists, or perhaps the casual observer, might argue that it is not a silver certificate but rather a Gold Seal payable in gold, but that's not the case. Rather, this is an Emergency Issue Silver Certificate with a gold seal.
During World War II, the United States issued special currency for troops in North Africa and parts of Europe as well as the troops in Hawaii. The Hawaii notes have a brown seal and are overprinted with the word "HAWAII" on the front and back of the note. These were created after the attack on Pearl Harbor. The denominations for the Hawaii emergency notes were $1, $5, $10, and $20, while the North Korea emergency notes were $1, $5 and $10.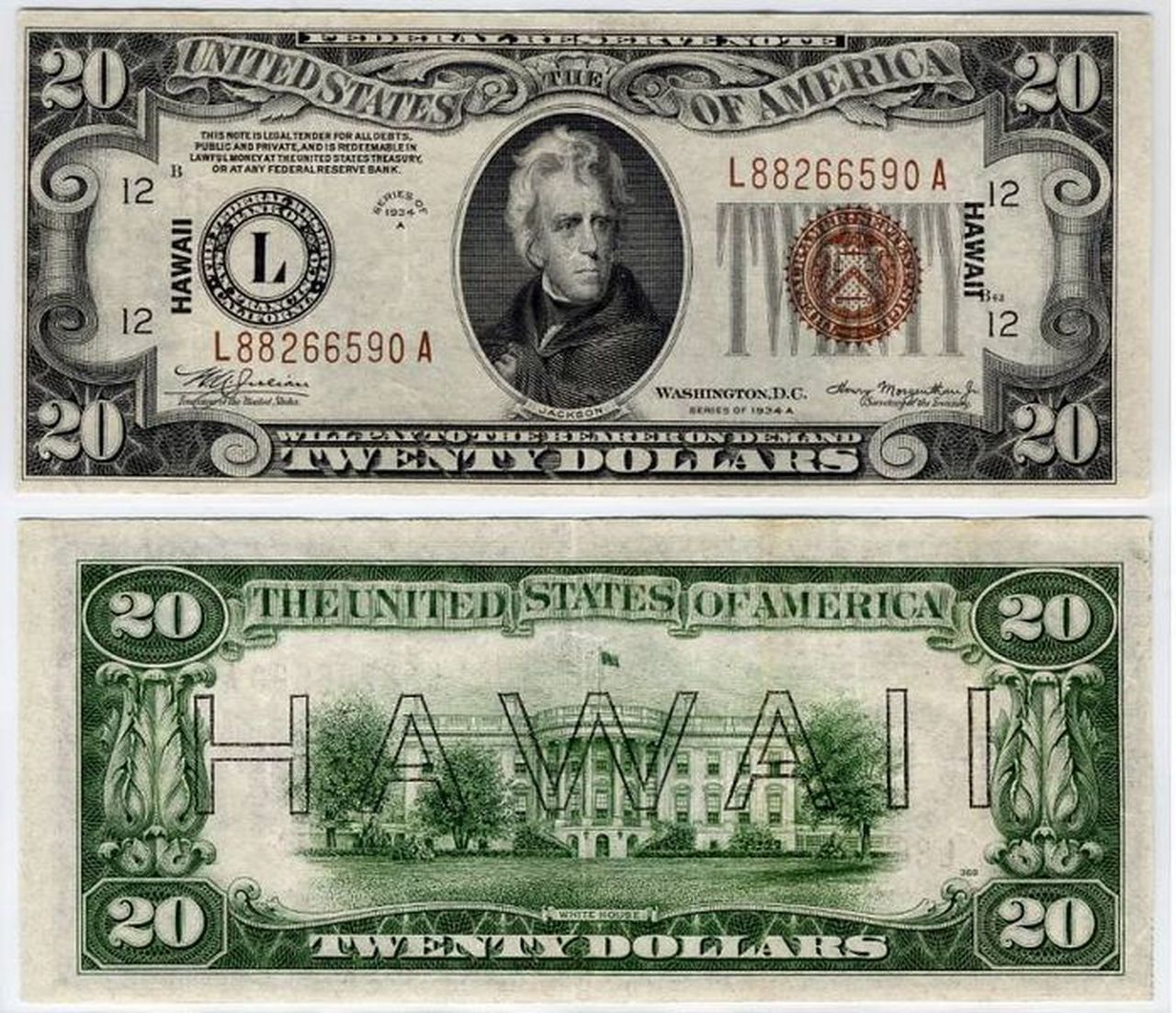 The idea behind the overprints was to easily distinguish US currency captured by Japanese or North Korean forces and render them useless. The US military feared that a Hawaiian invasion could result in the seizing of considerable amounts of US currency from financial institutions, businesses and/or private individuals. So, on January 10, 1942 an order was issued to recall all regular US currency in the islands, save for set caps that individuals and business could carry.
On June 25, 1942, new overprinted notes were first issued. Again, the hope was that should there have been a Japanese invasion, the US government could immediately declare any Hawaii-stamped notes worthless, due to their easy identification. This would make non-overprinted notes redundant and the residents of Hawaii would be forced to turn in any such notes for the overprinted ones.
After the war (and faced with a $200 million stockpile in currency) government officials decided that rather than dealing with the logistical problems of shipping the recalled currency back to the mainland, they would simply destroy them. They made use of a local crematorium until deciding that the job was too big and going too slowly when they employed the help of the Aiea Sugar Mill to finish the job.
Fresh roll of gem 1909 VDB Lincolns - video New!
01/26/2021
This is a rather rare opportunity. Opening up a long sealed roll of 1909 VDB Lincoln Cents. Check it out!
The passing of a friend New!
01/20/2021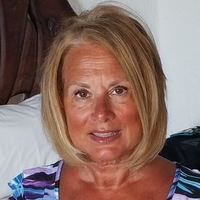 We are very sad to announce the recent passing of our friend and colleague, Margie Sheaffer. She passed away at the age of 71, with her husband Gary by her side. Margie started working the coin shows with us back in 2011. Based out of Pennsylvania, she would fly out and meet us at all of the major shows. She primarily took our coins around the bourse floor to show other dealers, but she also provided invaluable assistance behind the table.
Margie's time in the coin business started well before she started working with us, however. In fact, she started in the biz almost 50 years ago. To this day many still knew her by the name of Margie Sharp from her single days. Over a 50-year span, Margie has worked for Worldwide Numismatics, Britt Simons, Bob Hughes, Dennis Steinmetz, Frank Greenburg, John Maben, Modern Coin Mart, us here at Northeast Numismatics, as well as others. She was known by almost every dealer in the show circuit and was well-liked by all.
It was always a joy hearing the stories about the pre-coin circuit days when Margie had a minor rock and roll hit, cutting a record in the late 60's or early 70's. If only she could have traded in her cheery bourse floor voice and personality for rock & roll fame! In recent years Margie retraced bits of this glory performing in senior music competitions.
From Tom
Smiling & friendly. Reading the many tributes & remembrances from Margie's many friends & dealer colleagues from across the country, I am really struck by these overriding comments. Margie was always known as someone that would greet you within a nice big smile on her face. She was funny & cheerful, would remember a birthday or special event, & was very easy to talk to.
Margie's tremendous energy & hard work will be missed for sure, but more we will miss the Margie that would bring a thoughtful gift to a dealer friend, remember & comment on your grandkids, or some other thoughtful event. We were honored to be Margie's friend & she will be missed immensely.
From Chris
Margie was such a lovely and fun person to be around. Some of my favorite moments with her was when she would recount the coin stories of old, well before my time in the business. The 70's and 80's were some crazy times in this industry, and she knew most everyone in the biz back then. I never tired of hearing the old school scoop.
It was always a treat to see Margie at each show. A fond memory I will always have will be the actual "treats" she would sometimes bring me. Her husband Gary is an avid hunter, and occasionally Margie would show up to the show with a bag of homemade deer jerky for me. (Thank you, Gary!)
While we didn't go out to dinner too much together while on the road (Margie usually preferred calling it a night early and would enjoy some room service…probably because she was sick and tired of working with me and Tom all day!), we would occasionally enjoy an after-show cocktail in the hotel lounge. Tequila was her beverage of choice. You could always tell if Margie had had one or two tequila drinks. The color of her cheeks and her stories were the giveaway. She normally retired to her room after her second, but not after we had a bunch of great laughs.
Margie always asked about my daughter, wanted to know how she was doing, and see any updated pictures I might have. She was a kind and caring person. I will miss her so much, both as a colleague on the road, and as a friend.
From Brian
I first met Margie when she was visiting Boston and came into the office at our old place. We were introduced but before I could put my hand out to shake hers, she gave me a big hug. That really says it all about Margie; a wonderful, cheerful, loving, funny and welcoming lady. Though she never met my son Lukas, she would always ask me about him and tell me how adorable he is. It was always so nice to see her at the shows and we immediately had a musical bond that would keep us talking music the whole time. Gone way too soon, I will miss her greatly.
Collection of Walkers - video New!
01/13/2021
There is 1 comment on this post.

Tom discusses a collection of Walkers we recently acquired.
Created by: Robert on 01/19/2021
I enjoyed this vlog. I would love to see more in the future. It would be great to include some market commentary and forecasts as well!
We're glad you enjoyed the video. Stay tuned for more. And thanks for the feedback - we'll certainly keep your suggestions in mind!