Northeast's Blog
The Lusitania and the Goetz Medal New!
03/10/2023
The following was written by Chris.
On May 7th 1915, a German submarine (U20) sunk the British liner Lusitania. Nearly 1,200 passengers and crew were killed. This occurred during a period of unrestricted submarine warfare. After the attack, the United States demanded that Germany cease these types of hostilities, and the Germans complied. However, the Germans resumed such activities in 1917, and ultimately the United States joined the Allies in the war.
The sinking of the Lusitania was a propaganda-inspiring event for both the Germans and the British. For instance, the Brits used it as a military recruitment tool.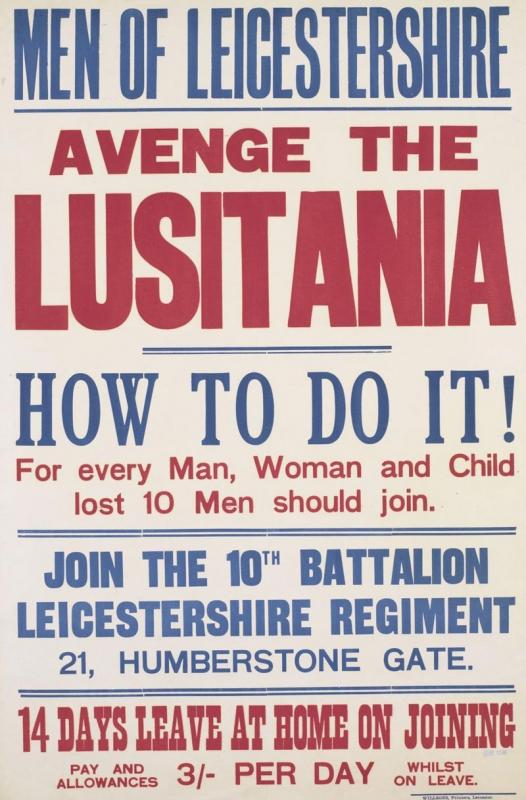 German medalist Karl Goetz memorialized the event with a satirical medal. His belief was that the Germans had done their due diligence in warning the Americans, British, and the cruise line (Cunard) to the danger of sailing the ship from New York to its destination in Liverpool. The classification of the ship itself was questionable, as it was registered in the Admiralty fleet as an armed auxiliary cruiser. The Lusitania was indeed carrying munitions to Great Britain when it was torpedoed.
The medal Goetz issued features a skeleton on one side selling tickets to passengers from a Cunard ticket counter. A man is seen reading a paper with a headline that translates to "U-Boat Danger". Above is a legend that translates to "Business Above All". This speaks to Goetz's opinion that the Germans had fairly warned of the potential risk, yet the cruise line chose to bring paying passengers on board and take the journey anyway.
On the other side, we see the sinking ship. The wording on top translates to "No Contraband Goods", referring to the classification of the ship and its cargo. On the deck of the sinking liner are artillery and warplanes. The legend below translates to "The Liner Lusitania Sunk by a German Submarine". It's the date on the medal that turned it into a huge British propaganda tool.
Goetz first issued the medal with the date 5 Mai 1915 (May 5th). However, the ship was sunk on May 7th. The incorrect date was no more than an error on Goetz's part, as he likely referred to a single and erroneous source for the information. He soon reissued the medal with the correct date, 7 Mai 1915 (May 7th), but the "damage" had been done.
The British viewed the May 5th date as proof that the sinking of the Lusitania was a premeditated act. This prompted the British government to issue their own medal with the incorrect date. 300,000 or so medals were struck and distributed.
All three versions are very popular among collectors today.
Original Goetz issue (Image from Spink)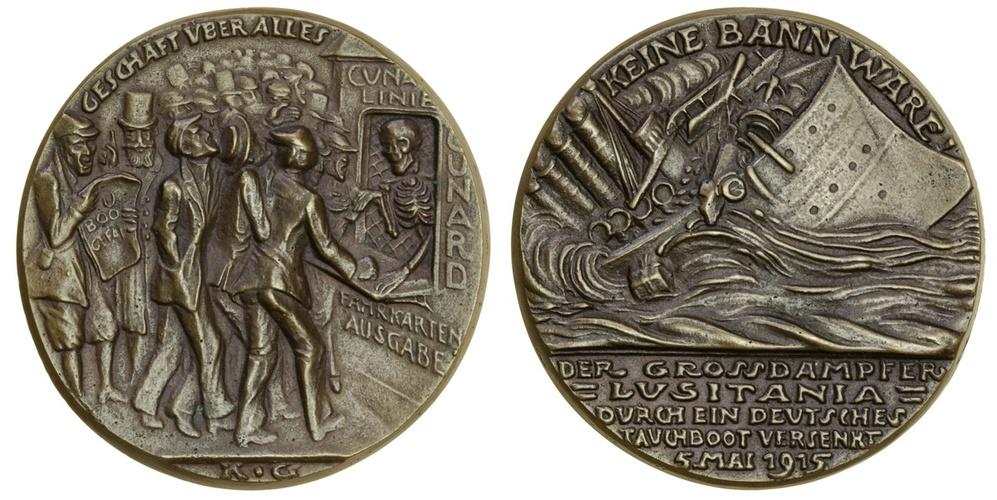 Second Goetz Issue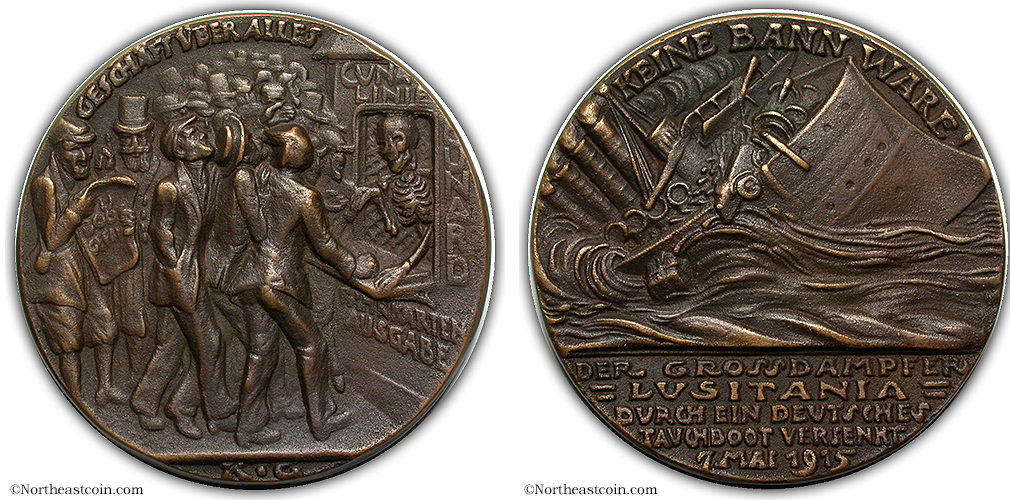 British Issue (Image from PCGS CoinFacts)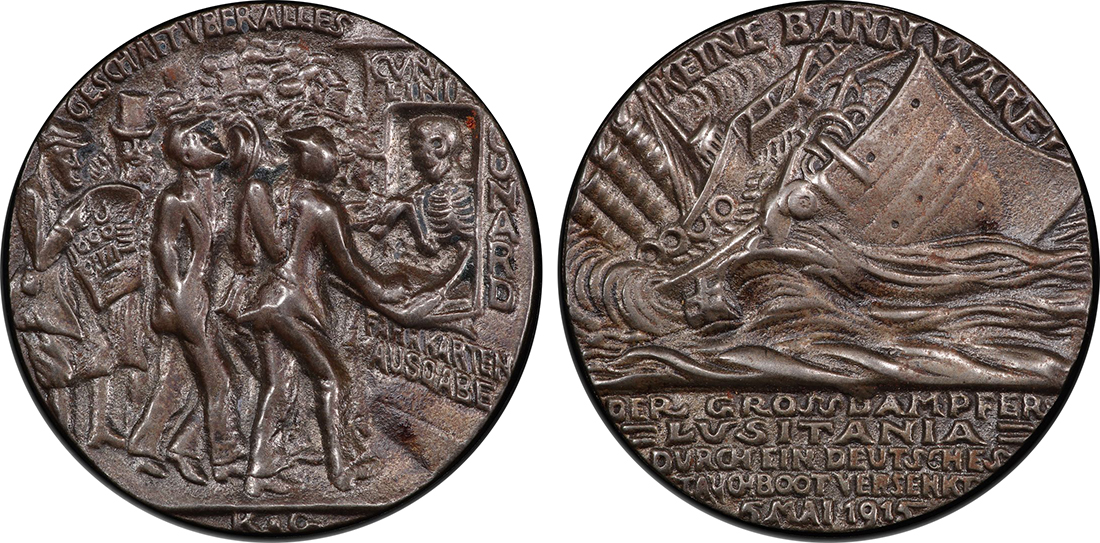 Frankly Speaking - Counterstamped Coins New!
01/19/2023
The following was written by Frank.
Counterstamps are a history packed niche of numismatics. Counterstamped coins are coins that have been punched with a design or text after the minting process. Some are counterstamped either for advertisement purposes, or for verifying the coin's authenticity and precious metal content. Some coins are counterstamped for no apparent reason with generic letters or numbers; these are usually considered damaged coins and should not trade for a premium. I will be focusing on U.S. coins and foreign coins that circulated in the U.S. for this blog post. Counterstamped coins tell a great story, they tell you where and when a particular coin circulated and what it may have been used to purchase. Counterstamps are a perfect area of collecting for those who have an interest in history.
Before there were radios, televisions, and billboards, it was common practice for store owners to advertise their business by counterstamping coins with their business' name, the products they sold, and their address. This was a fairly inexpensive method of advertising; all the store owner had to do was order a custom punch with their information, and counterstamp the coins they received for everyday transactions. Pictured below is a counterstamped 1858-O Seated Half Dollar advertising a saloon in Memphis, Tennessee.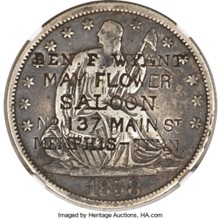 An 1858-O Seated Liberty Half Dollar that reads "Ben. F. Wyant May Flower Saloon No 137 Main St Memphis-Tenn.". Photo courtesy of Heritage Auctions.
Up until 1857, many different foreign coins circulated alongside U.S. coins. Many foreign coins were also counterstamped with the purpose of advertising. Pictured below is a Carlos III 2 Reales that reads "ADMIT TO WOOD'S MINSTRELS 444 BDWAY. N.Y.". This particular coin was used as admission to a minstrel show during the early days of Broadway.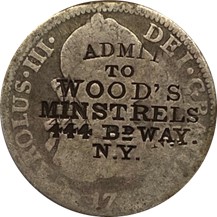 18th century Carlos III 2 Reales "Admit to Wood's Minstrels 444 Bdway. N.Y."
Coins were also counterstamped by merchants, silversmiths, and goldsmiths who would verify the authenticity and precious metal content of the coin; these are commonly known as "chopmarks". It was important to verify these coins because they were supposed to have an intrinsic precious metal value, unlike the coins that we have today. Chopmarks are quite common on 8 Reales and United States Trade Dollars, as both of these denominations were used overseas for trade, mostly in Asia. Pictured below is an 1877 Trade Dollar decorated with many Asian chopmarks.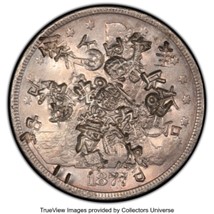 1877 Trade Dollar with various chopmarks. Photo courtesy of Heritage Auctions.
Ephraim Brasher was a well known goldsmith who lived in Manhattan during the late 1700s - early 1800s. He is most commonly known for being the designer of the infamous 1787 Brasher Doubloon. Brasher counterstamped a number of foreign gold coins, which confirmed that the coin is of proper weight and purity. Coins with Brasher's mark were used with no concern because he was one of the finest goldsmiths of the era and was well respected. Pictured below is a 1760 British Half Guinea with Ephraim Brasher's counterstamp, "EB".
1760 British Half Guinea "EB" Counterstamp. Photo Courtesy of Heritage Auctions
Counterstamped coins offer a great history lesson and add a lot of "coolness factor" to their host coin. There weren't as many advertising options during the 19th century. We might think it sounds silly to advertise with coins today, but during those days it made cents, oops, sense. We no longer need silver and goldsmiths to tell us the precious metal content of our coins anymore, we now have technology that tells us the exact purity of a coin.
The Most Beautiful Coins in the World New!
12/08/2022
There is 1 comment on this post.

The following was posted by Chris.
Oxford's English Dictionary defines beautiful as pleasing the senses or mind aethestically. As the definition implies, beauty is quite subjective. Everyone's laminated list (if this Friends reference is lost on you, think "hall pass") will be different.
Most coin collectors out there, with a lot of effort and mind-changing, can probably compile a list of their top five most beautiful coins. I decided to put together a list of some of the coins that I consider the most beautiful in the world. Choosing just five was too challenging for me and would have made for a short post. The coins listed here are in no particular order. At the end, you'll find everyone's favorite here at NEN. By the way, if you have a favorite that you'd care to share, please do! We'd be happy to post it.
All images from PCGS CoinFacts.
The 1907 High Relief. Certainly one that will be on many collectors' lists. (I cheated and used an Ultra High Relief image.)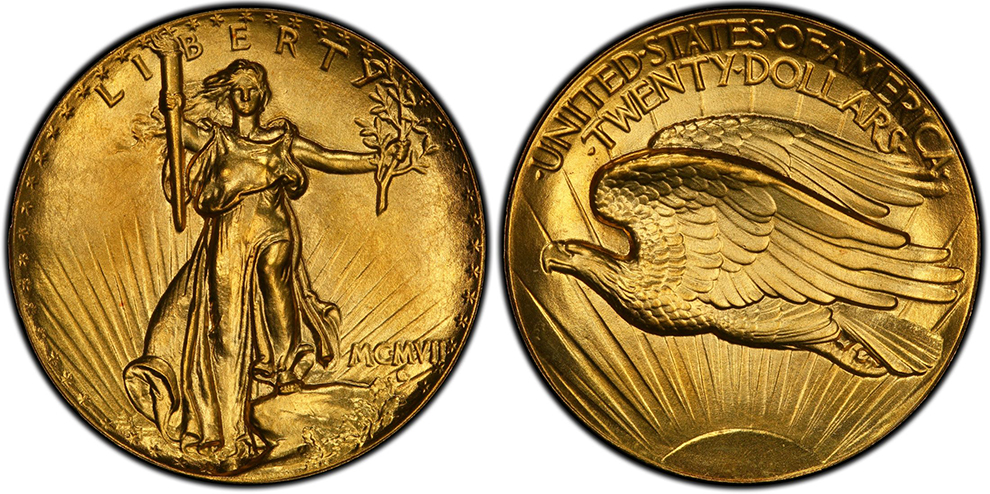 The 1847 Great Britain Gothic Crown. Definitely a top five for me.
The 1839 Great Britain Una and the Lion 5 Pound. Another top five for yours truly.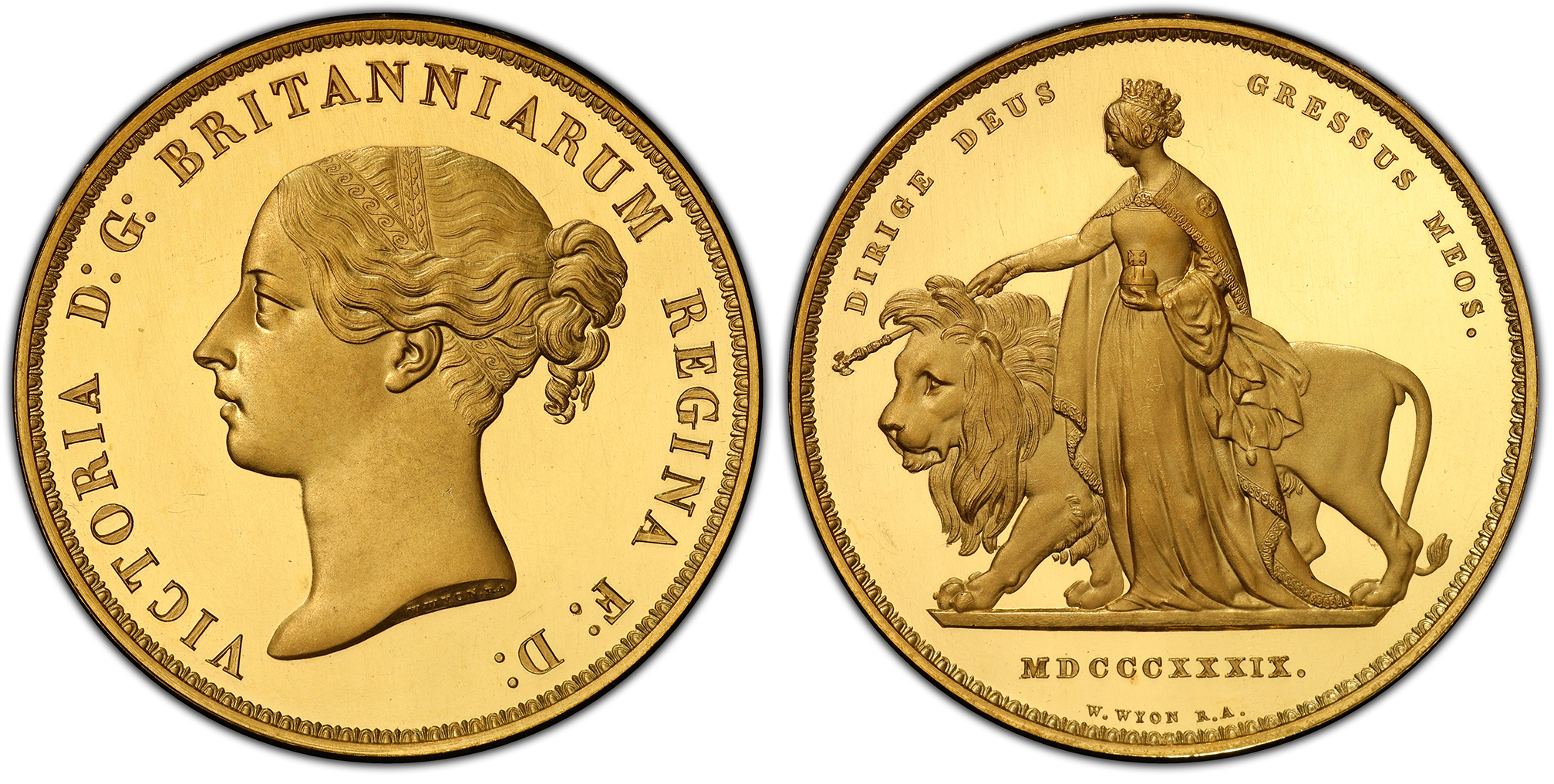 Central American Republic 8 Reales.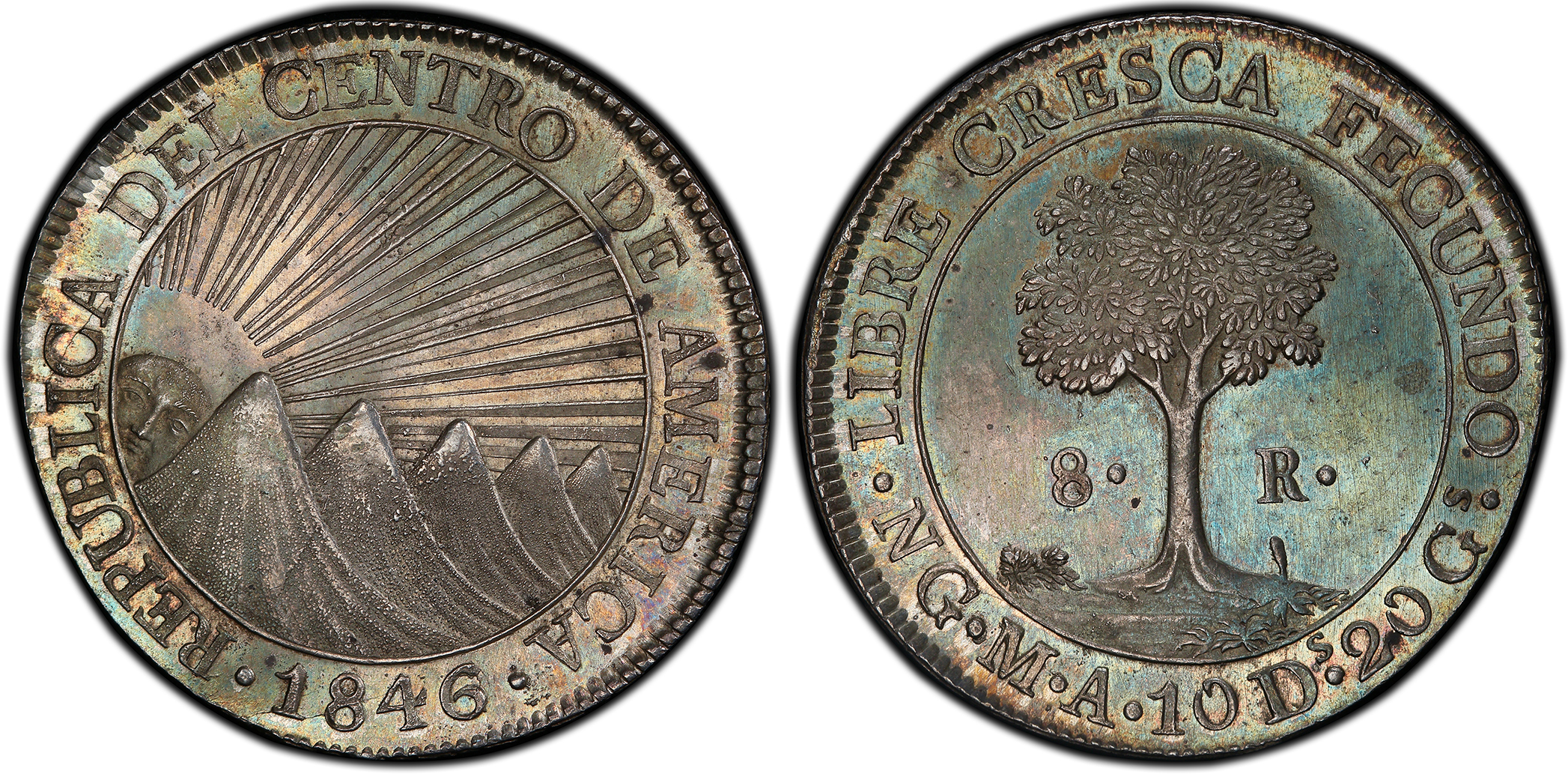 1916-1917 Type One Standing Liberty Quarters.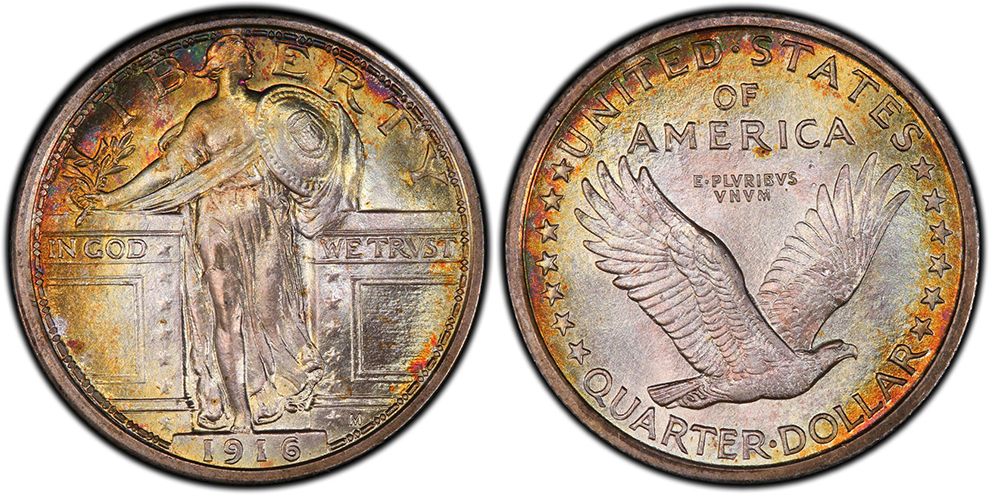 1935 Connecticut Silver Commemorative. Okay, I'm not a huge fan of the reverse, but I love the oak tree motif.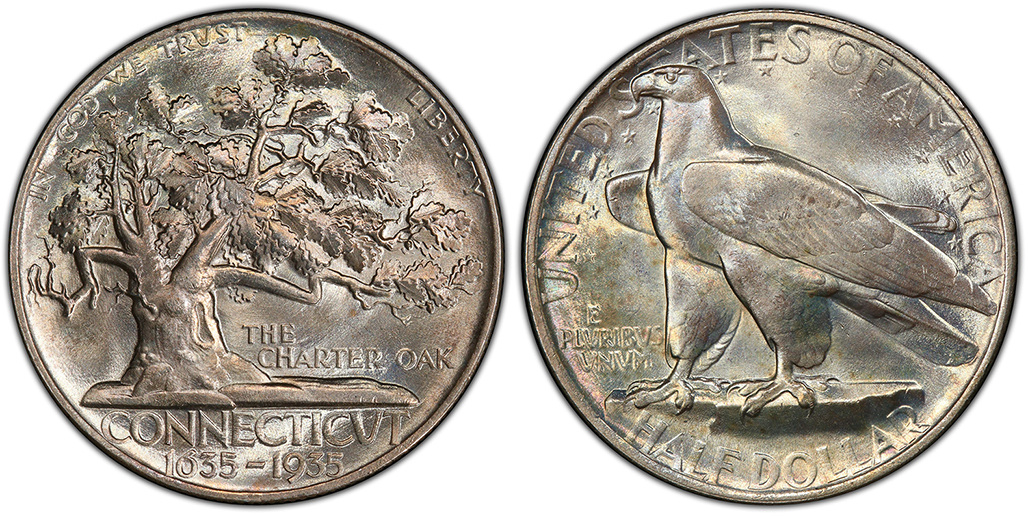 Libertas American Medal. Got me, it's not a coin, but this famous issue deserves entry. I might have to put this in my top five also.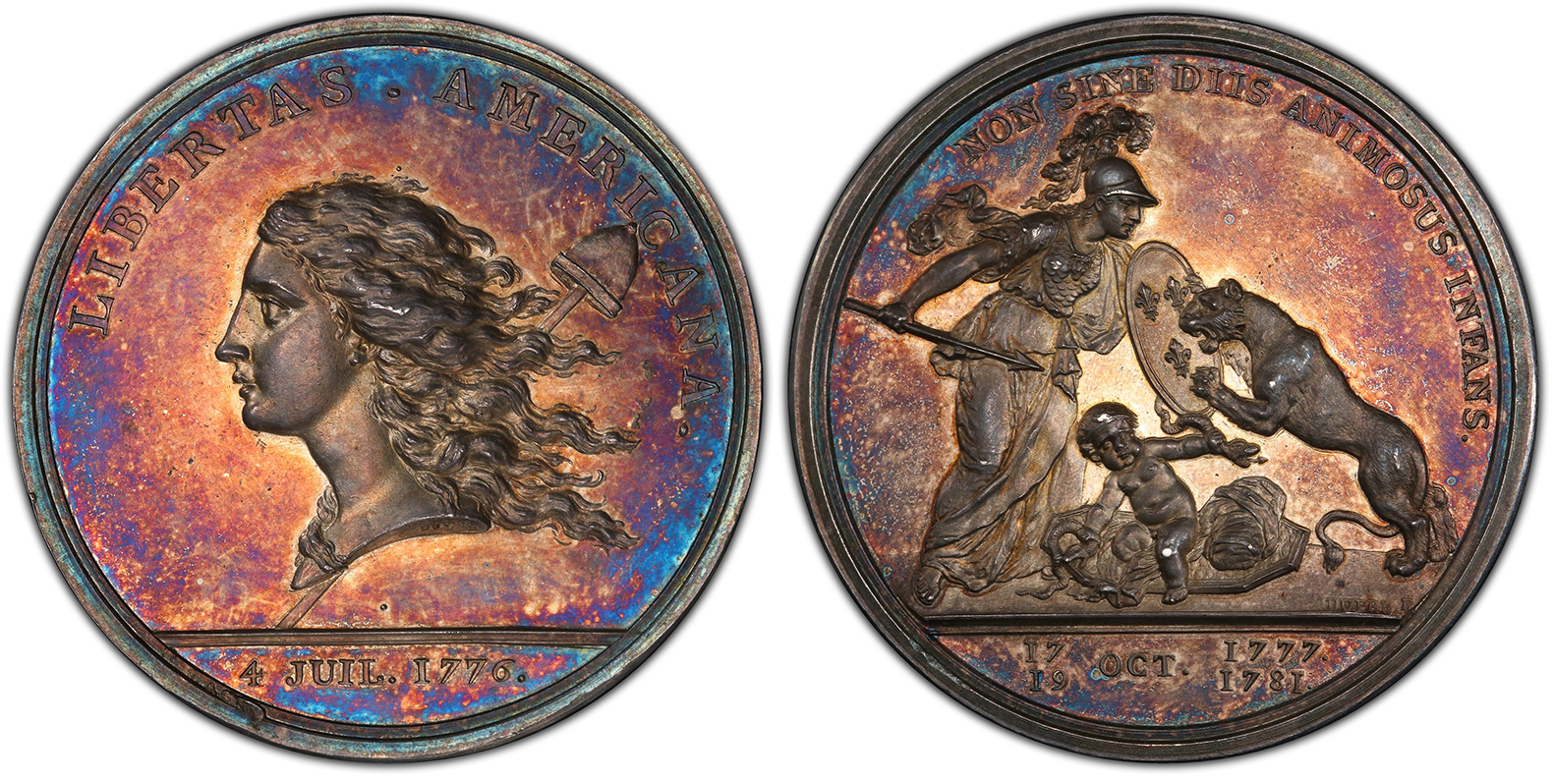 Draped Bust Heraldic Eagle Dollar. This one is a proof.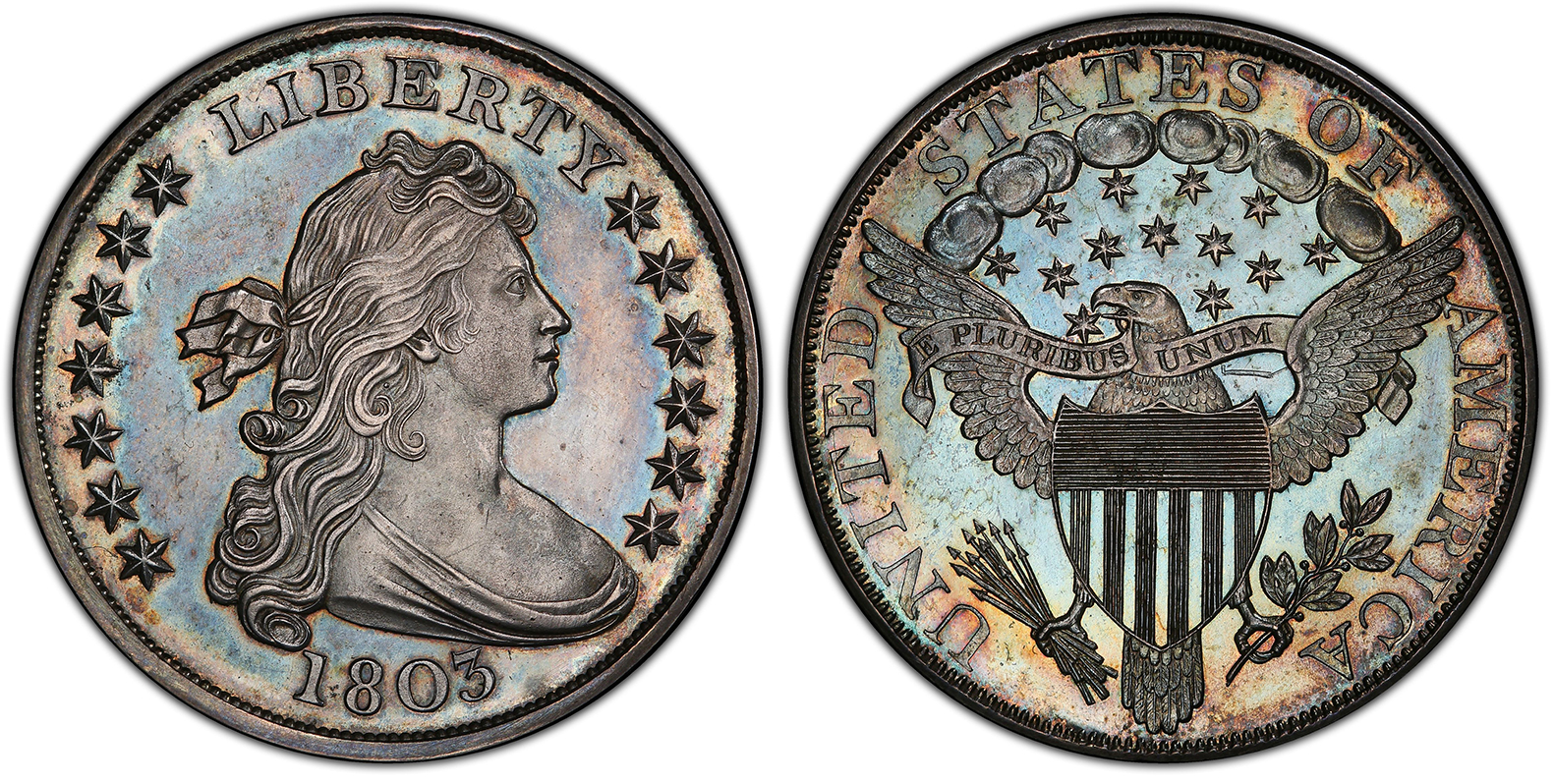 1894 German New Guinea Bird of Paradise issues.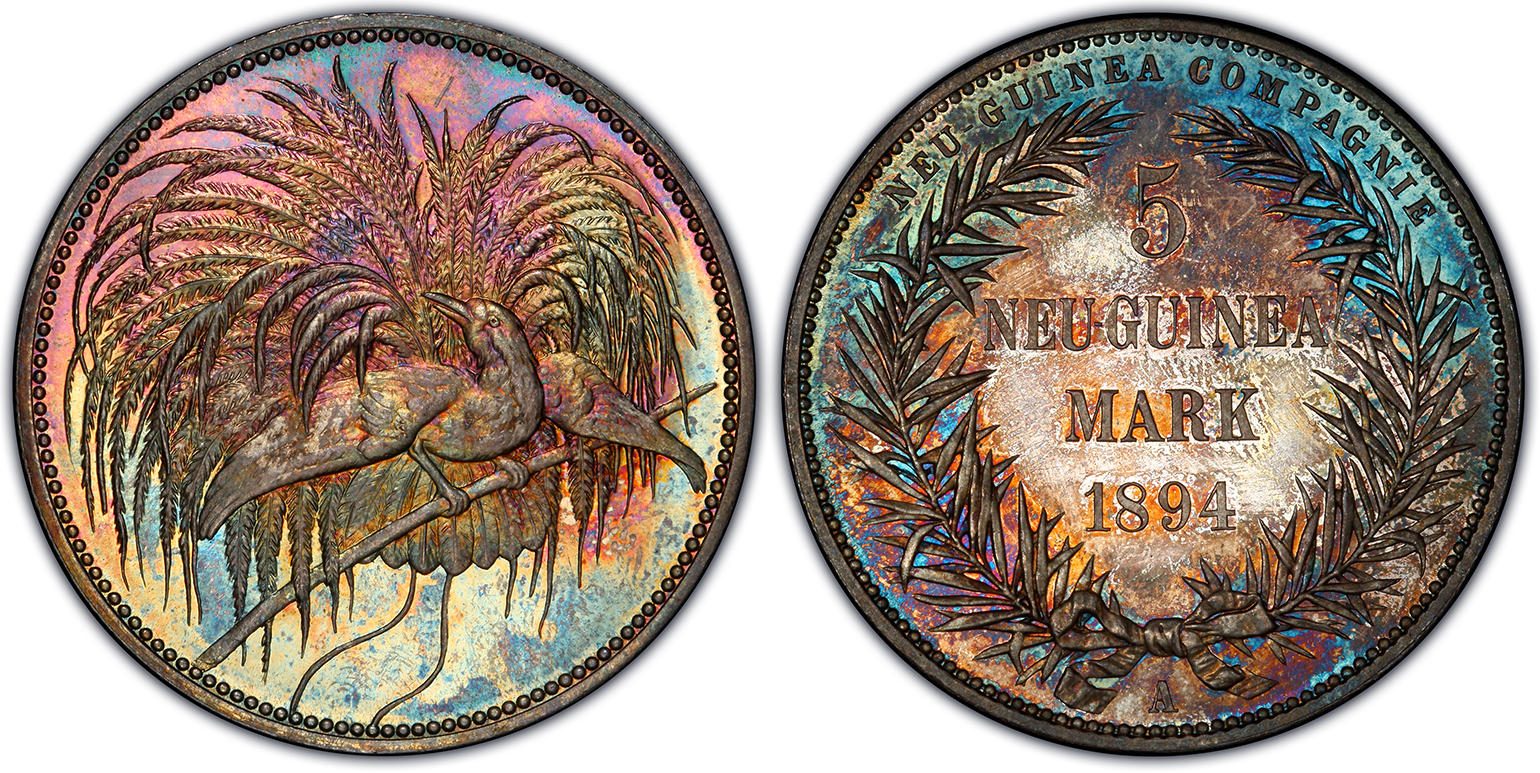 France Hercules Silver Francs issues.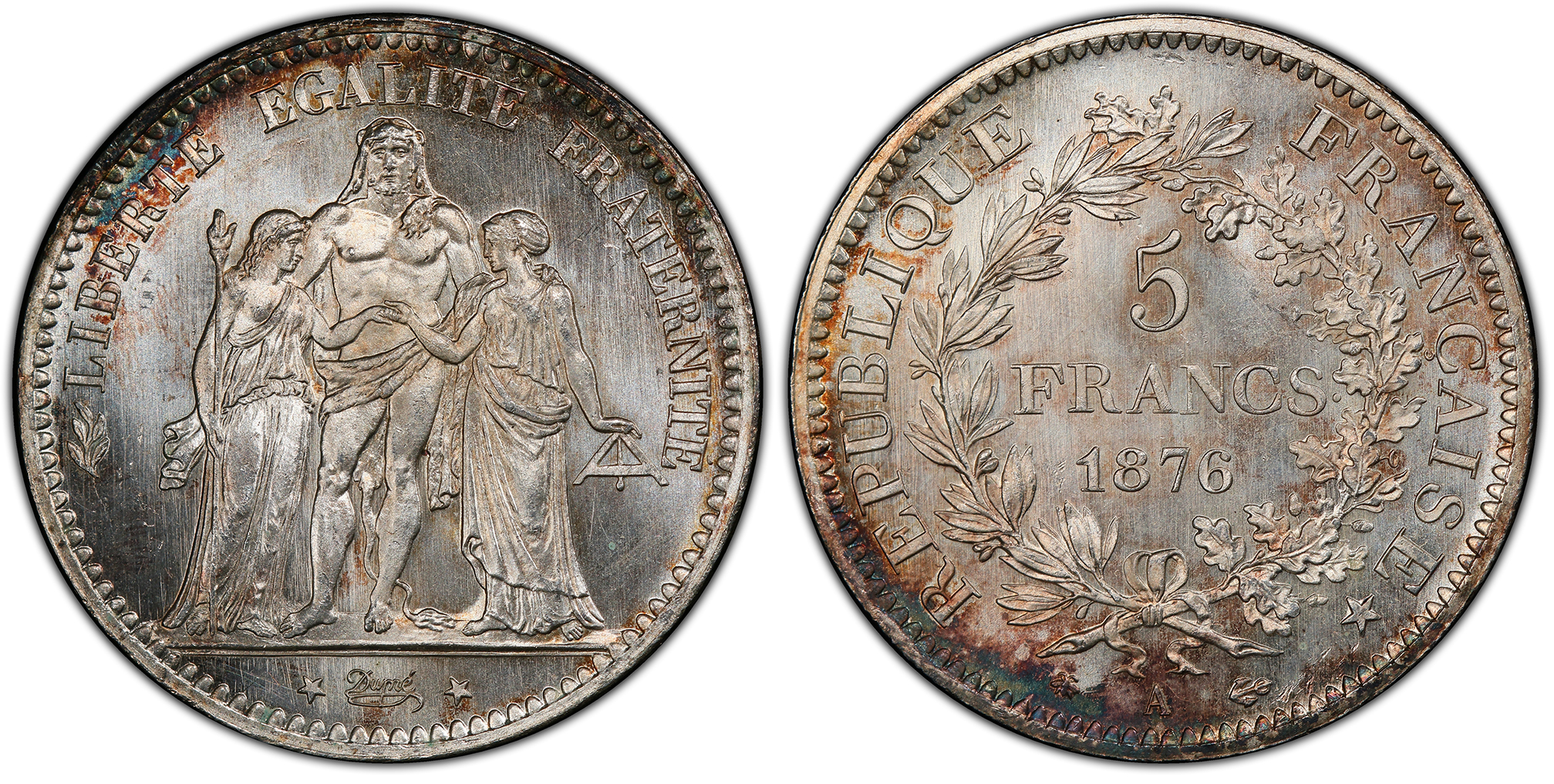 1921 High Relief Peace Dollar. (I cheated again, using a satin proof image for this one.)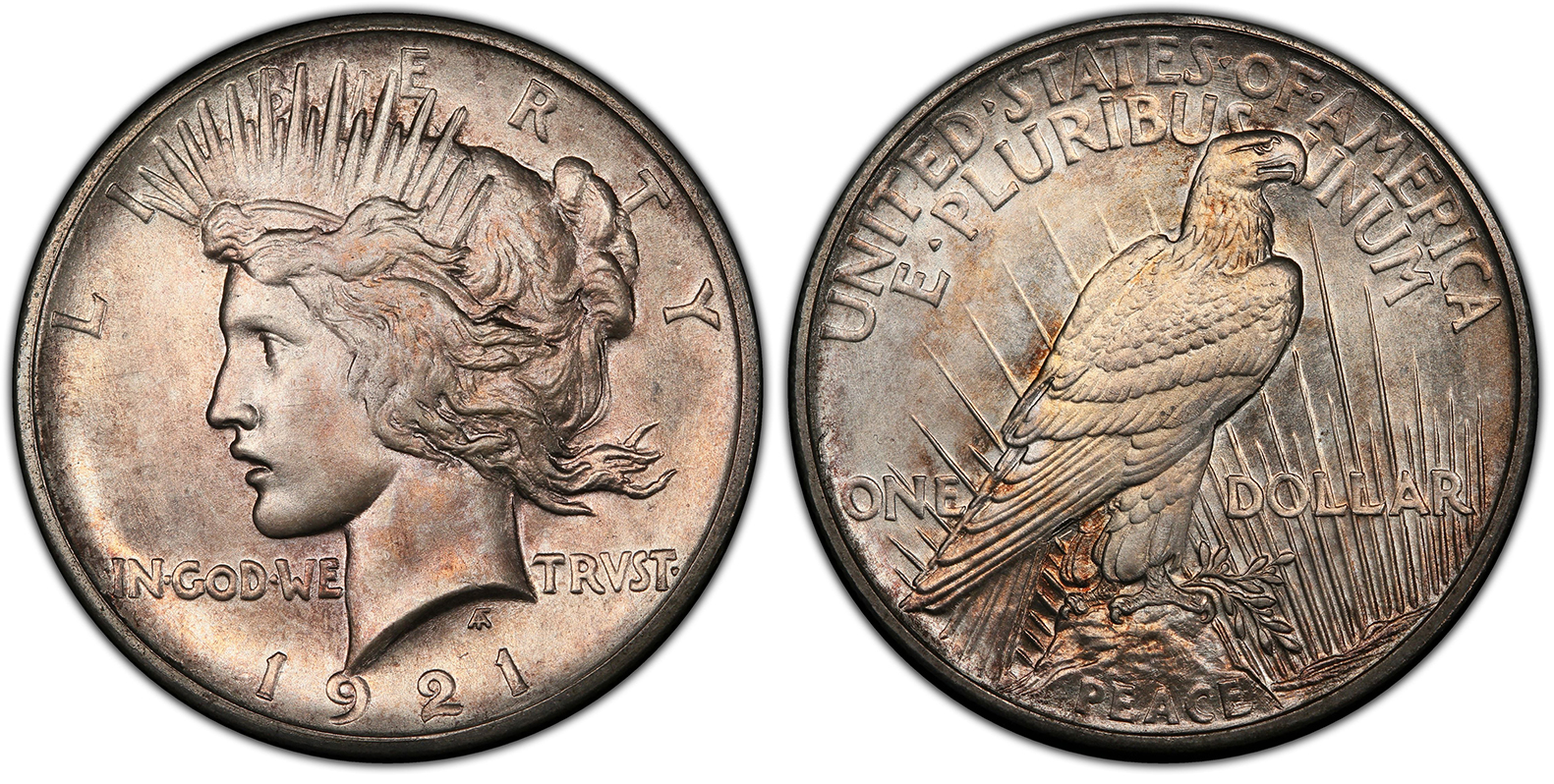 2017-W $100 American Liberty High Relief. Generally speaking, modern coin designs don't appeal to me. But I figured I'd include something "new" in the list. I think it's the Mint's best modern production.
Now for everyone else's favorites!
1776 Continental Dollar. Tom picked this one.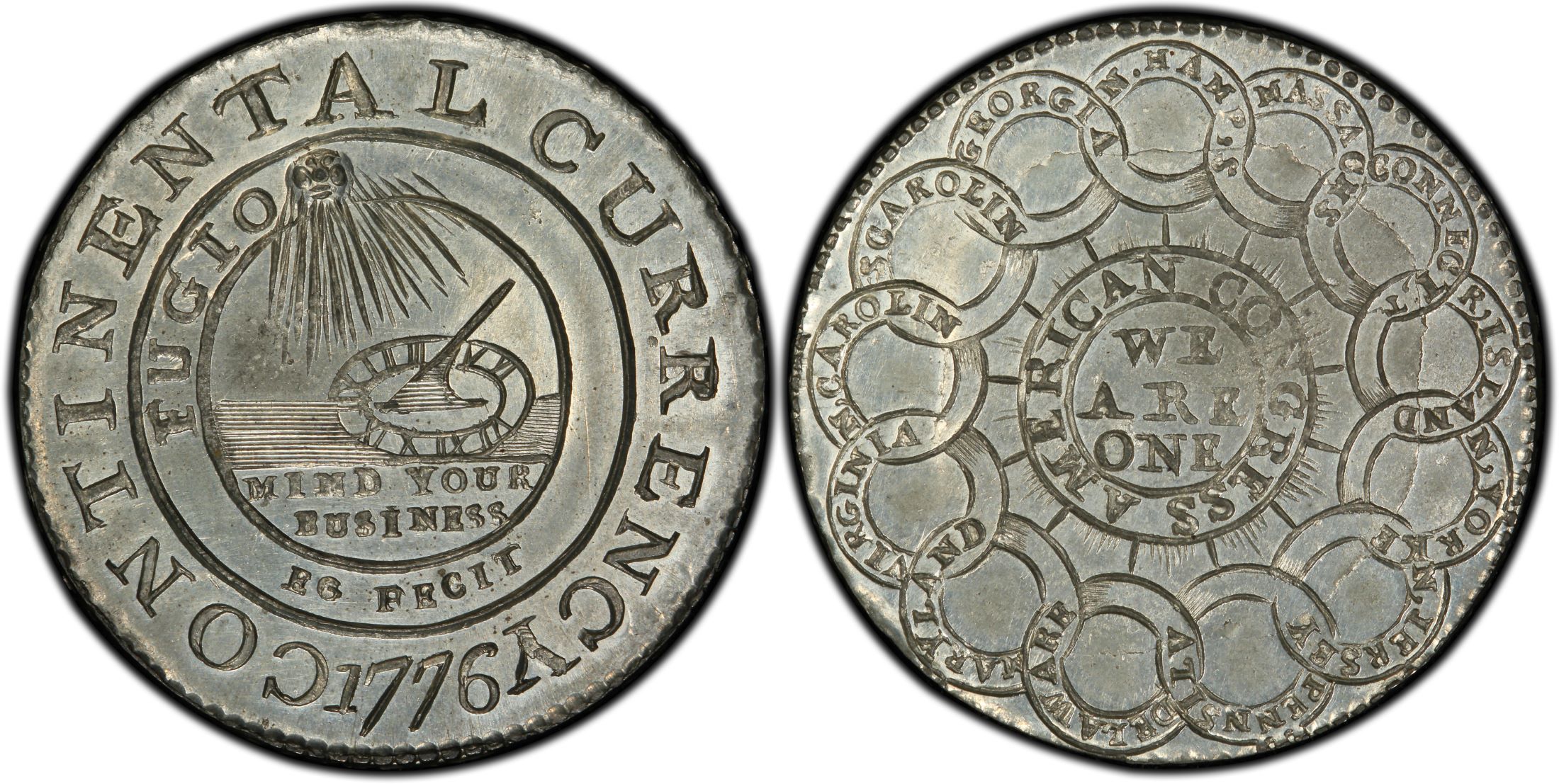 1915-S Pan-Pac $50 Gold Octagonal Commem. This is Marne's choice.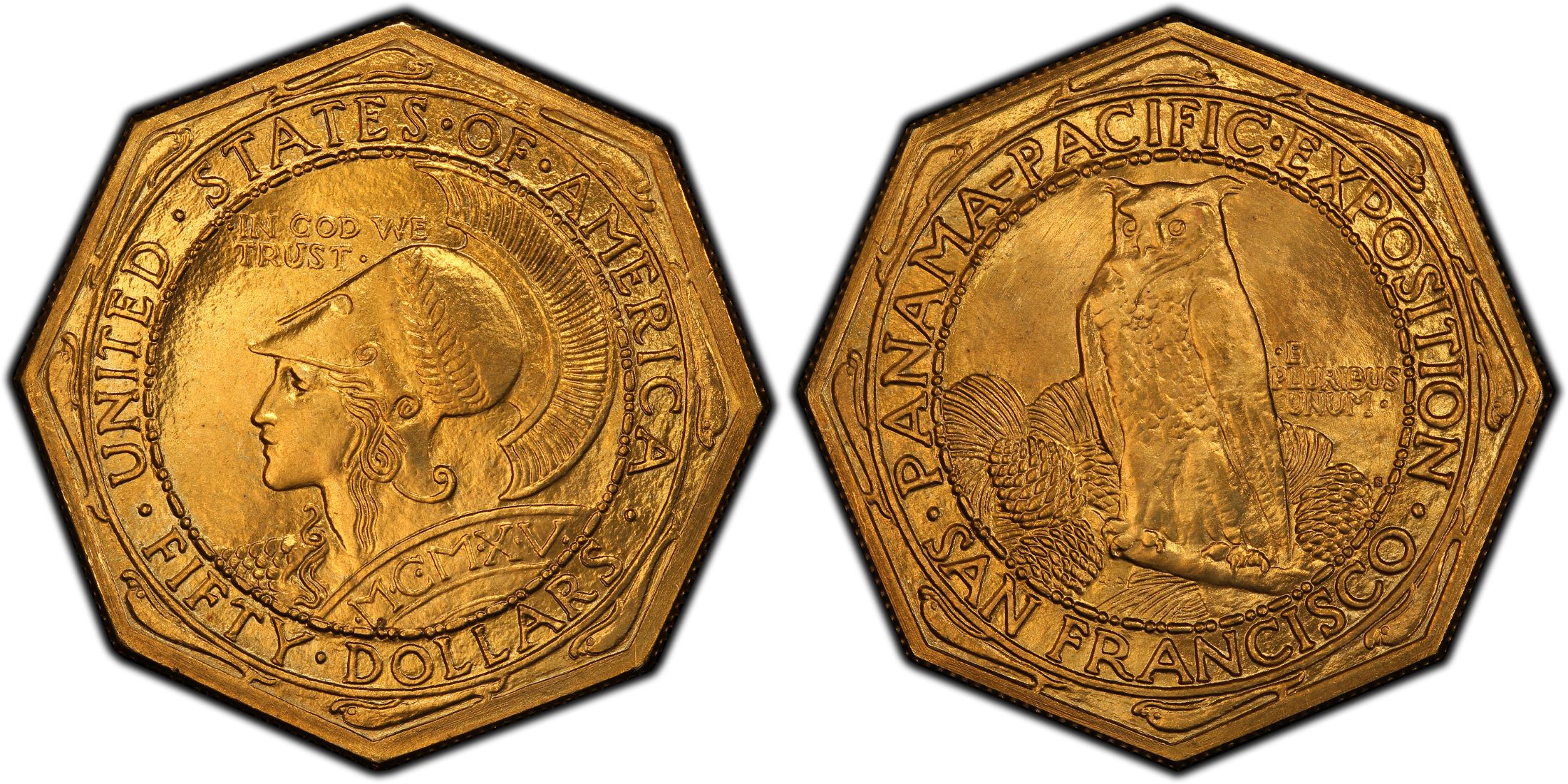 Mexico 50 Gold Pesos. Steven likes the design of the these.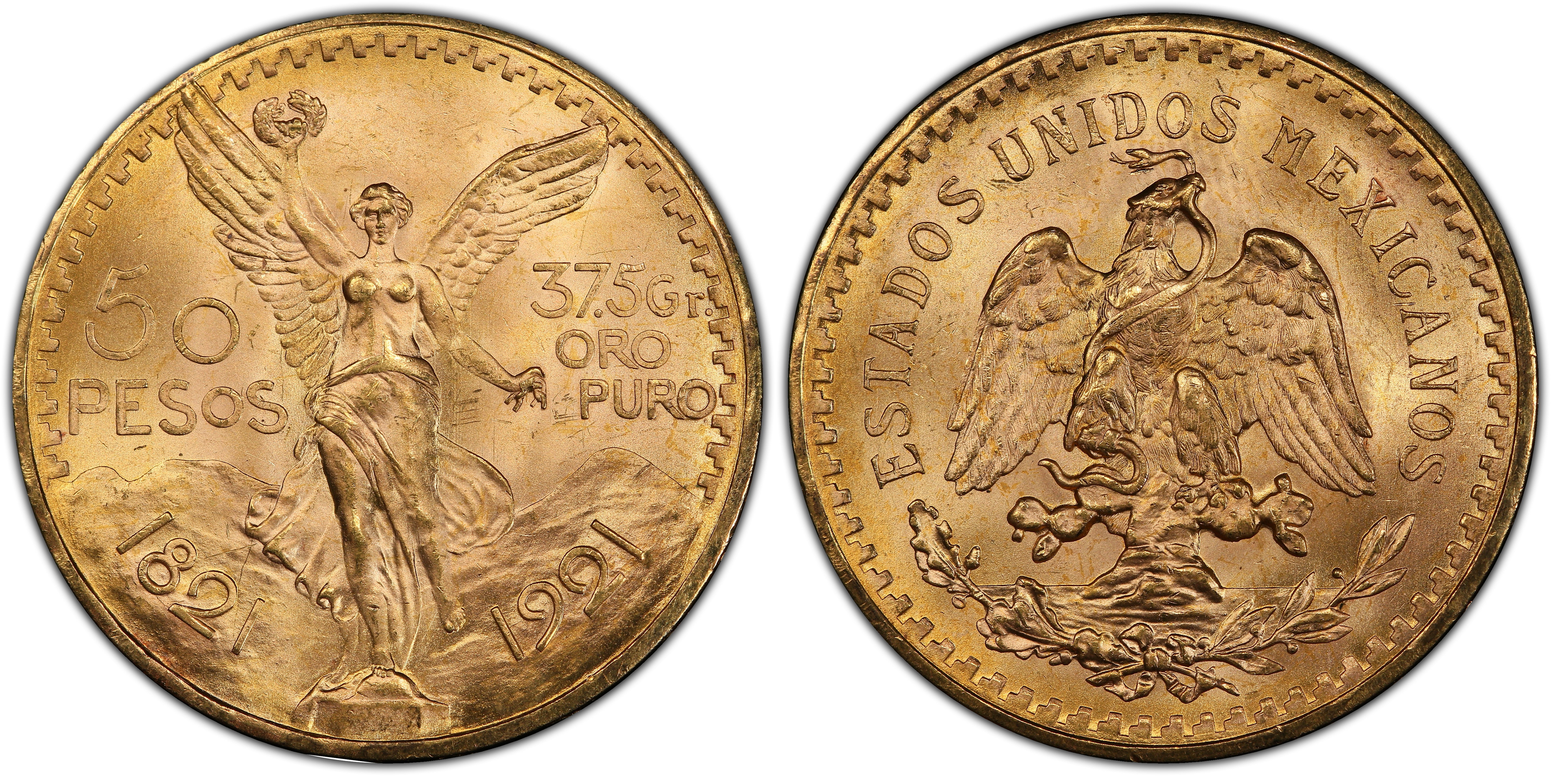 Deeply mirrored Morgan Dollars. This is Mike's selection.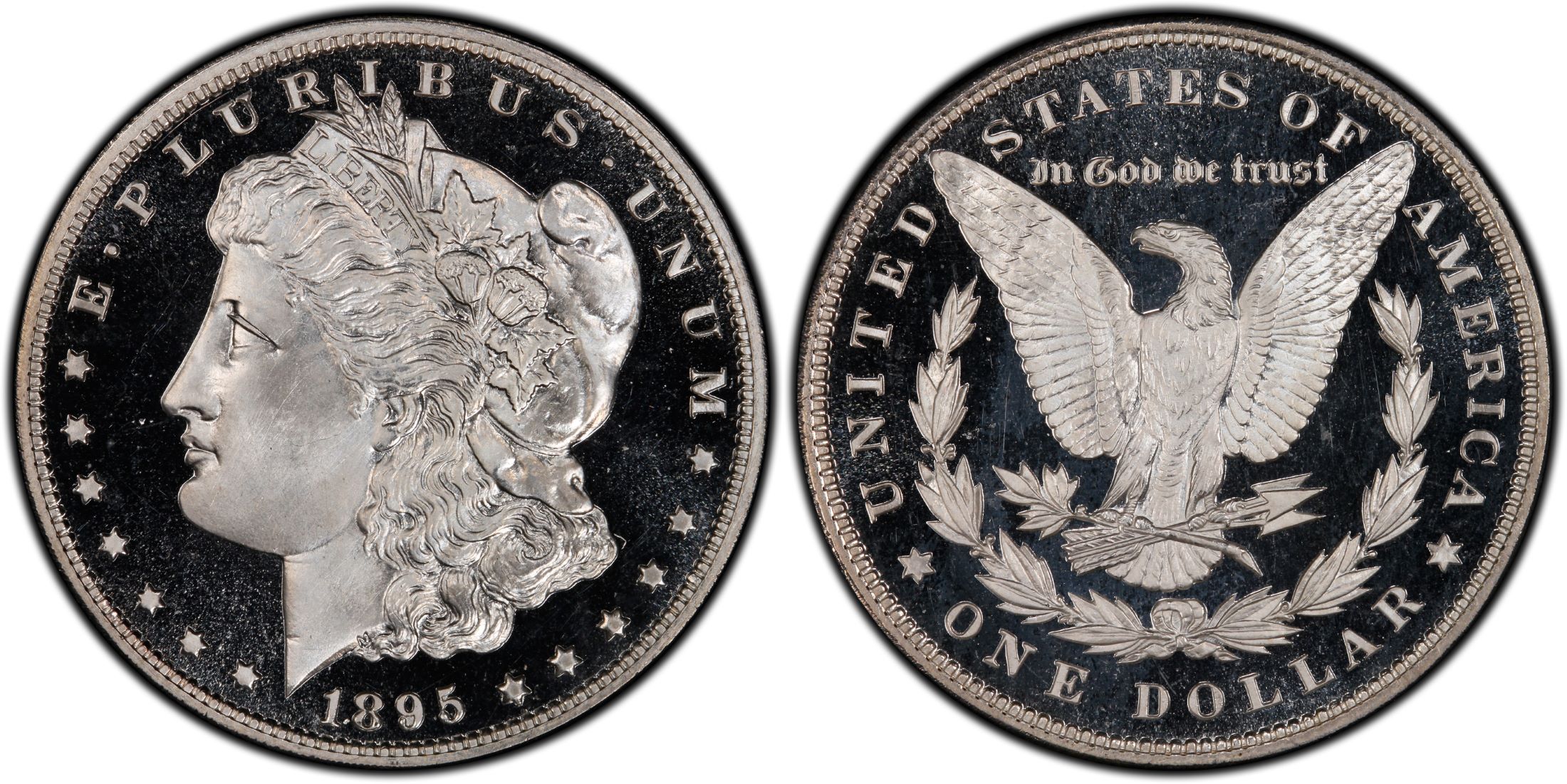 1836 Pattern Dollar. This popular Cap and Rays design is one of Frank's favorites.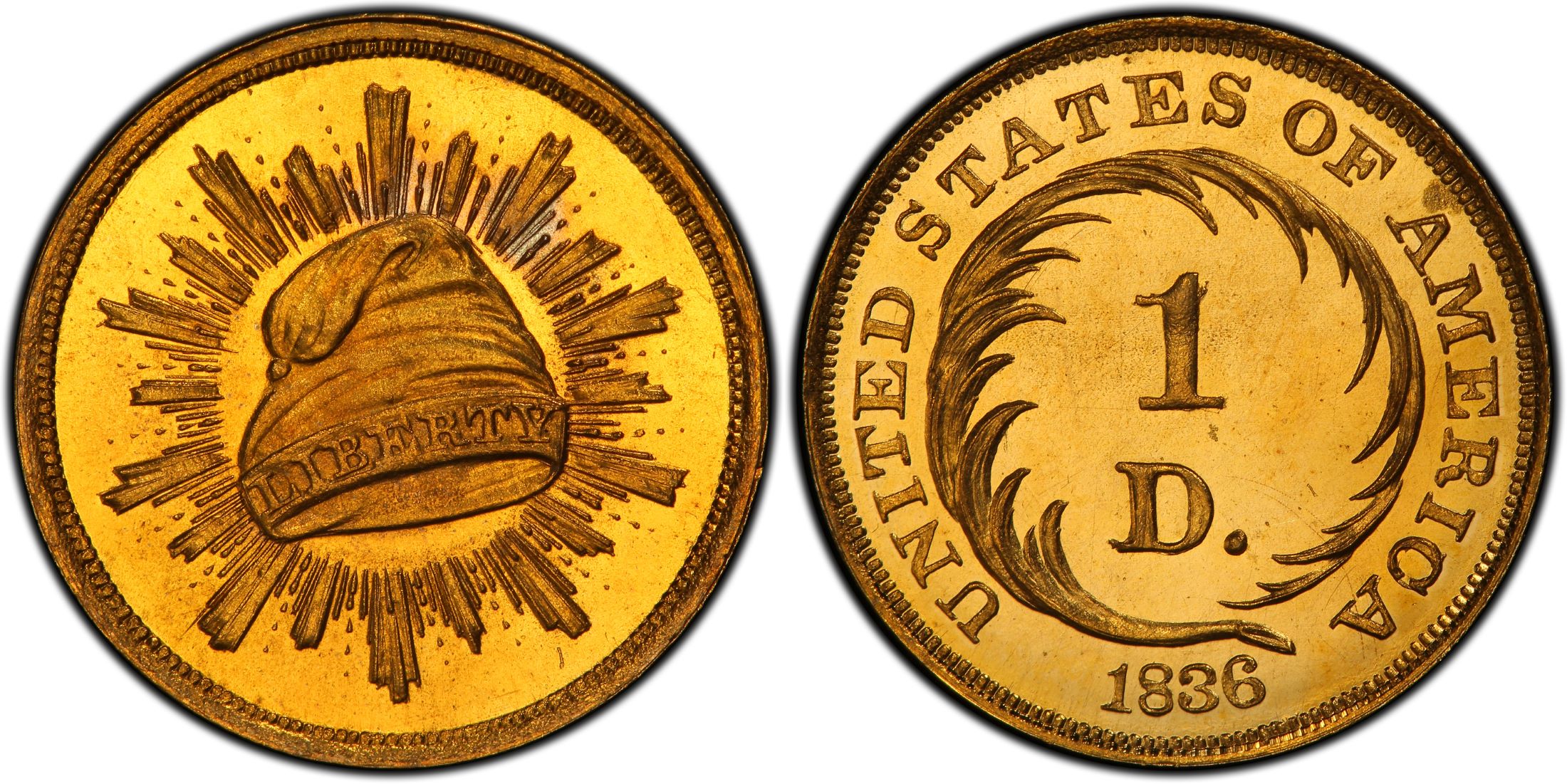 Susan B. Anthony Dollars. Last but not least, Brian is a big fan of this issue.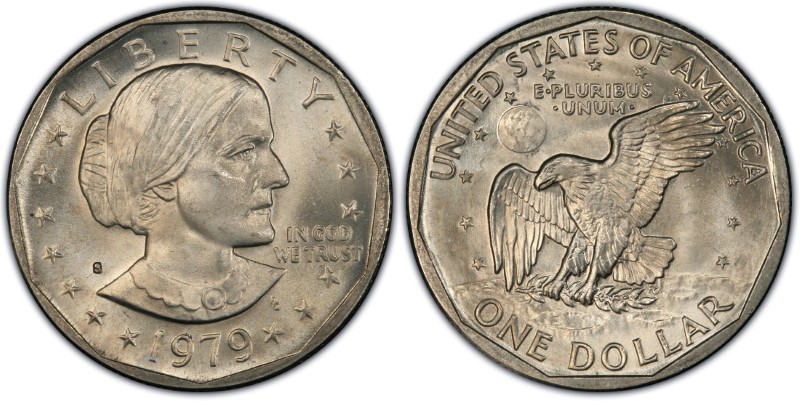 Created by: JCoop on 12/09/2022
1943-1974 Mexico 20 centavos in red is a beautiful coin, lots going on, pyramid, cactus, cap and rays, etc
Thanks for sharing, JCoop. We agree!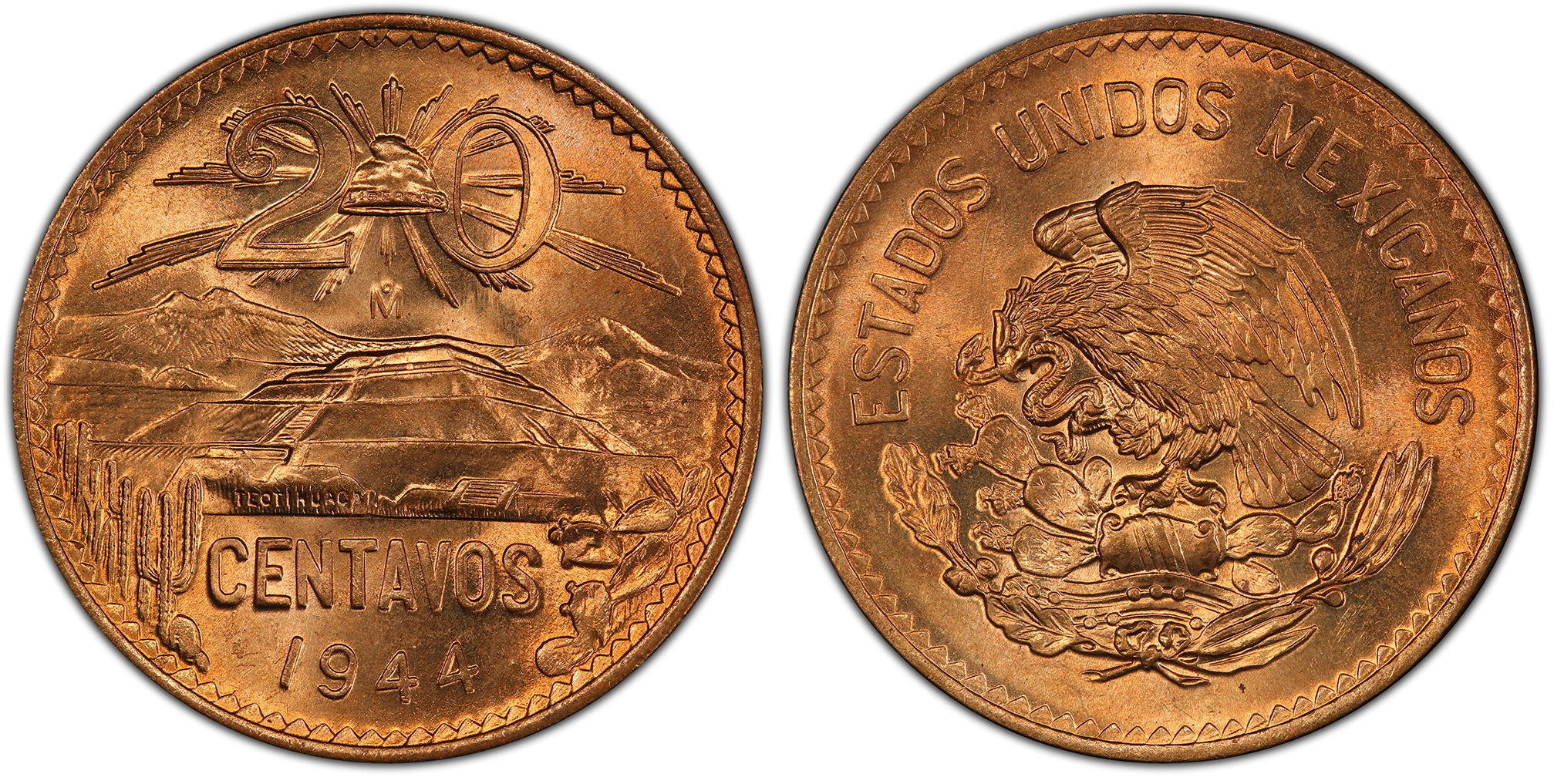 Trivia Time - What IS this?! (Win a prize) New!
12/02/2022
Identify what this is, where it's from, and approximately when it was made. Send your guess to info@northeastcoin.com. The first correct entry received will win a surprise coin, which will be revealed when we post the answer.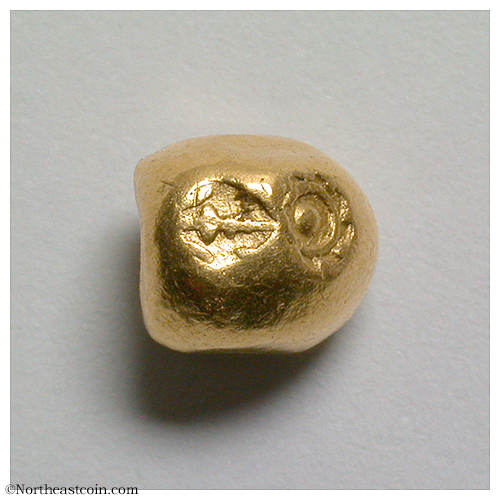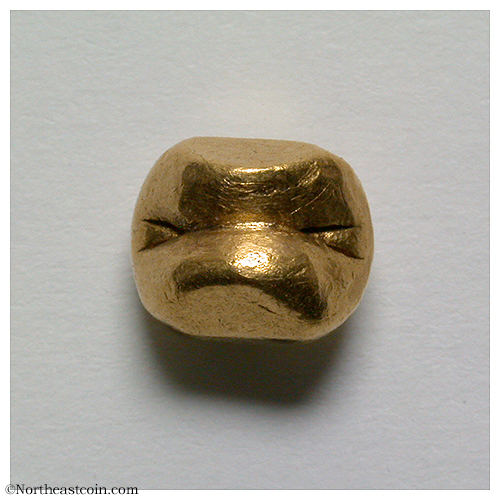 Congratulations to Panda, who correctly determined what this is! It's a 1/4 Baht from Thailand from the mid-1800's. It's commonly referred to as bullet money. Panda's prize is a silver 1 Baht pictured below.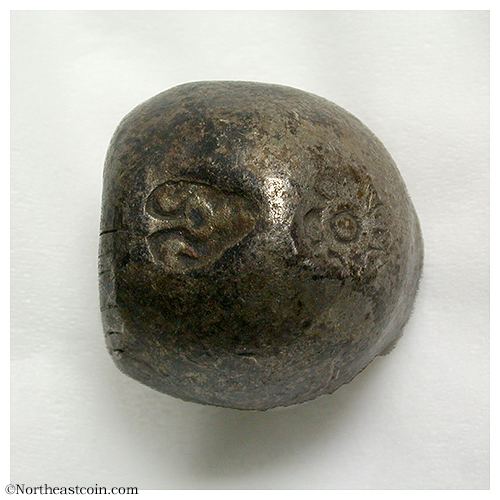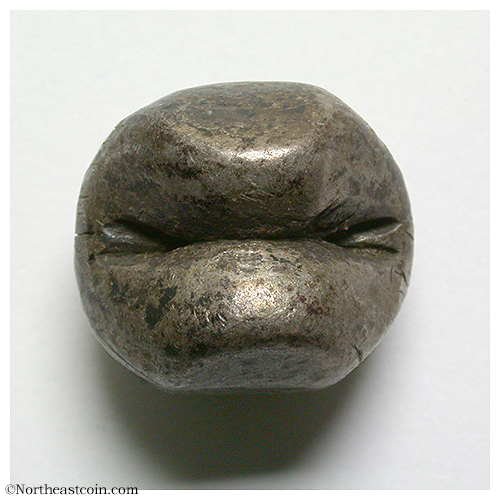 Frankly Speaking - Bust Quarters New!
11/11/2022
The following was written by Frank.
Capped Bust Quarters have been a favorite of mine for a number of years because they have tremendous value and rarity compared to their larger counterparts (Capped Bust Halves). Only 5,496,984 Capped Bust Quarters were minted from 1815-1838, while 91,088,096 Capped Bust Halves were minted from 1807-1839. It's also a rather short series; it is quite attainable to put together a date set of business strike coins, with exception to the 1823. Capped Bust Quarters remain relatively affordable in moderately circulated grades. You can easily locate a so-called "common date" XF piece for $500.
The story of how the Capped Bust Quarter came to be is an interesting one. The Mint hadn't produced any quarters since 1807, which was the last year of the Draped Bust design. The United States began producing Capped Bust coinage with the Half Dollar in 1807. In the early days of the Mint, anyone could bring their silver and gold to the Mint and have them turn your metal into freshly minted coins. The Coinage Act of 1792 states, "That it shall be lawful for any person or persons to bring to the said mint gold and silver bullion, in order to their being coined." So, if you were in Philadelphia during the early days of the mint, all those gold implants you have could be extracted and made into freshly struck uncirculated quarter eagles, if you were in dire need of some extra cash. The Mint would charge one half percent of the weight of gold or silver to cover their expenses.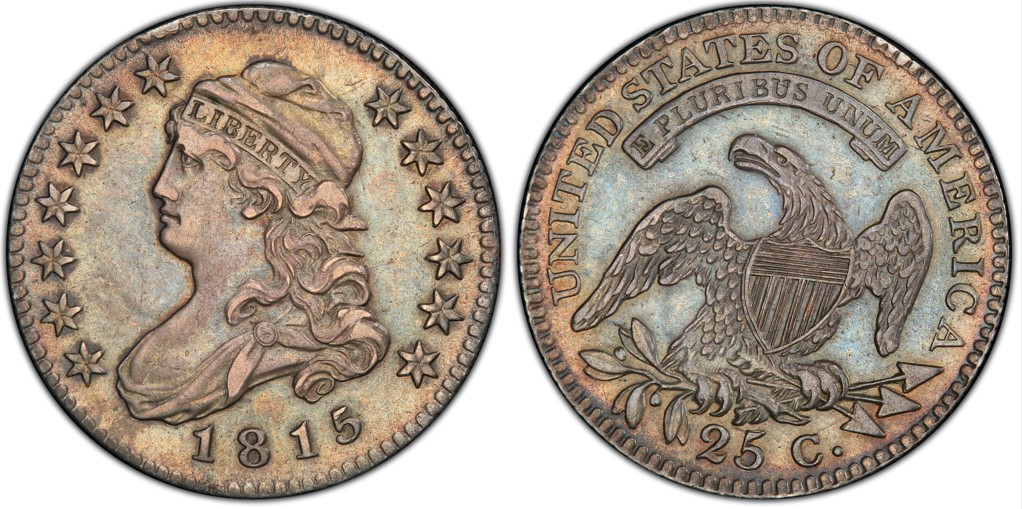 Photo courtesy of PCGS
Banks too would often deposit their sums of silver and gold to the Mint and get coins in return. In 1815, the Planters Bank in New Orleans placed a large order of Quarter Dollars from the mint. Bailly Blanchard, the head cashier at Planters Bank, wanted Quarter Dollars because of a local shortage of their Mexican counterparts, the 2 Real (1 Real was equal to 12 ½ cents). You have to remember that Mexican coins circulated alongside U.S. coins up until 1857. The Director of the Mint, Robert L. Patterson, didn't want to follow through with the order of Quarters because the Mint didn't have any Quarter Dollar dies prepared. Eventually, Patterson caved and instructed Chief Engraver John Reich to create dies for 1815 Quarters. The total mintage for 1815 Quarter Dollars is 89,235. 69,232 Quarters were struck in 1815 and another 20,003 coins made in 1816 bearing the 1815 date.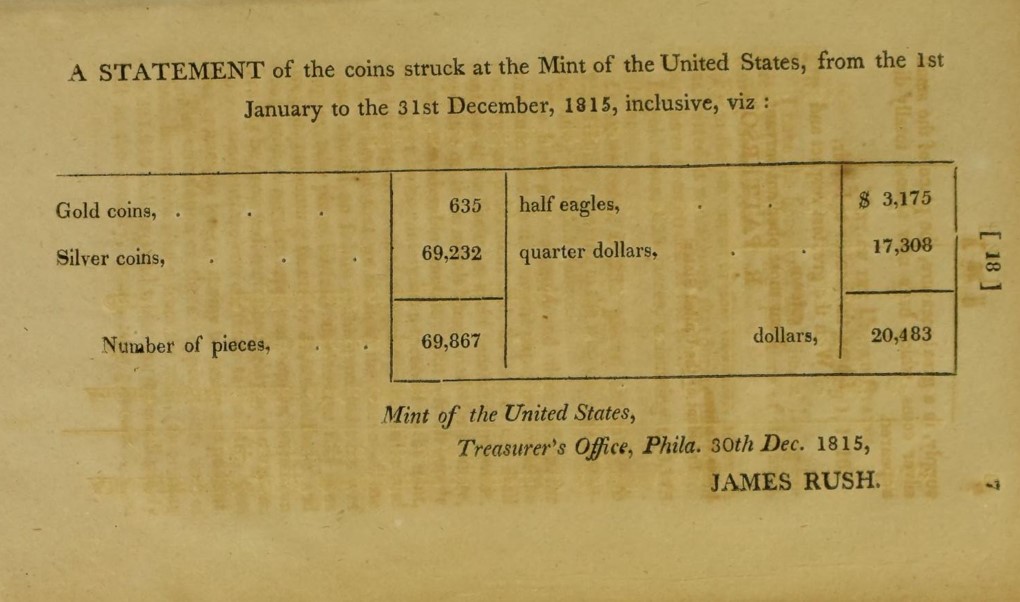 Photo Courtesy of Newman Numismatic Portal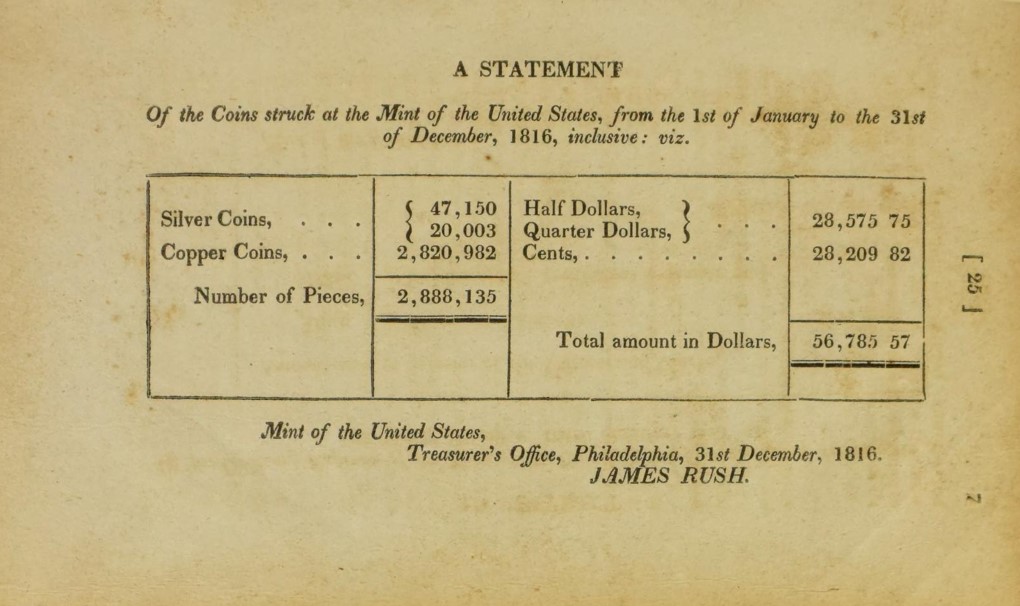 Photo Courtesy of Newman Numismatic Portal
Planters Bank would get their shipment of almost 57,500 pieces in December of 1815, the remainder of the coins were paid to the Bank of Philadelphia on December 30th, and Jones, Firth & Co. on January 10, 1816. The large diameter Capped Bust Quarter would be produced until 1828, when it was replaced with the small sized Capped Bust Quarter in 1831, these would be produced until 1838.
Works Cited:
1815 25C (Regular Strike) Capped Bust Quarter - PCGS Coinfacts. https://www.pcgs.com/coinfacts/coin/1815-25c/5321.
1815 – The Year Without New Cents." Numismatic News, Numismatic News, 2 Apr. 2012. https://www.numismaticnews.net/archive/1815-the-year-without-new-cents.