Northeast's Blog
The Omega Man New!
06/09/2021
The following was written by Brian.
Without doubt, one of, if not the biggest scourges in numismatics is counterfeiting. Many of us in the hobby have come across it first hand or heard a story about someone selling or being sold a counterfeit coin. From the tooled/forged 1916-D Mercury dime to the 1914-D Lincoln cent to the 1914 $2.5 Indian, its existence can not be denied.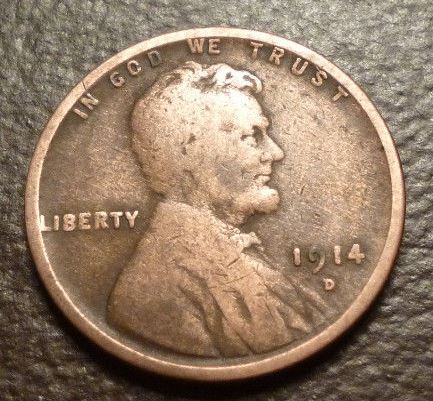 Luckily we now have 3rd party grading companies that are fully trained to detect such forgeries, and I personally have every faith in them. Say, remember that old PGA commercial 'These Guys Are Good'? Like those pros, the graders at the top tier 3rd party grading companies are literally the best in the world and it's nice to have them on our side as collectors (and dealers). The grading companies protect us from these phonies and it's a very good thing for the hobby.
Enter Omega Man – responsible for some of the greatest numismatic counterfeits the world has ever seen. Not even the finest experts in the industry could detect his handiwork until it had become known and looked for. This guy was good too. So good, in fact, that had it not been for a signature that he put on his coins – the Omega symbol, it is possible that more of his coins would be indistinguishable from their legitimate counterparts. You have to wonder if the talent at today's third party graders would have been able to catch his counterfeits. Omega Man had his favorites; the 1907 Ultra High Relief Double Eagle and the 1882 $3 Gold coin. But again, without his very faint, tiny trademark symbol, most of these coins would go undetected. Here are a couple examples of the famous signature.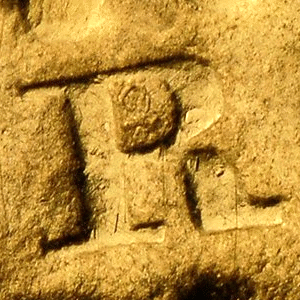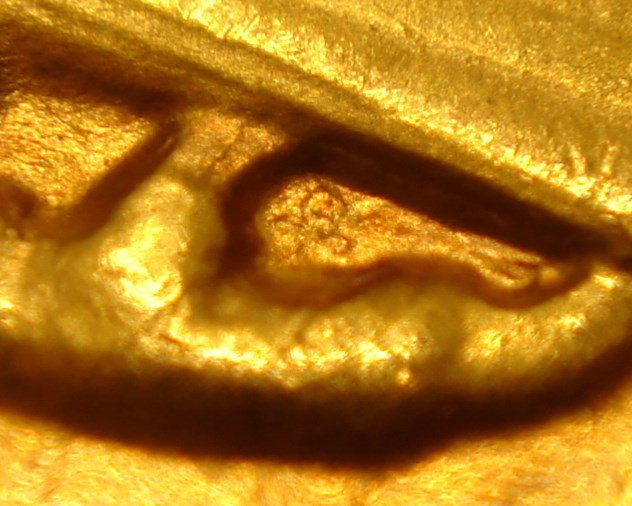 What's still a mystery is why. Most counterfeiters try to go undetected so as to make the most money possible without getting caught. Perhaps this was just a case of an artist's vanity. Omega Man was never caught, although pleas for his correspondence had been made in a big way. Check out the article below in which Omega Man is called to at least send a letter or something, anything! Again, we may never know who this person was or why this person did it, but we can be assured (as can be seen from the very bottom of the article below) that everyone thinks they have a genuine 1943 copper cent.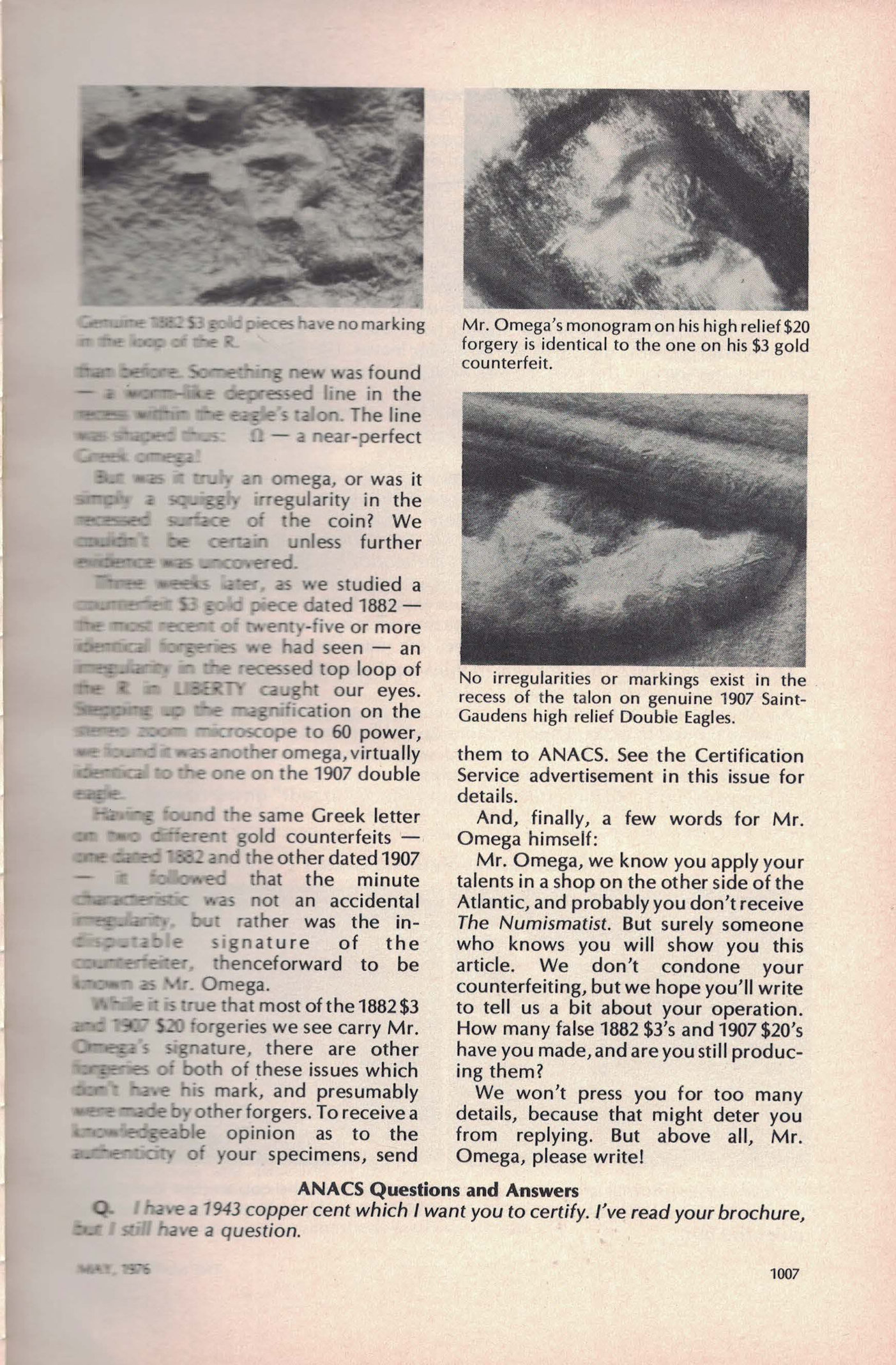 LaVere Redfield New!
05/26/2021
The following was written by Brian.
What comes to mind when you see a Redfield dollar? One thing that probably pops into your mind is that it's a pretty cool holder, probably an overgraded coin, but a neat holder that has some history. You might even have one and if you don't you probably want one. Here's what one looks like: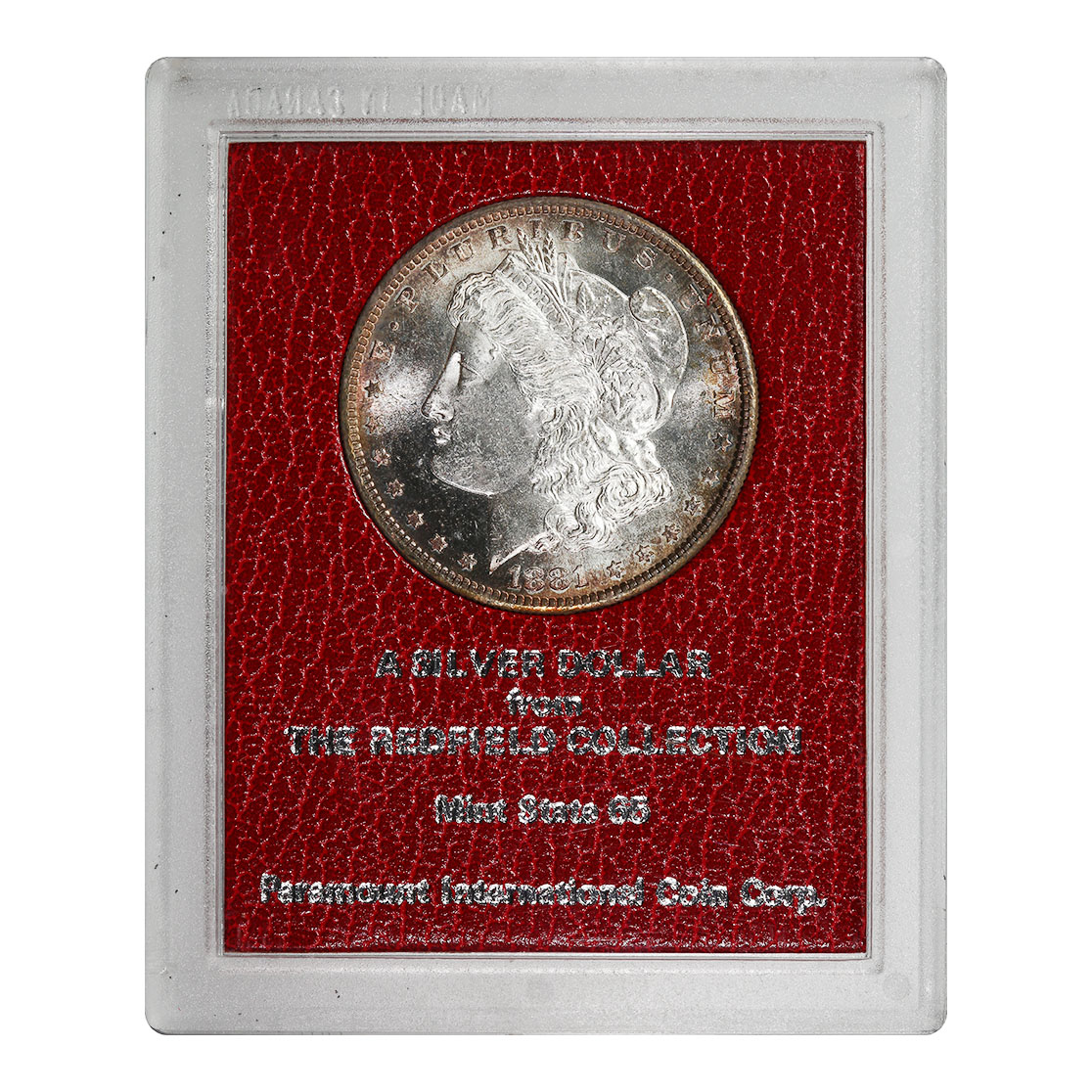 That particular one (along with several thousand others) was "slabbed" by the Paramount International Coin Corp and given a grade of MS65.
Of course, we as collectors typically prefer to have everything slabbed, and so the major third party grading companies also found a way to certify and put the Redfield dollars into holders. Interestingly, so many Redfield dollars were cracked out that it created a new market demand for Redfield dollars in their original Paramount holders! Here's how PCGS and NGC did it.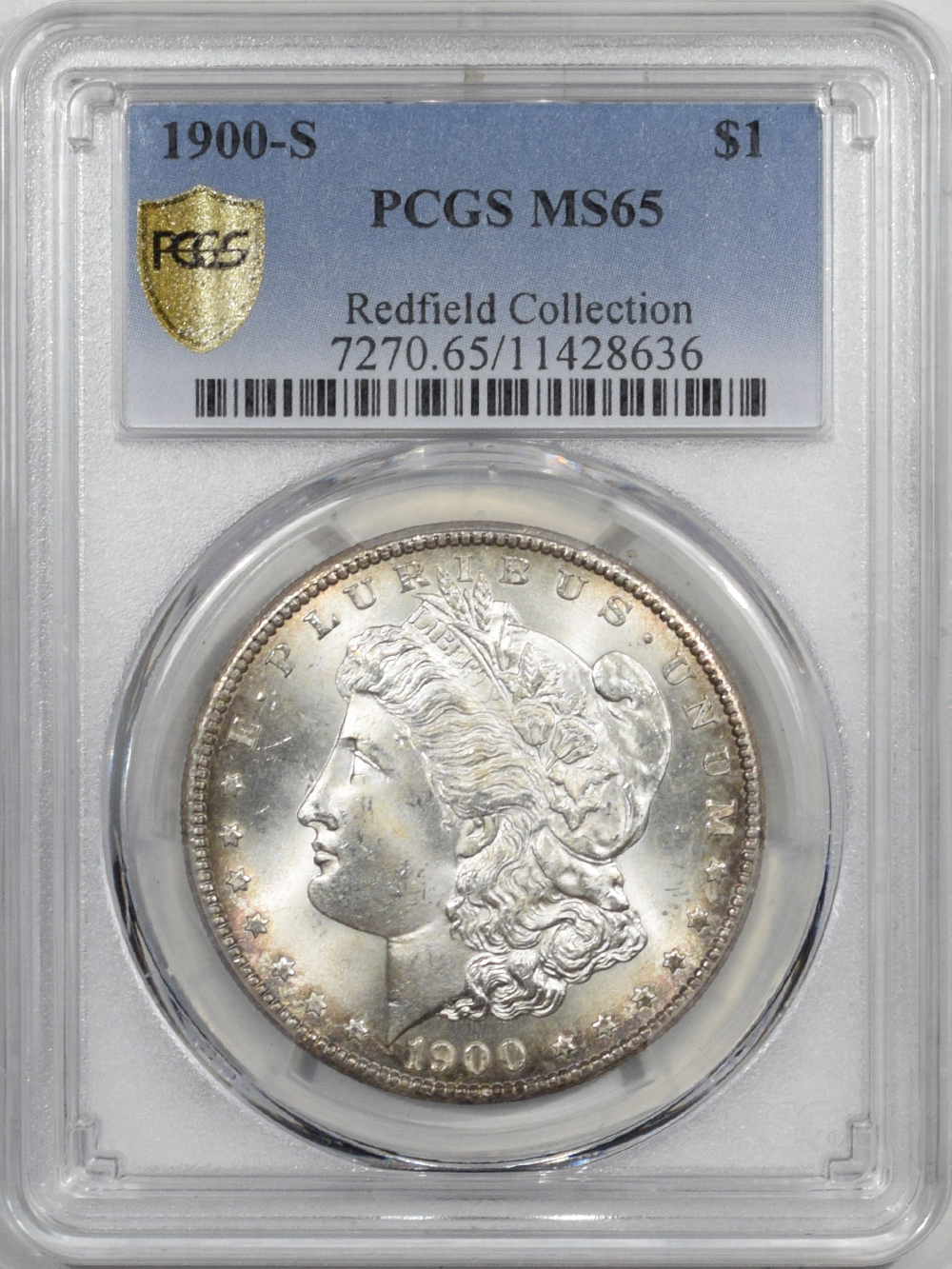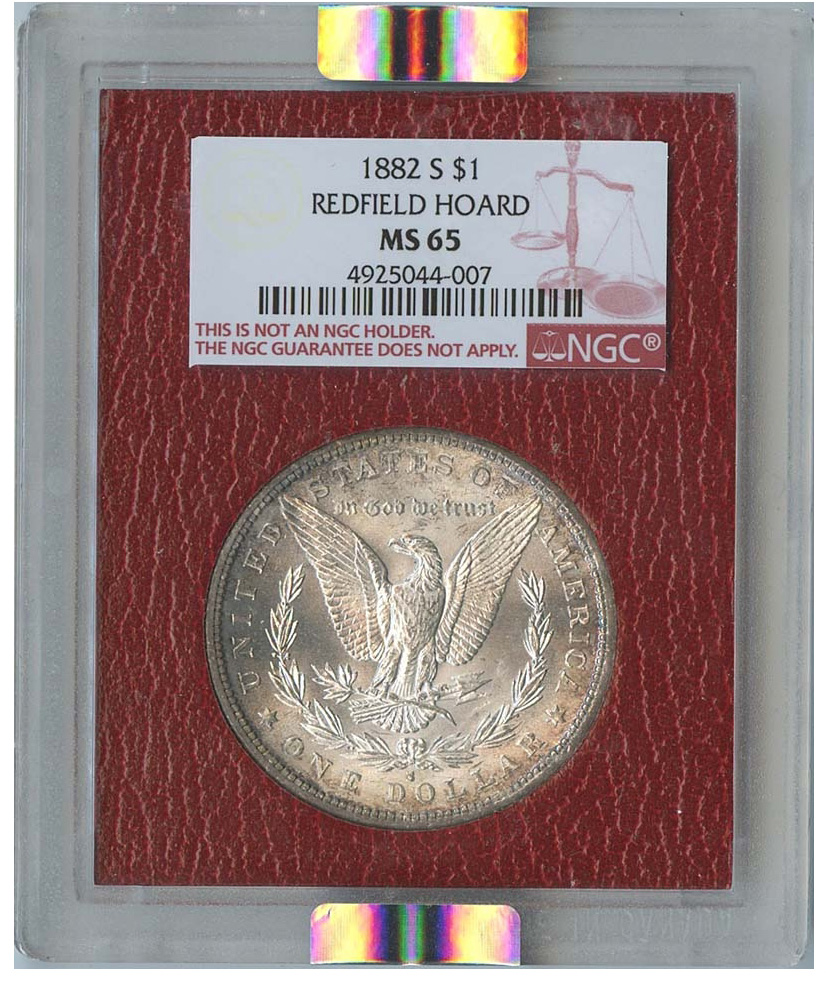 I know, still not terribly exciting, but probably just as LaVere Redfield would have wanted it; unassuming, bland, nothing flashy. While Redfield was not a flashy guy, he certainly was a shining star when it came to making money. He is said to have been a better stock picker than just about anyone in the 1920's and 30's. Picking winners was just in his blood. He thrived during the Wall Street market swells of the 20's, he thrived during the collapse in 1929 and even flourished during the great depression. He could just flat out pick 'em. Redfield was the 'mad man' of his time.
Apparently he was even good at gambling. In 1935 Redfield decided he would do what others had done to take advantage of US tax havens and he moved to Nevada. Redfield became quite a regular at high stakes tables – usually roulette.
And although the multi-millionaire lived quite an exciting life in the desert, he wanted to appear anything but and shied from the public eye, the media and above all – the watchful eye of the government. It is true that rather than pay the government taxes based upon the massive wealth he had accumulated, he would rather serve time in prison for tax evasion; and that's exactly what he did.
It also became known that Redfield was quite the hoarder. Upon his death in 1974, the basement of his estate was found to house thousands upon thousands of boxes filled with newspapers, empty bottles of all kinds and canned food (most all of it spoiled). It is said that this basement was empty before a viscous mugging in 1948 that put him in a hospital for several weeks. After that event, which clearly affected him, he started buying everything in sight at auctions. Redfied also had a major distrust of banks and a hatred for paper money and was known to buy silver dollars by the bag. And so it was that in 1974 as his estate was being cleared out, along with those empty bottle, cans of food and newspapers, something else was found…
407,000 Morgan and Peace Silver Dollars! This of course became known as the Redfield Hoard. A hoard that is still celebrated today. RIP, Mad Man Redfield. You were one of a kind.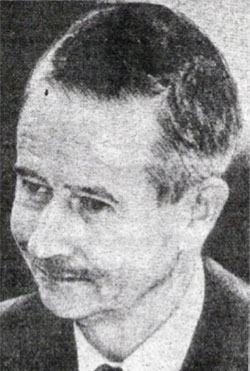 The Most Influential People in Numismatics New!
05/15/2021
There are 2 comments on this post.

We'd like to take this opportunity to congratulate Tom, our owner and founder, on making Coin World's recently recently released issue of The Most Influential People in Numismatics. This special edition, spanning from 1960-2020, features people who have made an impact in the numismatic industry. Here's the article that featured Tom.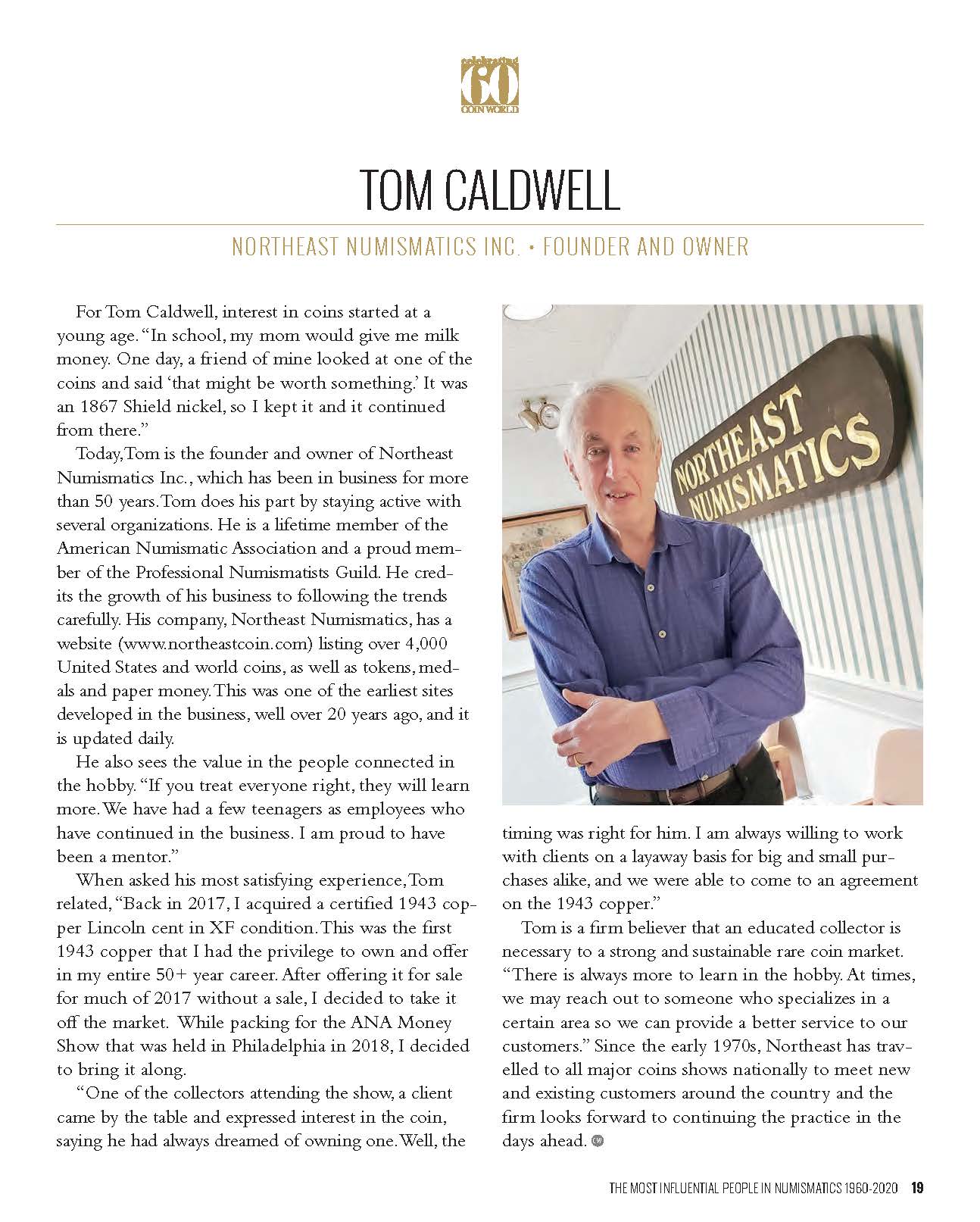 Created by: Panda on 05/15/2021
What an impressive achievement!
Thank you!
Created by: PAT___BIGAPPLE on 05/18/2021
Tom, what a wonderful acknowledgement of an illustrious career and contribution to our hobby! Your experience is our asset. Congratulations!
Thank you, Pat!
What's HAPAning? New!
05/07/2021
The following was written by Brian.
It's time to give some love to an often-underappreciated segment of the U.S. rare coin market: Hawaiian Coinage.
The first official Hawaiian coinage began in 1847 with the 'Keneta', a large copper coin commissioned by King Kamehaheha III.The King understood the need for local coinage and the desire to migrate away from foreign currency. With the demand for small denomination coins and a need to tie into the U.S. monetary system, the Keneta would be worth one cent of a U.S. dollar and be roughly the size of a U.S. large cent. The obverse bore a portrait of the King (which by accounts at the time looked absolutely nothing like him) and the words 'Hapa Haneri' meaning "part of a hundred" (or loosely, one cent) on the reverse.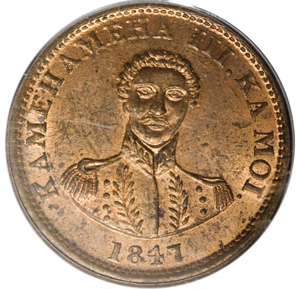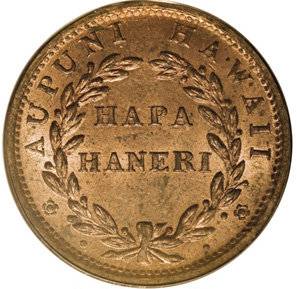 Although it is not known where the pieces were minted, there is speculation that they were struck at the private mint of H. M. & E. I. Richards of Attleboro, Massachusetts.
No matter where they were minted, The Keneta was not met with much enthusiasm. The coins arrived on the island worn and discolored due to ship/hold storage over many months. Islanders were also not fond of smaller transactions and saw no need for the coins. Apparently there was even some controversy surrounding the spelling of 'Hapa Haneri'.
With the big island saying Aloha to the Keneta, there would be a 36-year hiatus before the next round of coins were stuck. Aside from an 1881 5 Cent pattern issue (which is rare), Hawaiian coinage was not produced again until 1883 when Kalākaua I coins were issued – again to the American coinage standard. These silver coins were minted in 1883 and 1884 but all bear the 1883 date. Designed by American Chief Engraver Charles Barber and minted in San Francisco, the denominations were as follows;
UMI KENETA (ten cents), HAPAWALU (eighth dollar), HAPAHA (quarter dollar), HAPAHA (quarter dollar), HAPALUA (half dollar), AKAHI DALA (one dollar).
I can just hear modern islanders saying "back in my day an Umi Keneta, a Hapaha and a Hapawalu would buy you 3 pounds of taro, 25 coconuts, a jar of ground kukui nut and you would *still* have enough left over for an hibiscus arrangement".
Here is a nice mint set (minus the Hapawalu)

And here is the eighth dollar or Hapawalu.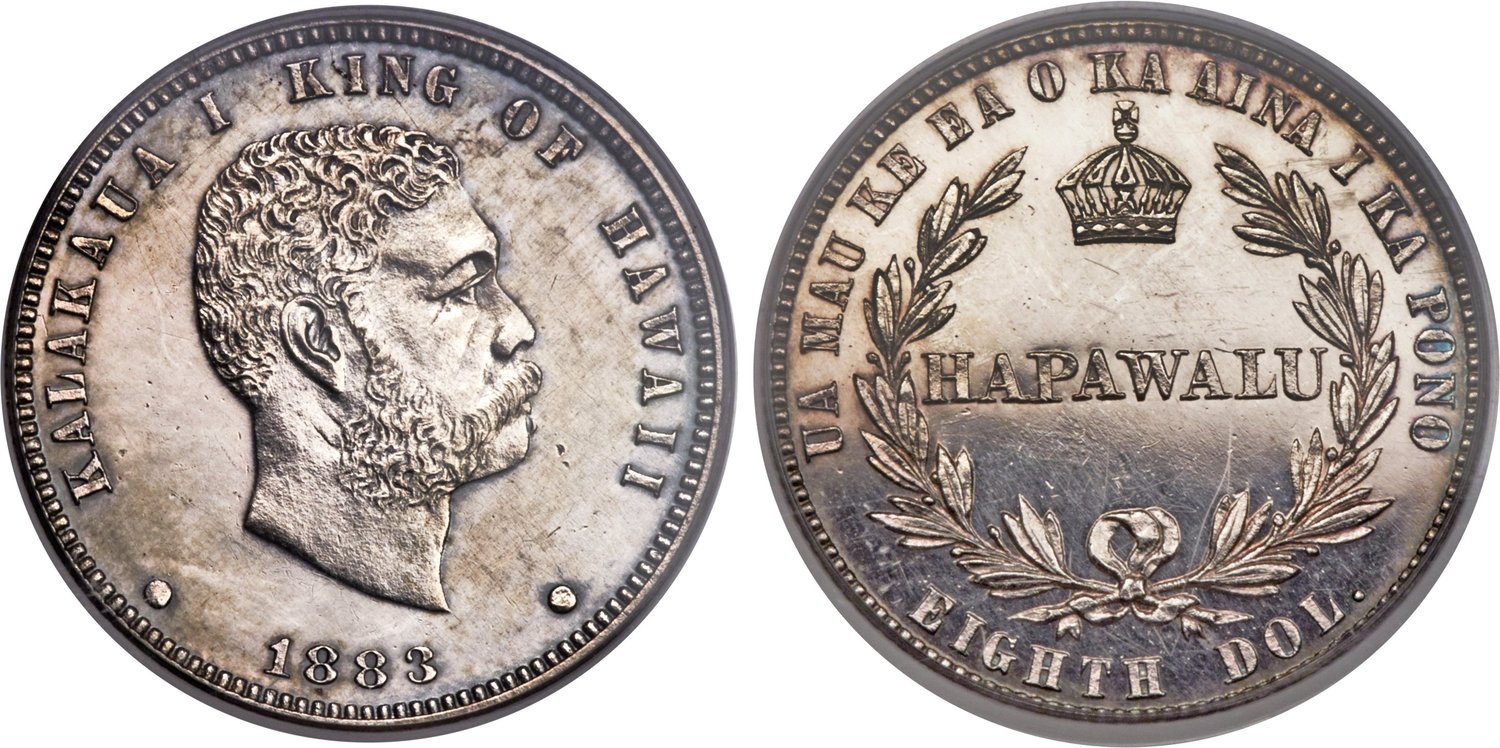 That's just fun to say. Hapawalu. Hapawaluuuuuu.
After Hawaii had been annexed by the U.S., an act of congress in 1903 ordered $814,000 of the original 1 million in face value coinage to be returned to the United States and melted. It would be replaced by the U.S. coins which Hawaii still uses today. For this reason, Hawaiian coinage (especially in higher grades) is still in high demand and enjoys a collector favorite status by many.
70 Cents and Saturdays New!
04/27/2021
The following was written by Tom.
We seldom take appointment on weekends, though sometimes it is necessary to meet folks at our office on a Saturday or Sunday to accommodate their work schedule. One Friday I got a call confirming an appointment the next day. I was caught a little off guard, as I had not planned on coming in. I checked our calendar and sure enough there was an appointment that had slipped my mind. It would not have been Northeast's finest hour had I totally missed this appointment, especially since the customer was traveling quite a way to our office.
The calendar notes associated with the appointment stated "buffalo nickels to sell." Now frankly, when some random caller says they have buffalo nickels, more than nine times out ten we get average circulated accumulations of dateless or barely legible dates with very little value. So at this point I was not particularly excited about the appointment.
Come Saturday and we meet, and the client has 14 Buffalo nickels. It turns out that he is a specialist in the series with several sets, and he had decided to offer us a small group of predominately proof specimens. The group consisted of every proof date from 1913 to 1916, as well as 1936 (both satin and brilliant) and 1937. There was also a 1937-D 3 Legger in MS64. We then discussed the coins and figured out a mutually agreeable price in the mid five-figures. We were a happy buyer, and the client was a happy seller, which is what it is all about. These pieces are now ready to find a new home and can be found on our website (while they last!).